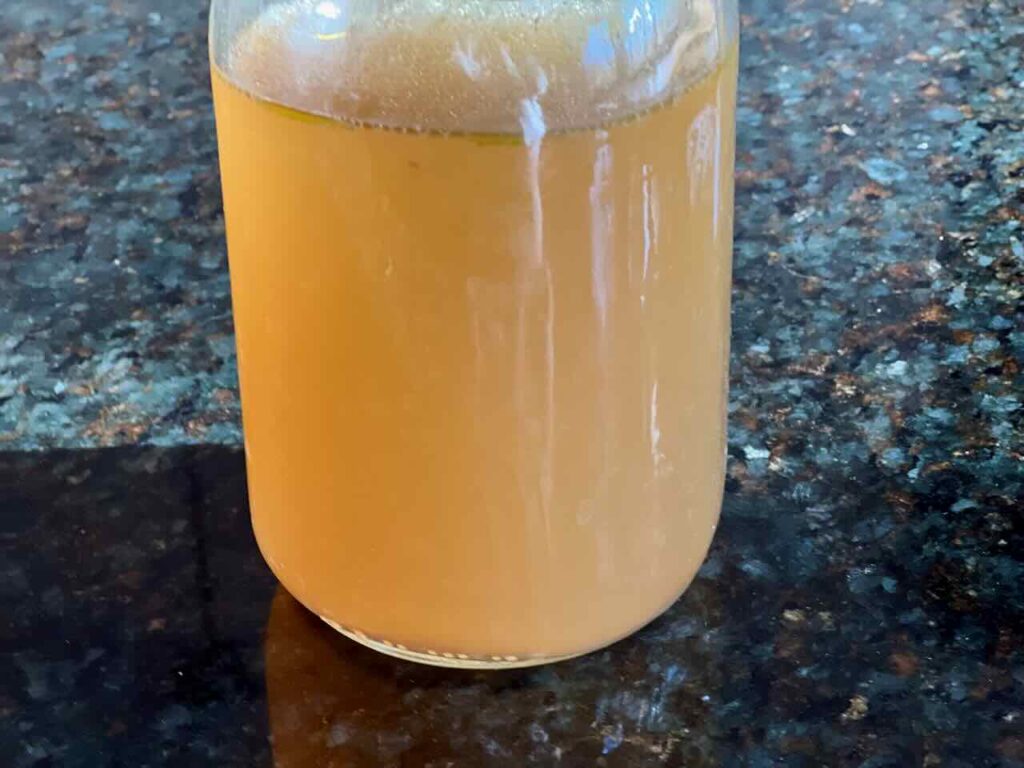 Chicken vegetable stock is easy to make and adds wonderful flavor to homemade soups, stews, and many other recipes.
Stock is a vital part of many of my favorite recipes like chili, risotto, and jambalaya. We always have a supply of store-bought stock on hand, but I really notice the difference when I have a homemade version available.
I love that this homemade stock is made entirely of items that would otherwise be discarded. I saved discards of vegetables along with the chicken bones and skin in a container in the freezer.
Ingredients
Chicken Bones: I used the carcass of one large chicken breast.
Chicken Skin: Chicken skin has fat, which equals flavor. If you want to keep the stock fat-free and very low-calorie, omit the skin.
Vegetable Scraps: Simply put, these are the stems, ends, and skins that would normally be discarded or composted. I consider onion, celery, and carrot ends and stems to be a perfect base. I also added a red bell pepper stem and some potato peels.
Garlic: Fresh garlic adds a ton of flavor.
Black Peppercorns: I used whole black peppercorns to keep the stock clear but yet have that great pepper flavor. Ground black pepper works fine if you don't mind bits of pepper in the finished product.
Salt: A little salt adds a lot of flavor to the stock.
Fresh Rosemary: I added one whole sprig of rosemary, which goes beautifully with chicken and vegetables.
Bayleaf: Adds a great depth of flavor.
Instructions
The process of making chicken vegetable stock starts with saving up some chicken bones and scraps of vegetables. I saved the skin and bones from a large chicken breast I had used to make chicken corn chowder. They were saved in the freezer, and I later added the vegetable stems and ends to the same container.
When you are ready to make your stock, add the bones, skin, and veggies to a large stock or soup pot with a lid. Add herbs, peppercorns, and salt. Fill the pot with water to cover the ingredients.
Heat and allow the mixture to gently simmer for 4 hours. Your kitchen will smell so good thanks to the fragrance of the fresh herbs. Keep the pot loosely covered to prevent excessive evaporation.
After four hours, strain the mixture using a fine mesh strainer. The stock can be refrigerated for several days in an airtight container, and can also be frozen for future use.
Chicken Vegetable Stock
Ingredients
Chicken bones and skin from a roasted chicken breast

Stems and discarded stalks from carrots, onions, peppers, celery, garlic, etc

½

tsp

black peppercorns

or to taste

1

tsp

salt

or to taste

1

sprig

fresh rosemary

1

bay leaf

6

cups

water – or enough to cover the chicken bones and vegetables
Instructions
Add chicken bones and skin to a large pot along with vegetable scraps, peppercorns, salt, rosemary, and bay leaf. Cover the ingredients with water.

Loosely cover the pot and heat to a gentle simmer. Allow the mixture to simmer for 4 hours.

Using a fine mesh strainer, drain the liquid. Discard the bones, skin, and vegetable scraps.

Stock can be stored in the refrigerator for a few days. If not used within a few days, the stock can be frozen for later use.