This chicken corn chowder was the first homemade soup I ever made, and still one of my favorites. The original recipe came from a cookbook I received as a shower gift before our wedding. After finding out how easy and scrumptious soup from scratch can be, I have been making soups at home ever since. I now add the cumin and jalapeño pepper to make the recipe my own and give the soup a bit of heat.
When I plan soup for dinner, I like a meal in one pot sort of soup. This soup has chicken along with lots of veggies and definitely clicks all the boxes. While I can happily enjoy a bowl of soup any time of the year, a thick, rich chowder really hits the spot as the weather turns cold.
Quality stock is important in the finished product of a bowl of soup. Chicken corn chowder creates a rich, flavorful stock as you prep your chicken.
Ingredients
Bone-In Skin-On Chicken Breast: Yields super flavorful, juicy chicken. Using the chicken breast with the skin and bones intact imparts lots of flavor to the resulting chicken stock.
Water: Absorbs the flavor of the chicken, celery, and bay leaf to become rich, delicious chicken stock.
Celery: Both to make the stock and in the soup for flavor and crunch.
Bay Leaf: Imparts unmistakable flavor into the chicken stock.
Salt: Brings out the flavor.
Milk: Makes the chowder creamy.
Butter: Used to sauté the veggies. Makes the soup rich and delicious.
Onion: Adds a little crunch and flavor.
Ripe Bell Pepper: I like the color a little ripe bell pepper adds to the soup.
Jalapeño Pepper: More color and makes the chowder a little spicy. Omit if you don't want the spice.
Garlic: Great flavor for any soup.
Flour: Helps create a thick, rich chowder.
Potatoes: I like Russet potatoes and I prefer them unpeeled. The peel adds flavor, texture, and contains much of the nutrition.
Cream-Style Corn: I love how the corn thickens the soup and gives a hit of sweet flavor.
Cumin: Adds a warm, earthy flavor to the chowder.
Black Pepper: A must in basically every savory recipe.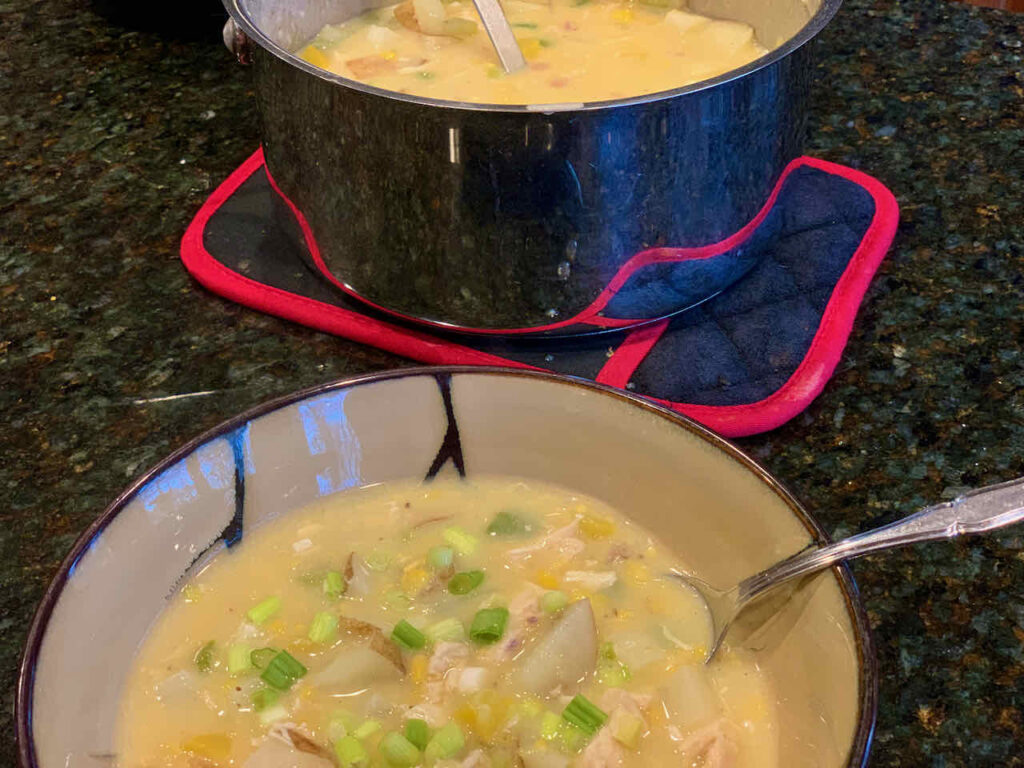 Instructions
Start by cooking your chicken and making the stock. I use a large 3-quart saucepan, you could also use a stockpot.
If you have never made stock before, it is simply simmering ingredients such as meat, bones, vegetables, and herbs and creating a flavorful base for soups and other recipes. In this case, we are creating the chicken stock to serve as the base of the chowder.
While the chicken is cooking, you can prep by chopping the veggies. Once the chicken is done, transfer to a plate to cool. Discard the celery and bay leaf. Be sure to save the chicken stock in a bowl or measuring cup for later use.
Using the same saucepan you used to cook the chicken, melt the butter. I am a big believer in using the same cookware when possible. The maximum flavor is retained, and why create unnecessary dishes to wash?
Saute the veggies until soft, then stir in the flour until it is incorporated into the butter. Stir in the stock, milk, and chopped potatoes. Simmer for about 15 minutes until the potatoes are tender. While the potatoes are cooking, remove the cooled chicken from the bone. Discard the skin and bones and shred or chop chicken into bite-sized pieces.
Add the chicken, corn, cumin, and pepper and heat through.
Ladle a generous amount of chicken corn chowder into a bowl and enjoy! While this soup is a meal on its own, a loaf of beer cheese bread would be a wonderful accompaniment!
Chicken Corn Chowder
Ingredients
1

large

chicken breast

bone-in, skin on

2

cups

water

1

rib

celery

chopped

1

bay

leaf

½

tsp

salt

1

cup

milk

¼

cup

butter

half a stick

½

cup

onion

diced

½

cup

celery

diced

½

cup

ripe bell pepper

diced

1

jalapeño

pepper

finely diced

1

clove

of garlic

minced

2

Tbsp

flour

2

medium

potatoes

peeled if desired and cubed

1

can

(14.5 oz.) cream-style corn

½

tsp

salt

½

tsp

cumin

freshly ground black pepper
Instructions
Combine chicken, water, celery, bay leaf and salt in 3 quart saucepan. Heat to boiling and reduce heat to simmer until chicken is tender, about 25 minutes.

Remove chicken from the stock and allow to cool on a plate. Transfer stock to another bowl.

Once the chicken has cooled, remove and discard bones. Dice chicken into bite-sized pieces.

Melt butter in 3 quart saucepan; cook onion, celery, and red pepper until soft but not brown. Add garlic and stir.

Stir in flour; gradually stir in milk and reserved chicken stock. Add cubed potatoes; simmer until tender (15-20 minutes). Stir in diced chicken, corn, salt, cumin and pepper; heat through.

Serve warm.