Happy Sunday!
Thanksgiving week is upon us!
We are hosting a small group for Thanksgiving Day dinner. I can happily say the menu is planned. Thanksgiving menus sort of plan themselves if you keep it traditional. But I enjoy deciding my side dishes and just how many side dishes to make.
I recently read an article on tips for planning a holiday menu. One point was never to try a brand new dish without a practice run before the big day. But I admit, I have done this! I made a sweet potato dish a few years ago for a holiday dinner for the first time. It turned out amazing, and I plan to make it again Thursday. Yes, I knew it was a risk. But I read through the ingredients and thought, no way this isn't going to be good! Luckily, I was right. 🙂
Another suggestion was to stick to the tried and true traditional recipes. I agree with this. It's an easy way to know your guests will be happy with the meal. I also believe in prepping as much as possible and developing a schedule for that big day.
But anyway, the menu is planned, and I spent part of yesterday pouring over my recipes, and, of course, the meals I am making the rest of the week, trying not to forget anything. One would think I was going to be 500 miles from the nearest grocery store for the rest of the week. Never mind that one of my dinner guests is literally coming from a grocery store. But that doesn't stop my obsessive self from wanting to be ultra-organized.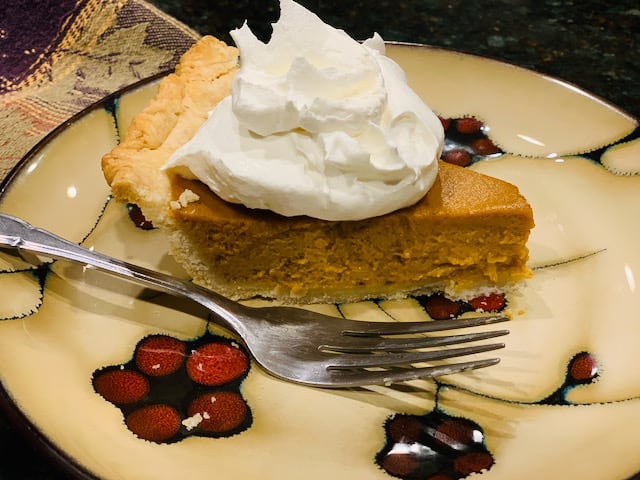 I like every aspect of the Thanksgiving dinner. But if I had to pick a favorite, pumpkin pie would be high on the list. All the delicious food that results from the leftover turkey doesn't break my heart either. I am already looking forward to turkey noodle soup next Saturday!
What caught my eye this week
This sweet Thanksgiving story. Six years later and still going strong.
How to set boundaries around the holidays. Keep it fun.
Starbucks holiday drinks – ranked. I have been craving my all-time favorite Peppermint Mocha. Maybe I need to try a Chestnut Praline Latte too!
This is good marriage advice. Basically, we are all annoying. 😉
I have to admit, I would use this little gadget! No wasting peanut butter. But if you need another way to make use of that last bit of peanut butter, make your peanut sauce in the jar.
Bears are so ridiculously cute.
Food as art. These are amazing.
Finally, just for fun. Husband and I have discussed this, apparently, we aren't the only ones!
Have a wonderful Sunday, a great week, and a lovely Thanksgiving!