Slow roasted turkey combines with sautéed veggies and tender noodles in a thick, rich, comforting soup.
So fast-forward to the day after Thanksgiving. You have leftover turkey meat and some turkey bones. If you are anything like us, that turkey bone still has some meat attached. Because who can be bothered to deal with it after preparing a big dinner? Not a problem. That delicious roasted turkey meat is perfect for this luscious soup.
The soup is indeed luscious. Thanks to half & half added at the end, this turkey noodle soup is just a little more decadent than your typical broth based noodle soup. It is worth it; trust me.
Ingredients:
Turkey bones and meat: Dark or white meat is fine. If the meat is attached to the bone you will want to strip as much as possible off the bone prior to adding the bone to the stock pot and making the broth. The meat gets a little "boiled" after spending an hour in the broth. If you do happen to find meat after you pull the bone from the broth by all mean still throw it in the soup.
Vegetables: Carrots, onion and celery – classic noodle soup veggies. Made even more delicious sautéed in butter. Your frozen peas are added at the end; no need to thaw.
Chicken Bouillon cube: Leave out if you don't have it but adds to rich poultry flavor.
Herbs: Rosemary, thyme and parsley are my go-to poultry herbs. Fresh herbs are wonderful if available. If using dried decrease the amount a bit.
Egg noodles: I love these frozen egg noodles but I often use the dried noodles. The soup is awesome either way. No need to boil prior to adding to soup; you just toss in and let them absorb the flavor while they cook.
Half & half: Makes the soup creamy and comforting and perfect.
Instructions:
You start by making the stock with nothing more than the turkey bones, a bay leaf and water. This mixture will simmer for an hour.
Most of the stock will be used in the soup. Be sure to save and freeze what you don't use because you want homemade stock! Use that stock in this version of chicken soup or maybe this chicken and rice soup.
From there it is as easy as chopping vegetables, stirring and adding ingredients in your stock pot.
When everything is cooked, warm, and smells delicious the time has come to ladle into bowls and enjoy.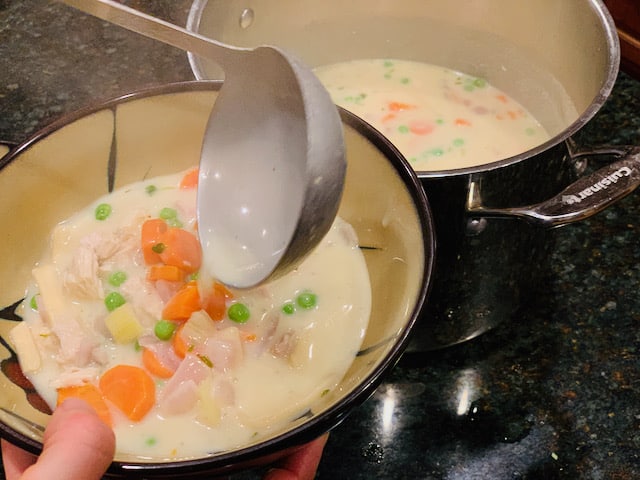 We recently enjoyed this soup on a quiet Saturday night. Come to think of it every Saturday is quiet these days…. But a cozy house, your loved ones and this soup….you have what you need.
Enjoy!
Turkey Noodle Soup
Ingredients
leftover turkey bones

2-3

cups

leftover turkey meat

1

bay leaf

4

Tbsp

butter

1

medium

onion

chopped

3

large

carrots

chopped

3

celery

stalks

sliced finely

¼

cup

flour

1

cube

chicken bouillon

2

tsp

course salt

1

tsp

fresh cracked black pepper

1

tsp

fresh rosemary

diced

1

tsp

fresh thyme

diced

1

tsp

fresh parsley

diced

8

oz

dry egg noodles or 12 oz package of frozen egg noodles

½

cup

frozen peas

1

cup

half & half
Instructions
Start by removing as much of the meat of the turkey bones as possible. Dice meat into bite sized pieces and reserve for use in the soup.

Place the turkey bones and bay leaf in a stock pot and cover with water. Bring to a boil and then reduce heat. Cover the pot and simmer for 1 hour. Remove the bones and bay leaf and discard.

Pour the broth in large bowl. Set the broth aside.

In the same stock pot melt butter. Sauté the onion, carrots and celery in the butter until they are almost tender. The vegetables will absorb most of the butter at this point.

Reduce heat to low and sprinkle the flour over the vegetables. Stir to combine and let the vegetables absorb the flour. Gradually add 4 cups of the reserved broth. Bring this mixture to a boil and cook, stirring constantly for about two minutes, or until thickened.

Add another 4-6 cups of broth, the bouillon, salt, pepper, herbs and diced turkey. Reduce the heat to low and simmer for 30 minutes. Add the egg noodles and frozen peas with about 15 minutes remaining. Not need to boil the noodles prior to adding them to the soup.

Freeze the remaining broth for future use in another recipe.

After 30 minutes, add the half & half. Cook over low heat until soup is warmed through.