Broccoli cheddar soup is the best of both worlds. Loaded with vegetables to make it healthy but definitely enough cheese to make it a little decadent. Warm, comforting, and perfect for cold, Minnesota-winter weather.
I make soup at least once a week during the cold winter months. It's the perfect, warm-you-up, cozy meal. This turkey noodle soup I shared recently is another excellent choice.
Ingredients:
Vegetables: Broccoli is obviously the star of the show, but this soup is packed with veggies. Onions and red peppers are sautéed in butter. Then carrots and celery are added along with the broccoli. Yes, vegetables are healthy, but they also make the soup colorful, give it texture and make it wonderful.
Flour: Helps thicken the soup to create a thick, creamy texture.
Half & half: Both milk and half & half add richness and make the soup creamy.
Cheddar cheese: Either mild or sharp cheddar is fine; whichever you prefer. Cheddar cheese and broccoli are an incredibly delicious combination.
Instructions:
Onions and red peppers are chopped and sautéed in butter until starting to soften. The flour goes in to combine with the butter to provide a thickening agent to the soup as it cooks.
Add chicken stock, half & half, and milk; then the rest of the vegetables. Allow to simmer away for about 25 minutes. The vegetable will cook and get tender and the soup will get thick.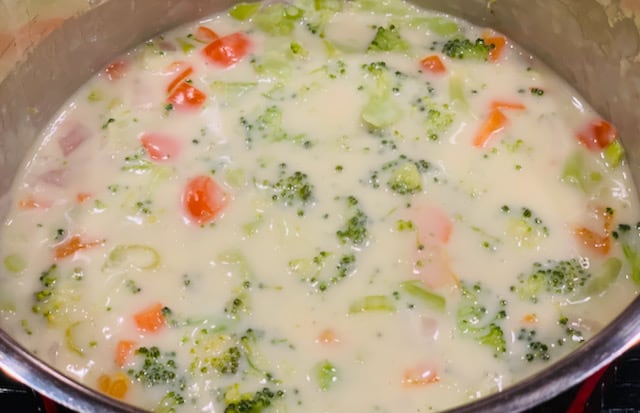 After 25 minutes remove from heat and grab an immersion blender. Mine is a Cuisinart; a few years old, but similar to this one. I really like it; powerful and simple to use.
Let your immersion blender work until desired consistency. I prefer a thick, chunky soup.
Return the pan to heat and add the cheddar cheese. Stir until cheese is completely melted. Add black pepper and salt to taste. Serve warm.
We like broccoli cheddar soup with sandwiches.
This recipe makes enough for 2-3 servings. The two of us never have leftovers! It is so delicious. Enjoy!
Broccoli Cheddar Soup
Ingredients
2

Tbsp

butter

½

cup

onion

chopped

½

cup

red pepper

chopped

¼

cup

flour

¼

cup

half-and-half

½

cup

milk

1

cup

chicken stock

2-3

cups

fresh broccoli florets

chopped

1-2

small

carrots

thinly sliced

1-2

stalks

celery

sliced

4

ounces

cheddar cheese

shredded

salt and pepper to taste
Instructions
Melt butter in a medium saucepan. Sauté onion and red pepper in butter for 5-10 minutes until vegetables are starting to soften.

Sprinkle flour over the vegetable mixture and stir until flour is incorporated. Add the half & half, milk, and chicken stock and stir to combine.

Add the broccoli, carrots and celery. Cook over low heat 20-25 minutes.

Use an immersion blender until desired consistency. Return to heat and add the cheddar cheese. Stir until cheese is melted. Add salt and pepper to taste and serve warm.