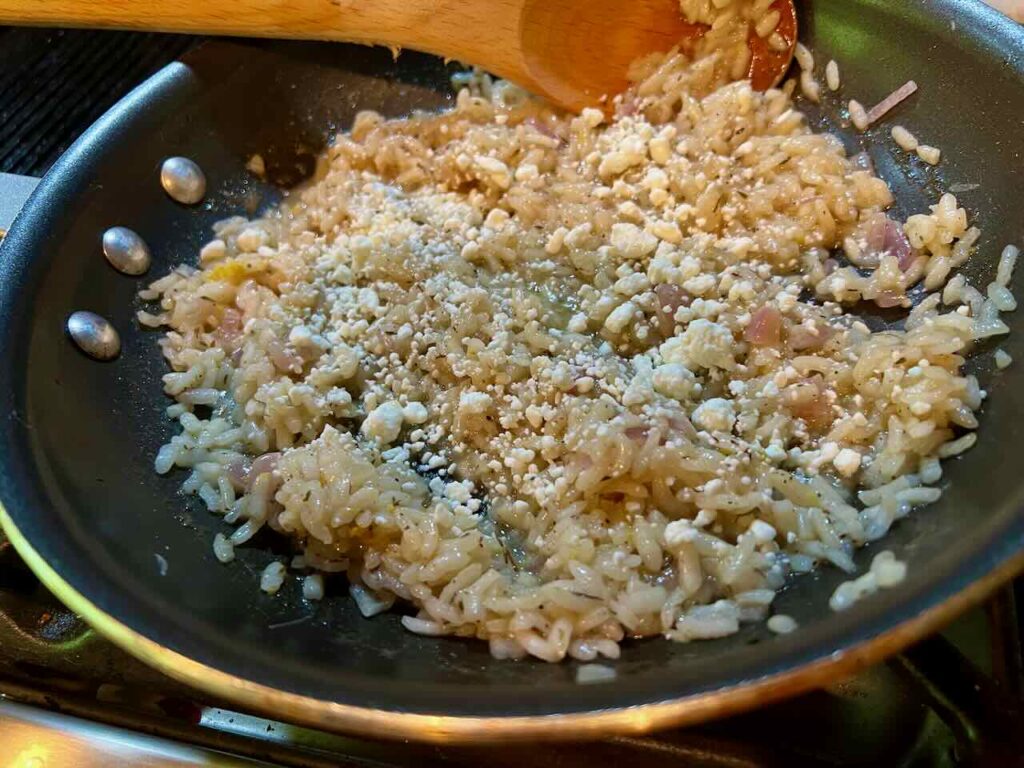 Lemon goat cheese risotto is creamy and delicious with a bright citrus flavor.
I saw a recipe years ago for goat cheese in risotto and knew it must be good. Goat cheese is a soft, mild, creamy cheese that enhances all sorts of recipes. I knew it would be perfect in an already creamy dish like risotto.
Fresh lemon has been part of my risotto recipes before, and I know it would be good in this as well. I once read if a dish is missing something, add an acidic ingredient. The bright, tangy lemon contrasts the creamy cheese and risotto for a delicious take on this classic side dish.
Ingredients
Chicken Stock: Warm stock is slowly added to allow the rice to cook. I really like to use homemade stock for risotto if I have it available.
Butter: Used to sauté the onion and gives the dish richness.
Onion: I usually use red onion as that is what we always have available. Yellow or white onions would be great as well.
Arborio Rice: A short-grain Italian rice used to make risotto.
Thyme: Fresh or dried thyme adds nice freshness and color.
Goat Cheese: I typically purchase crumbled goat cheese. You can also buy it packaged whole in a log. I rarely use an entire log and find the crumbled form more convenient.
Parmesan Cheese: The sharp flavor of parmesan cheese is a nice contrast to the mild goat cheese.
Lemon Juice & Zest: Adds acidity and brightness to the risotto.
Salt & Black Pepper: Brings out the flavors.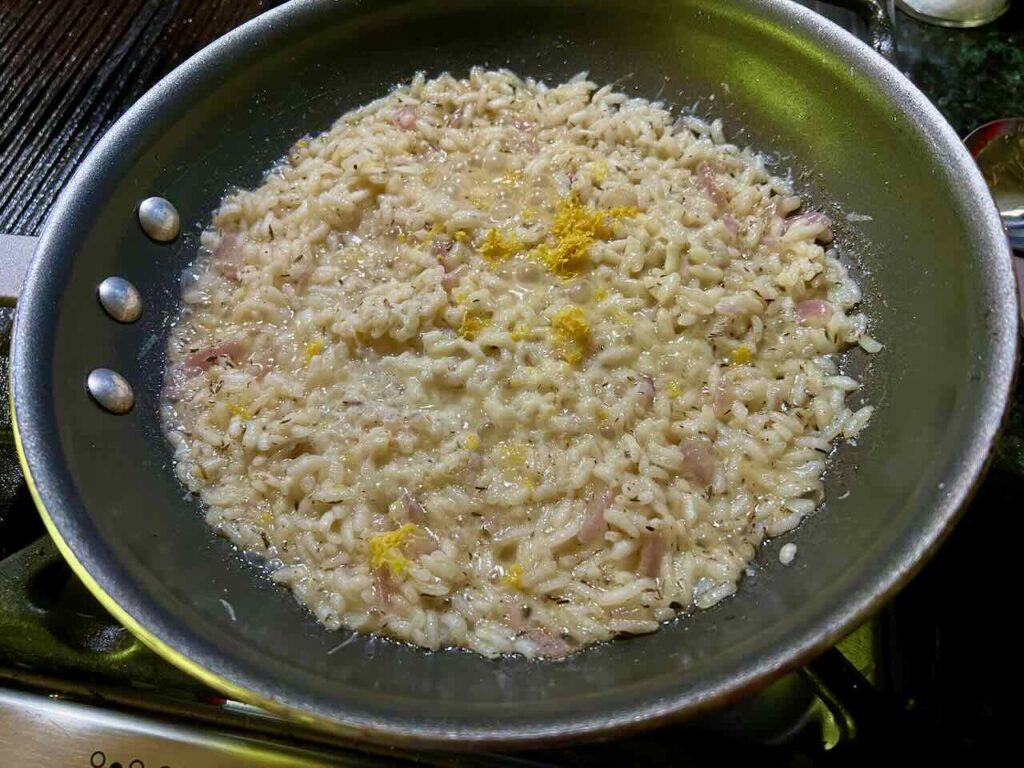 Instructions
Grab a skillet. I like to use a non-stick skillet, so the rice doesn't stick to the pan.
Place the chicken stock in a small saucepan and heat over medium. Once the sauce is simmering, turn the burner down to low heat. The idea is to keep the stock warm.
Sauté the onion in butter, then stir in the rice. Let the rice cook in the butter for a few minutes.
Next, we start adding the stock to the skillet. Add about a quarter cup of stock, and stir occasionally as the rice absorbs the stock. Once absorbed, add another quarter cup of warm stock and repeat. This process is repeated until all the stock is absorbed, and the arborio rice is tender. Keeping the stock warm speeds up the cooking process. Instead of shocking it with cold liquid over and over again, the warm stock can quickly absorb into the rice.
Once the rice is tender, add the remaining ingredients. Stir to combine and serve immediately.
Lemon goat cheese risotto makes a great accompaniment to a variety of main courses. I recently served it with pesto turkey meatballs and green beans.
Lemon Goat Cheese Risotto
Ingredients
2

cups

low sodium chicken stock

1

Tbsp

butter

¼

cup

onion

finely chopped

½

cup

arborio rice

½

tsp

thyme

2

ounces

goat cheese

crumbled

¼

cup

parmesan cheese

freshly grated

1

fresh

lemon

zest and half the juice

¼

tsp

salt

¼

tsp

freshly ground black pepper
Instructions
Add the chicken stock to a small saucepan and heat to a simmer. Turn to the lowest heat to keep the stock warm.

In a large skillet, melt the butter over medium heat. Add the chopped onion and sauté until soft, approximately 3-5 minutes.

Add the arborio rice. Stir and let the rice get a little translucent, about 2-3 minutes.

Ladle in about a quarter cup of the warm chicken stock. Stir and allow to become fully absorbed before adding another quarter cup of stock. Stir mixture frequently and keep an eye on it. The entire process will take about 25 minutes until all the broth has been absorbed.

When all of the stock is absorbed, stir in the thyme, goat cheese, parmesan cheese, lemon juice, lemon zest, salt and pepper. Serve immediately.