This recipe originated from an oops on my part.
Until early afternoon my menu for the evening was sautéed shrimp, mushroom risotto and roasted broccoli. This changed when I realized the last of my baby Portobello mushrooms had been consumed in my lunch salad.
But I had a bounty of fresh herbs on my deck and I always have lemons. Although I typically always have mushroom too; until I forget and eat them all! 😉
I absolutely loved the herbs and lemon in the risotto. It was bright and fresh and nothing was overpowering. The Parmesan cheese gives the dish a creamy texture and blended perfectly with the lemon and herbs.
Wine: Full disclosure: When I have wine available I love using it; but I don't typically have an open bottle of white wine or chose to open one just for a recipe. So instead of white wine I used a bit more broth. It's delicious either way.
Fresh Herbs: I used rosemary, thyme and parsley which paired beautifully with the lemon.
Arborio Rice: An Italian rice which releases starch as it absorbs liquid; which results the creamy consistency of risotto. More expensive than traditional white rice but essential for risotto.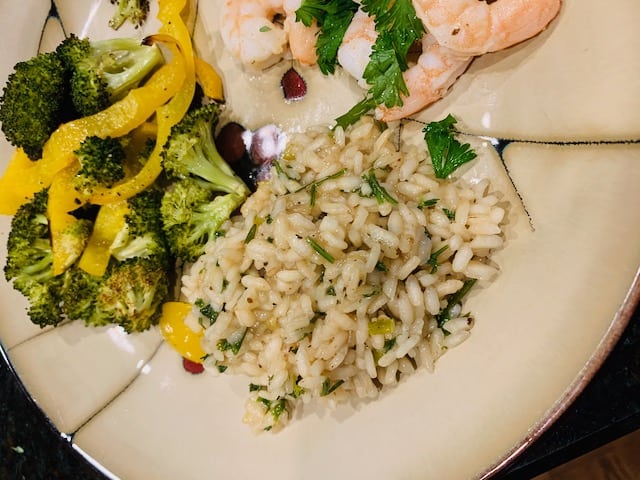 Risotto has the reputation of being difficult but it really just requires attention in the form of adding warm broth and stirring. As the risotto soaks up the broth more is added. You don't have to sir constantly but stay close by and check frequently.
Garlic and lemon sautéed shrimp complimented the risotto nicely along with roasted broccoli and yellow pepper for color and healthy vegetables.
This recipes makes two servings and can easily be doubled or tripled to serve more people. Enjoy!
Lemon and Herb Risotto
Ingredients
1¾

cup

vegetable broth

¼

cup

white wine

2

tsp

butter

1

large

scallion (green onion) the white and some of the green part

chopped finely

1

cloves

garlic

minced

½

cup

Arborio rice

juice + zest from 1/2 lemon

3

Tbsp

mixed fresh herbs (I used rosemary, thyme and parsley)

chopped finely

lots of fresh ground black pepper

salt to taste

¼

cup

freshly grated parmesan cheese
Instructions
Add the broth to a small pan on high heat. Reduce the heat to low once heated through.

Melt the butter in a skillet on medium heat.

Finely chop scallion and mince garlic then add to the skillet and cook for a couple of minutes, taking care not to brown them.

Add the rice to the skillet and stir constantly for a couple of minutes. Reduce heat to medium.

Add the hot broth into the rice one ladle at a time; allowing liquid to absorb between additions. Watch closely and stir frequently.

Continue to add broth until the liquid is gone and the rice is creamy and tender with a little bite. (Al dente) This process takes about 25-30 minutes.

Stir in the lemon juice and zest, herbs, parmesan cheese and freshly ground pepper. Add salt to taste.

Serve immediately.