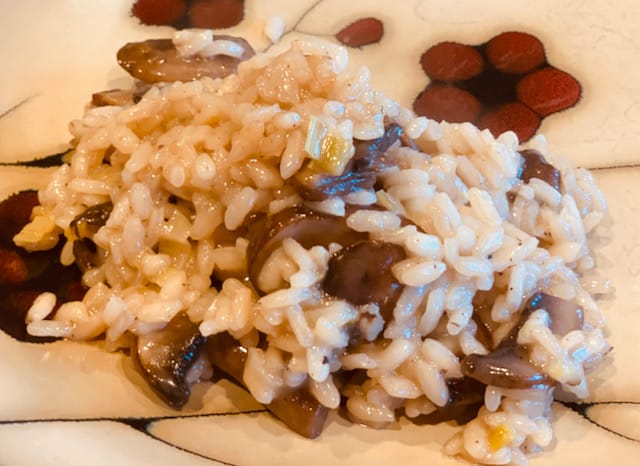 Mushroom risotto is the sort of side dish that can upstage the main course. The rice cooks up creamy and just a little chewy. The mushrooms are sautéed and absorb all the delicious flavors.
I have made this risotto so many times. Any recipe with mushrooms is usually a hit in our house. We both love them and look for excuses to eat them. Risotto makes any meal feel just a little more special.
This is probably sacrilegious, but I often don't use wine to make my risotto. Don't get me wrong, I love wine, and if I have it available, I most definitely use it. But I don't typically want to open a bottle just for a quarter cup of wine. In this case, I just add extra chicken stock. It is still amazing, I promise!
Risotto has the reputation as a fussy dish, but this really isn't the case. While you do have to stir frequently the recipe does not require constant attention. Typically, I am in the kitchen prepping lunch for the next day or preparing the rest of the meal. I just make sure to occasionally check and stir the risotto.
Ingredients:
Chicken Stock: Warm homemade or store bought stock is slowly added to the rice and creates the creamy base.
Butter and Olive Oil: The onions and mushrooms are sautéed in a combination of butter and olive oil for richness and flavor.
Mushrooms: I usually use portobello mushrooms. Any flavorful mushroom is delicious in the recipe.
Onions: Onions are diced finely and sautéed for maximum flavor. I like red onions.
Dry White Wine: I like Chardonnay, but if you don't have wine available no worries. Just use extra chicken stock.
Arborio Rice: Arborio rice is the classic rice used in risotto. This rice cooks up creamy, slightly chewy, and wonderful.
Parmesan Cheese: Use freshly grated parmesan if possible. The cheese adds wonderful flavor.
Freshly Ground Pepper: Added at the end for a great finish.
Instructions:
Start by heating your chicken stock in a small saucepan. Once heated turn the burner to the lowest setting to keep warm.
Melt butter and heat olive oil together in a large skillet. Sauté the mushrooms and onions until softened and tender. Add the rice and stir. Let the rice get a little toasted in the butter and olive oil.
Add the wine and stir into the rice. Stir frequently while the wine is absorbed by the rice. Once the wine is absorbed add between a quarter to a half a cup of stock. I usually use a ladle to slowly add the stock to the rice. Stir frequently as the stock is absorbed. Continue this process until the rice is tender but still slightly chewy.
Once the rice is tender, grate in the fresh parmesan cheese and continue to stir to combine. Grind in fresh pepper to taste.
Serve immediately. I like mushroom risotto with lemon-garlic shrimp and a side veggie.
If you love risotto like I do, try this variety with lemons and herb. So bright and yummy. 🙂
Enjoy!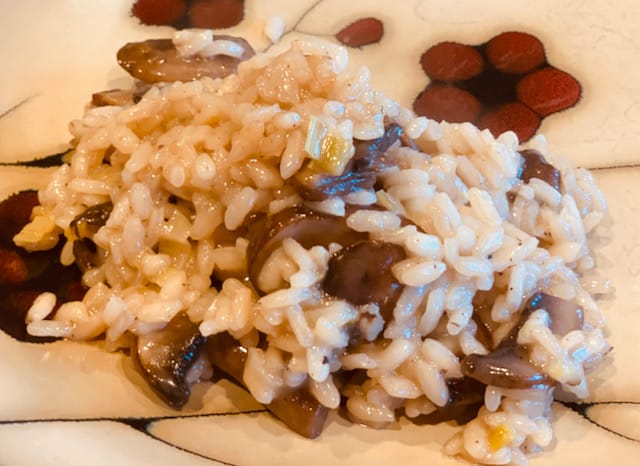 Mushroom Risotto
Ingredients
2

cups

low sodium chicken stock

2

tsp

extra virgin olive oil

1

tsp

butter

1

cup

mushrooms

sliced

¼

cup

onion

diced small

¼

cup

dry white wine

alternatively can be made with all chicken broth

½

cup

Arborio rice

¼

cup

parmesan cheese

grated

freshly ground pepper to taste
Instructions
In a small saucepan, warm the chicken stock and keep it on low heat.

In a large skillet, heat oil and butter over medium-high heat. Add mushrooms and onions and sauté for 5 to 8 minutes until the mushrooms are tender. Add Arborio rice and stir to combine. Toast the rice with the mushrooms for 2 minutes.

Add wine and stir frequently. Once the wine is nearly absorbed add ¼-½ cup of warm stock. Stir frequently until the stock is absorbed and the risotto becomes thick. Repeat the process, adding ⅕ cup stock at a time and waiting to add the next ¼ cup when the stock absorbs. This process will take about 20 minutes. After most of the stock has been added, the rice should be cooked and have a chewy bite to it. If not, just add more stock and continue cooking until the rice is cooked.

Once the rice is cooked and the risotto is creamy, add the parmesan cheese and stir to combine. Add freshly ground pepper to taste.