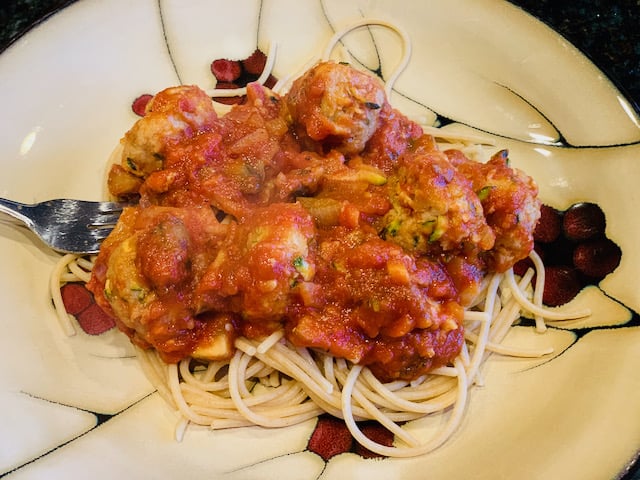 Juicy, tender meatballs that are full of zucchini and parmesan. These zucchini parmesan chicken meatballs are soft, flavorful, and absolutely delicious.
I have come to love using shredded zucchini in recipes. The zucchini adds moisture and, of course, makes the recipe a little healthier thanks to more vegetables. We all know about spiralized zucchini, but shredding is the way to go in my book.
For the record, I have never spiralized zucchini to use a pasta substitute. I am sure I would like it, but we have pasta maybe once a week. When I want pasta, I want pasta! Am I right?
Ingredients:
Ground Chicken: Packaged ground chicken is a light, healthier ground meat.
Shredded zucchini: It takes minutes to shred the zucchini using a medium cheese grater. The zucchini makes the meatballs so tender. Peel the zucchini if desired but definitely not necessary.
Panko bread crumbs: My favorite variety of bread crumbs. Give the meatballs structure, yet they stay soft and light.
Parmesan cheese: Freshly grated if possible. Adds wonderful, salty flavor. I typically finely grate the cheese so it is well dispersed throughout the meatballs.
Freshly ground black pepper: I love lots of pepper in everything.
Instructions:
After preheating your oven, prep your sheet pan. Either spray the sheet pan with nonstick spray or line with foil or parchment paper.
After shredding your zucchini and parmesan, add them to a medium bowl along with the ground chicken, bread crumbs, and pepper. Combine using your hands or a spoon.
Use a tablespoon to create equal sized meatballs. I usually get 10 meatballs.
Bake until meatballs or cooked through and juices run clear.
Zucchini parmesan chicken meatballs are excellent tossed in your favorite pasta sauce. They are delicious with homemade or jarred marinara sauce.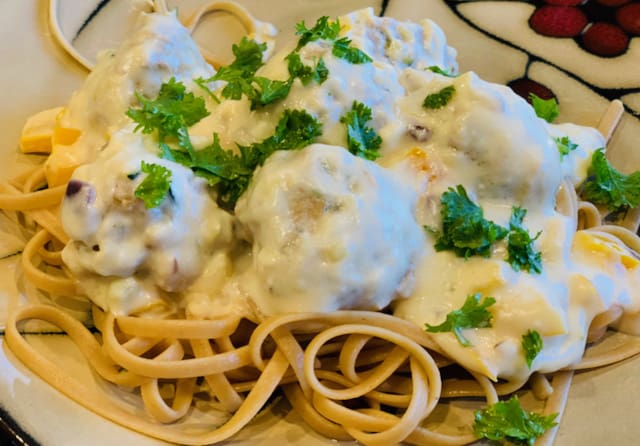 They also go very well with a light Alfredo sauce over linguini.
If this recipe makes you a fan of shredded zucchini be sure to try this cheesy zucchini stuffed chicken!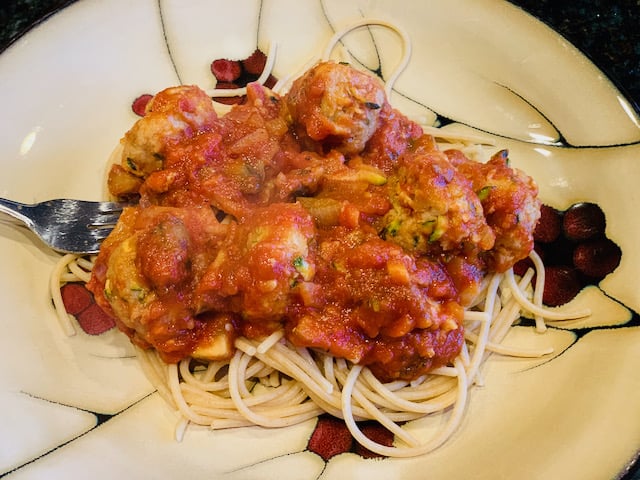 Zucchini Parmesan Chicken Meatballs
Ingredients
½

pound

ground chicken

½

cup

zucchini

grated

½

cup

Panko bread crumbs

¼

cup

grated parmesan cheese

freshly ground black pepper
Instructions
Spray a small baking sheet or line with parchment paper.

Add the ground chicken, grated zucchini, Panko bread crumbs, grated parmesan cheese, and pepper to a bowl. Combine ingredients together using a spoon or your hands.

Using a Tbsp measure the meat mixture into equal sized balls. Depending on size you will end up with 8-12 meatballs.

Bake 20-22 minutes until the meatballs are done.