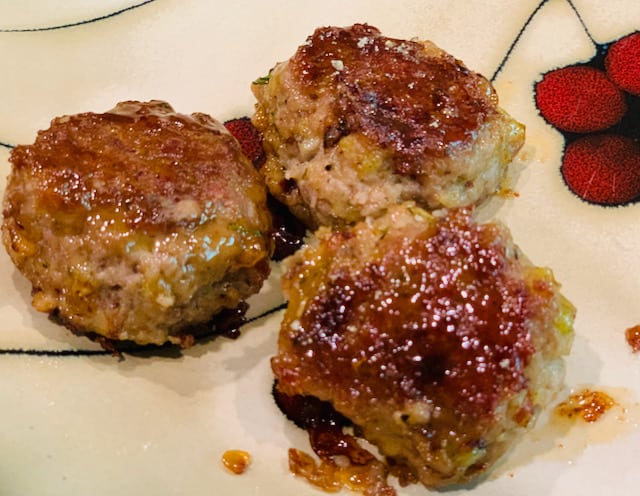 These flavorful sweet chili turkey meatballs are the quick and easy comfort food you need in your life.
Unlike many similar recipes, this is made entirely in a skillet instead of baking in the oven. We can all agree this is especially nice during the summer. The meatballs are browned and then finish cooking while they absorb the terrific flavors of the sweet chili sauce.
Hubby likes to tease me about my meatball obsession, despite me not being much of a meat-eater. I don't eat pork or beef, but I certainly love my turkey and chicken meatballs.
Ingredients
Ground Turkey: This is a great use for healthy, lean ground turkey.
Onion & Garlic: Together they provide a nice savory flavor.
Fresh Ginger: Fresh ginger adds beautiful brightness to the meatballs and is a lovely compliment to the chili sauce.
Egg Yolk: Just the yoke is used to add structure and richness to the meatballs. You can save the egg white for a few days in a sealed container in the refrigerator. Maybe make it part of your upcoming weekend breakfast!
Red Pepper Flakes: Add a little extra spice and heat.
Thai Basil or Cilantro: I love Thai basil in spicy Asian inspired dishes. Cilantro is a worthy alternative.
Panko Bread Crumbs: Lighter than traditional bread crumbs. I use them for everything.
Sweet Chili Sauce: As the name implies; sweet chili sauce along with the ground turkey are the stars of the dish. This sauce is sweet, spicy, and utterly delicious.
Lime Juice: Thins out the chili sauce while adding brightness and tang to the sauce.
Green Onions: Provide a lovely color contrast and another savory flavor.
Instructions
Start by making your meatballs. I like to add the ground turkey to the bowl first, then layer in the rest of the ingredients. Once all your ingredients are added, start to mix gently with a spoon or your hands. The egg yolk and the bread crumbs will both help give the meatballs structure.
Once mixed, shape the turkey mixture into small to medium-sized balls. The meatballs will be a little sticky, so a light coating of olive oil on your hands will assist you to handle and shape them.
I find smaller-sized meatballs a little easier to turn and flip in the skillet. Aim for about 1 1/2 inches in diameter.
Place your formed meatballs in a preheated skillet drizzled with olive oil.
Allow your meatballs to sit on one side for a good five minutes prior to turning. I have found, through trial and error, the meatballs will crumble and fall apart if not allowed to brown.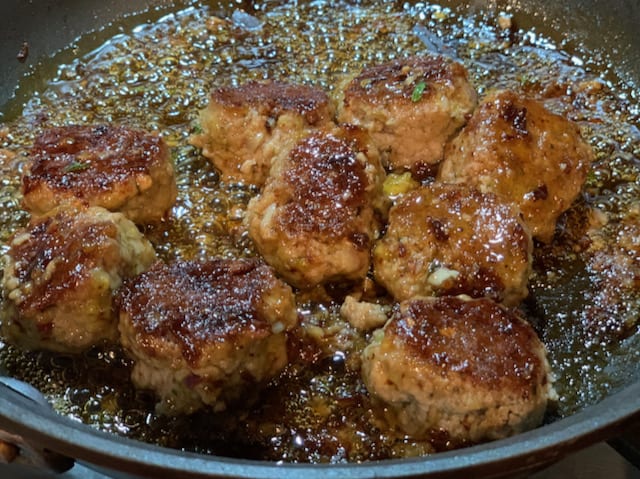 Combine the sweet chili sauce with the lime juice and Thai basil. When the meatballs are nearly finished cooking, pour in the sauce. The sauce will get glossy and coat the meatballs. Cook on low until the sauce is heated, and the meatballs are done.
Serve immediately. It is delicious with rice or cauliflower rice.
Sweet chili turkey meatballs are a tasty, easy dinner option any night of the week!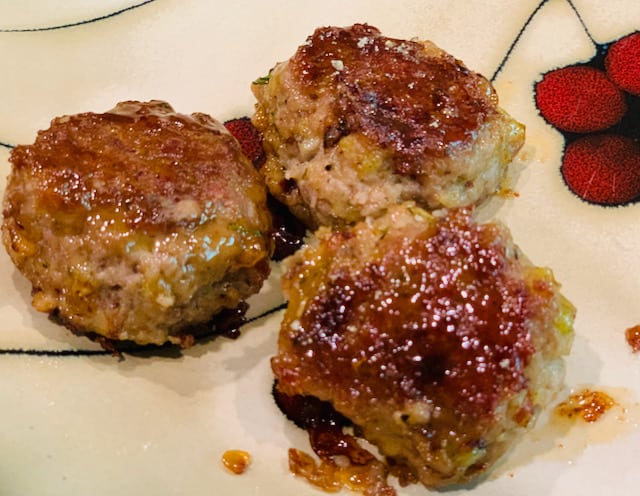 Sweet Chili Turkey Meatballs
Ingredients
Meatballs
½

lb

lean ground turkey

¼

cup

onion

minced

1

garlic

clove

minced

1

tsp

fresh ginger

grated

1

egg yoke

½

tsp

crushed red pepper flakes

2

tsp

Thai basil or cilantro

minced

¼

cup

Panko bread crumbs

1

Tbsp

olive oil
Sauce
3

oz

sweet chili sauce

1

tsp

lime juice

1

tsp

Thai basil or cilantro

minced

green onions

thinly sliced
Instructions
Whisk together the ingredients for the sauce and set it aside to use later.

Combine all ingredients for meatballs in a bowl and mix thoroughly.

Grease your hands with a little oil and shape into 10 – 12 meatballs.

Preheat a large frying pan over medium heat and add oil. Add meatballs to the pan and cook for about 5 minutes on one side until the meatballs are beginning to brown. Turn the meatballs over to brown on the other side.

Fry for about 15 minutes on low to medium heat until well browned and nearly done. Covering the pan once you have turned them will help ensure the meatballs are cooked and stay moist.

Pour the sauce all over the meatballs and coat the meatballs with the sauce. Continue to simmer on low heat until meatballs completely cooked and sauce is hot.

Serve immediately with sliced green onions for garnish. Nice over rice, fried rice or cauliflower rice!