Small batch strawberry shortcake is probably my favorite summer dessert for two.
We both grew up enjoying shortcakes covered with strawberries for dessert as soon those lovely, ripe, locally-grown strawberries become available.
This time of year store-bought shortcakes start appearing right alongside the strawberries in the grocery store. I am sure they are fine. But I am also sure it pretty easy to make a small batch of homemade shortcake that will be fresh, tender, and scrumptious!
Ingredients
Flour, Baking Powder & Salt: Two teaspoons of baking powder provide the shortcake's volume and tender texture.
Sugar: Lightly sweetens the cake.
Butter: Intermixed throughout the cake for flavor and texture.
Half & half: Adds flavor, moisture and richness.
Strawberries: The essential ingredient! Select red, ripe and unblemished strawberries.
Lemon or Orange Zest: Optional, but really nice. It adds a lovely, bright flavor to the strawberries.
Brown Sugar: Sweetens and tenderizes the strawberries. If your strawberries are exceptionally sweet (lucky you!) you could use a little less sugar.
Whipped Cream, Heavy Cream, or Half & Half: Either a dollop of whipped cream or a splash of cream or half & half makes the dessert complete.
Instructions
You will want to start with the strawberries. This will allow the strawberries to soften, absorb the sugar and release their liquids. The result will be beautifully macerated strawberries.
It always throws me when I see the word macerate in a recipe. Macerated strawberries are delicious. Macerated skin in the medical world-not great!
Medical humor. I couldn't resist.
Back to your strawberries. You will wash, hull (remove the stems) and slice your strawberries. Stir in the zest and brown sugar. Let the mixture sit while the strawberries get soft, tender, and irresistible.
On to the shortcake.
Combine the dry ingredients in a bowl. Dice up the cold butter and use your fingers, which is my method, or a pastry blender to combine the butter with the flour mixture. After a few minutes of squishing the butter around, the mixture should look like coarse sand with only tiny pieces of visible butter.
I like to let the batter rest just a bit, so it starts to rise. Once the oven is up to heat, transfer the shortcake to your sprayed or greased loaf pan. It should be spread out, but don't completely level it. Lumps and bumps are a good thing!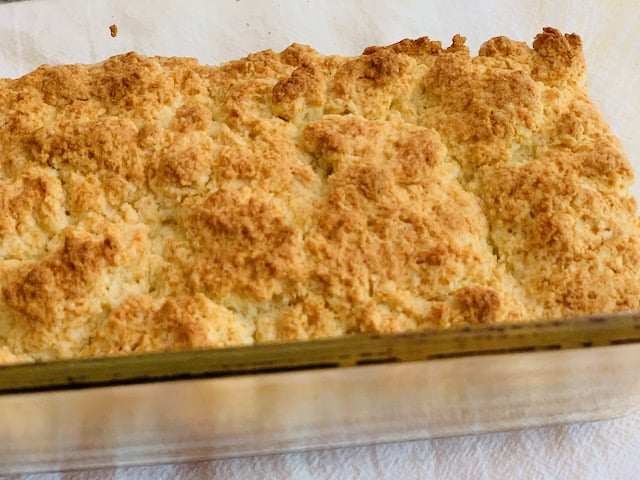 Bake until the cake is golden and a tester comes out clean.
Allow to set for a few minutes, but serve while still warm for maximum wonderfulness. 🙂
Spoon a portion of strawberries and juice over the shortcake. Drizzle with some cream or half & half or whipped cream. I like it equally well both ways.
This recipe serves 2-3 people. If you like a generous amount (yes, please!) it is the perfect little treat for two.
Be sure to try small batch blueberry cobbler for another fruit based dessert for two!
Small Batch Strawberry Shortcake
Ingredients
Shortcake
1

cup

flour

2

Tbsp

sugar

2

tsp

baking powder

¼

tsp

salt

3

Tbsp

cold butter

chopped into small cubes

⅓

cup

half & half
Strawberries
2

cups

fresh strawberries

1

tsp

fresh lemon or orange zest

optional

⅓

cup

brown sugar

lightly packed
Topping
whipped cream

heavy cream or half & half for topping
Instructions
Rinse, hull, and slice 2 cups of fresh strawberries. Place the sliced berries in a bowl and sprinkle with brown sugar and citrus zest. Stir gently to completely combine. Let stand at room temperature while you make the shortcake.

Combine flour, sugar, baking powder, and salt in a medium bowl. Stir thoroughly.

Work butter into the flour mixture with a pastry blender or fingertips until it resembles course sand.

Add half & half. Stir slowly until a soft dough forms. Do not overmix.

Cover the bowl with a kitchen towel and allow to the dough to rest for a few minutes while you pre-heat the oven to 400℉.

When the oven is to full heat turn dough into a buttered or sprayed 9×5 loaf pan and spread evenly into the bottom of the pan. Don't pat the dough completely smooth; you want some crevices and divots!

Bake for about 20 minutes in a 400℉ oven, or until golden brown.

Cool for a few minutes.

Remove from the pan and split into serving dishes. Cover shortcake with prepared strawberries and whipped cream, heavy cream or half & half.