Strawberry shortcake muffins. One of my favorite spring desserts in muffin form!
The muffins have everything I love about a bowl of strawberry shortcake. Sweet, tender cake and lots of great strawberry flavor.
Of course, everything is extra delicious with strawberries freshly picked from a local patch. But with sweet batter surrounding the berries, store-bought strawberries fill in nicely. They are bright and colorful, just the perfect little spring treat.
Ingredients
Flour & Baking Powder: The structure and leavening agent for the muffins.
Sugar: Makes the muffins sweet and delicious.
Butter: Butter makes the muffins rich and indulgent.
Egg: Helps provide the structure of the muffin.
Half & Half: Adds moisture and extra richness to the muffin batter.
Vanilla Extract: Adds great flavor to baked goods.
Almond Extract: Optional, but recommended if you have it available. I love the aroma and the subtle, sweet, almond flavor.
Fresh Strawberries: Select red, ripe strawberries. As I mentioned earlier, if you don't have local strawberries available store-bought fill in nicely.
Powdered Sugar: Sprinkled over the top of the muffins to make them pretty.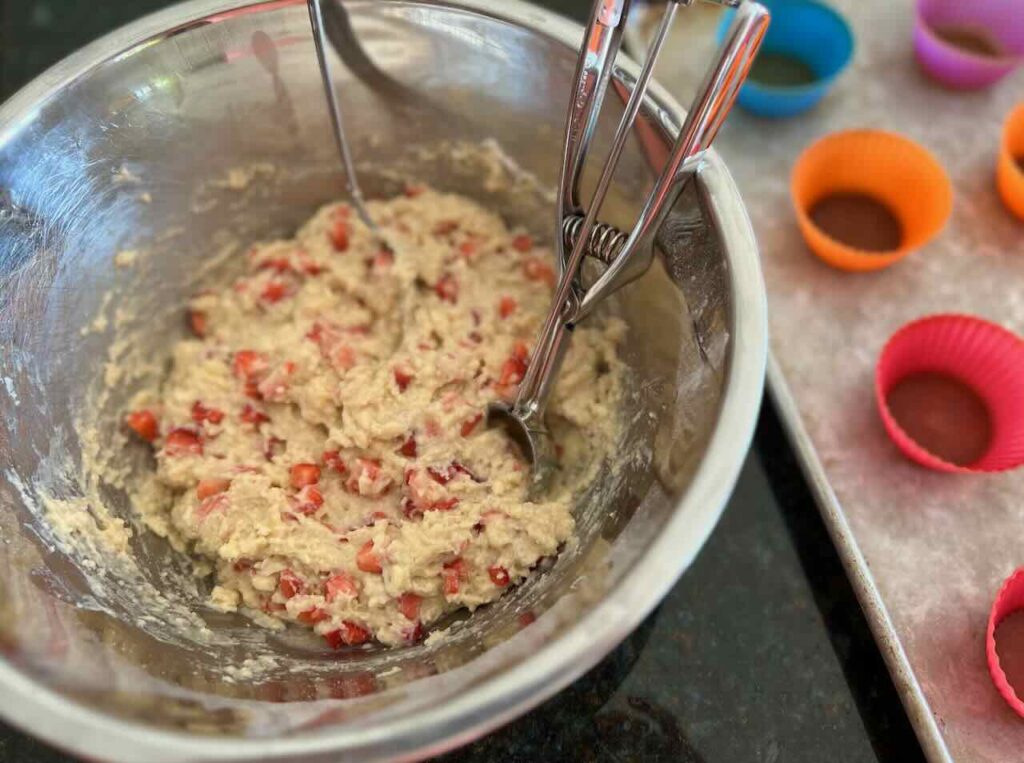 Instructions
Start by preheating the oven.
I like to start by finely dicing my strawberries. Dicing them small assures there will be strawberries in every bite. Keeping the strawberry pieces small makes it easier to spoon the batter into your muffin cups.
As with most muffins, you will combine the dry and wet ingredients separately. Often we use softened butter but in the recipe, we work the chopped, cold butter into the dry ingredients. This results in a bit denser, more shortcake-like muffins. But no worries, still very soft and tender.
When my tech support/Hubby was importing the recipe, he mentioned using a food processor to mix the butter into the dry ingredients. I confess I didn't try it, but it would definitely work well.
Once the butter is worked into the dry ingredients, stir in the wet ingredients until just combined, then hold in the strawberry pieces. Take care not to overmix.
Using spoons or a cookie scoop, transfer your batter to your muffin cups.
Enjoy these wonderful strawberry shortcake muffins warm or at room temperature. Enjoy!
Strawberry Shortcake Muffins
Ingredients
2

cups

flour

2

tsp

baking powder

¾

cup

sugar

½

cup

butter

cold and cut into cubes

1

egg

¾

cup

half & half

1

tsp.

vanilla extract

¼

tsp

almond extract

optional

1½

cups

fresh strawberries

diced small

powdered sugar

for dusting
Instructions
In a large bowl, thoroughly combine the flour, baking powder and sugar. Blend the cold, cubed butter into the dry ingredients with a pastry blender or your fingers until the butter is in small pea-size pieces.

In a small bowl mix together the egg, vanilla extract, almond extract, and half & half. Add this mixture all at once to the flour mixture. Stir slowly with a spoon until just combine. Gently mix in the diced strawberries.

Divide batter into the prepared muffin cups. Bake for 25 minutes or until a tester inserted in centre comes out clean. Sprinkle with powdered sugar.