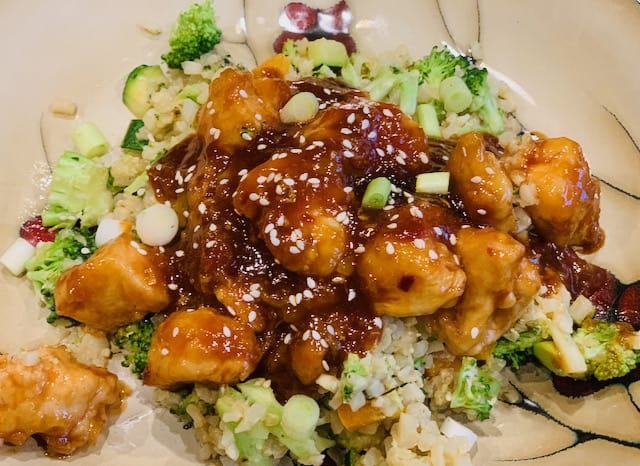 Cauliflower fried rice is a lighter, tasty alternative to traditional white or fried rice. This veggie-packed side dish is a great balance for a spicy, sticky sweet main dish like this sweet and spicy sesame chicken.
Riced cauliflower is the main vegetable, and it is super easy when you start with a prepackaged bag from the freezer. Riced vegetables do contain moisture, which can make for soggy results in recipes. But by sautéing over medium heat, some of that moisture will evaporate, resulting in a pleasing texture.
Ingredients
Canola Oil: Canola oil is a good choice for sautéing your choice of vegetables.
Chopped Vegetables: Broccoli, ripe bell peppers, and red onions are my choices. A little garlic is always nice. Celery would be great. A spicy pepper would be great if that is your sort of thing.
Frozen Cauliflower Rice: Widely available in the freezer section and makes this dish so easy. I use whatever variety I can find; this one is very good.
Soy Sauce: I always use low sodium soy sauce. Adds salty flavor and that stir-fry taste we expect.
Egg: Adds flavor, texture, and a little substance to the stir-fry. Eggs are always found in a traditional stir-fry.
Sesame Oil: Adds good Asian-inspired flavor to the dish.
Salt & Pepper: Definitely add fresh ground black pepper and salt to taste.
Green onions: Sprinkled over the top of the finished dish for texture and color.
Instructions
Start by chopping your fresh vegetables and assembling the other ingredients. The vegetables take a bit of time in the pan to sauté. But once the veggies are tender, the recipe comes together pretty quickly.
Thaw the frozen cauliflower rice according to package instructions.
Stir the riced cauliflower into the rest of the vegetables and sauté on medium heat, stirring frequently. Sauté and allow the moisture from the cauliflower to evaporate.
The egg is added at this point. Move the vegetables to the side and crack in the egg. Stir the egg. When the egg is starting to set and firm up, stir into the vegetable mixture.
Stir in sesame oil, soy sauce, and salt and pepper to taste. Stir thoroughly.
Now, what do we serve this tasty cauliflower fried rice?
Sweet chili turkey meatballs are a great choice.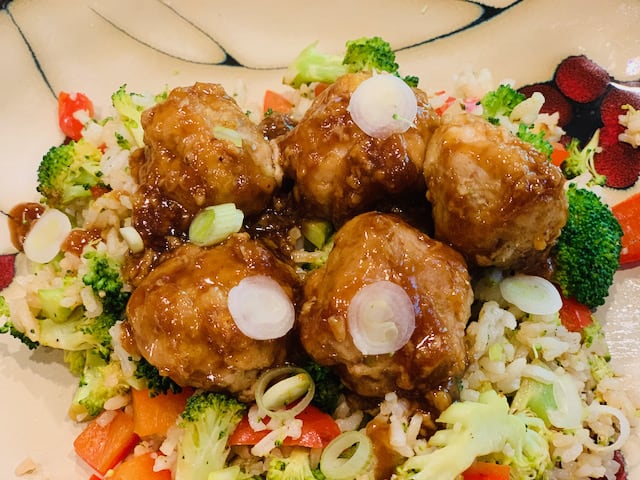 Sweet & Sour turkey meatballs are also wonderful.
Of course, you really couldn't go wrong with the sesame chicken.
Cauliflower fried rice is an easy, healthy, delicious accompaniment to your next Asian-inspired main dish.
Cauliflower Fried Rice
Ingredients
1

Tbsp

canola oil

1-2

cups

chopped vegetables

such as onions, peppers and broccoli

1

package

frozen cauliflower rice

1

Tbsp

soy sauce

1

egg

dash of sesame oil

salt and pepper

to taste

2

green

onion

thinly sliced
Instructions
Heat pan over medium heat and add canola oil.

Add chopped vegetables and cook, stirring occasionally, until crisp-tender.

Microwave flozen cauliflower rice based on package instructions.

Add rice and stir until rice is thoroughly combined with the vegetables. Move rice and vegetable mixture to the side and crack the egg into the pan.

Wait until egg are lightly set and then mix everything together.

Add soy sauce and mix. Add a dash of sesame oil and mix. Add salt and pepper to taste.

Serve sprinkled with fresh green onions.