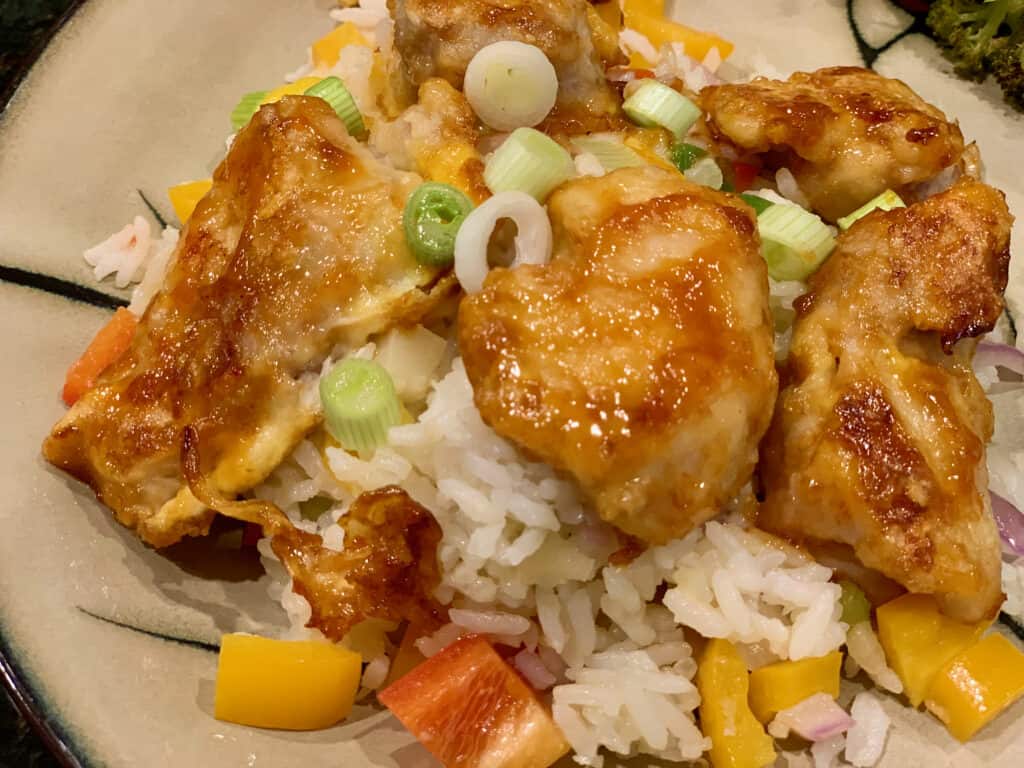 Tender, flavorful chicken thighs lightly coated and pan-fried then tossed in a tangy, sweet sauce. Quick, easy, and made in one skillet; sticky honey garlic chicken is a great choice any night of the week!
I am a sucker for a sweet, sticky sauce. It's hard to resist the orange or sesame chicken dishes at Chinese restaurants.
These days, I seem to make Asian-inspired meals at home more than ever. This recipe doesn't have the heavy breading you often find in restaurants, but the cornstarch and egg create a light coating that is crispy and wonderful.
Ingredients
Garlic: Gives the sauce the wonderful, savory flavor that only garlic can provide.
Honey: Adds sweetness and gives the sauce a wonderful texture.
Low Sodium Soy Sauce: Adds salty flavor and color.
Ketchup: It sounds odd in this sauce, but ketchup is tangy, a little sweet, and adds great red color.
Chicken Thighs: I really like thighs in this recipe; they are so tender and juicy. Chicken breast would also work.
Pepper: I like lots of fresh ground black pepper in everything. Salt isn't necessary due to soy sauce and ketchup.
Cornstarch: Coats the chicken and gives the sauce some thickness.
Egg: Along with cornstarch, the egg will provide a really nice crisp coating for the chicken.
Canola Oil: A nice neutral oil for pan-frying.
Instructions:
Start by mixing up the sauce and set aside.
Next, chop the chicken thighs. Add cornstarch and pepper to a bag or shallow container to coat the chicken in the cornstarch. Cornstarch is really a key ingredient in this dish. It makes coating and frying the chicken so easy!
Add your chicken to the bag or container with the cornstarch and shake until the chicken is thoroughly coated.
Add canola oil to a skillet over medium heat until the oil is hot. I like to use a non-stick skillet.
Dip each piece of chicken in the egg and add to the skillet.
Be patient and allow the chicken to brown on one side. It's always tempting to turn too soon (trust me, I know!) but you really want the coating to fry and get golden.
Once your chicken is just cooked through, add the sauce. Gently toss and allow the sauce to coat the chicken. The cornstarch does double duty here by helping to thicken the sauce.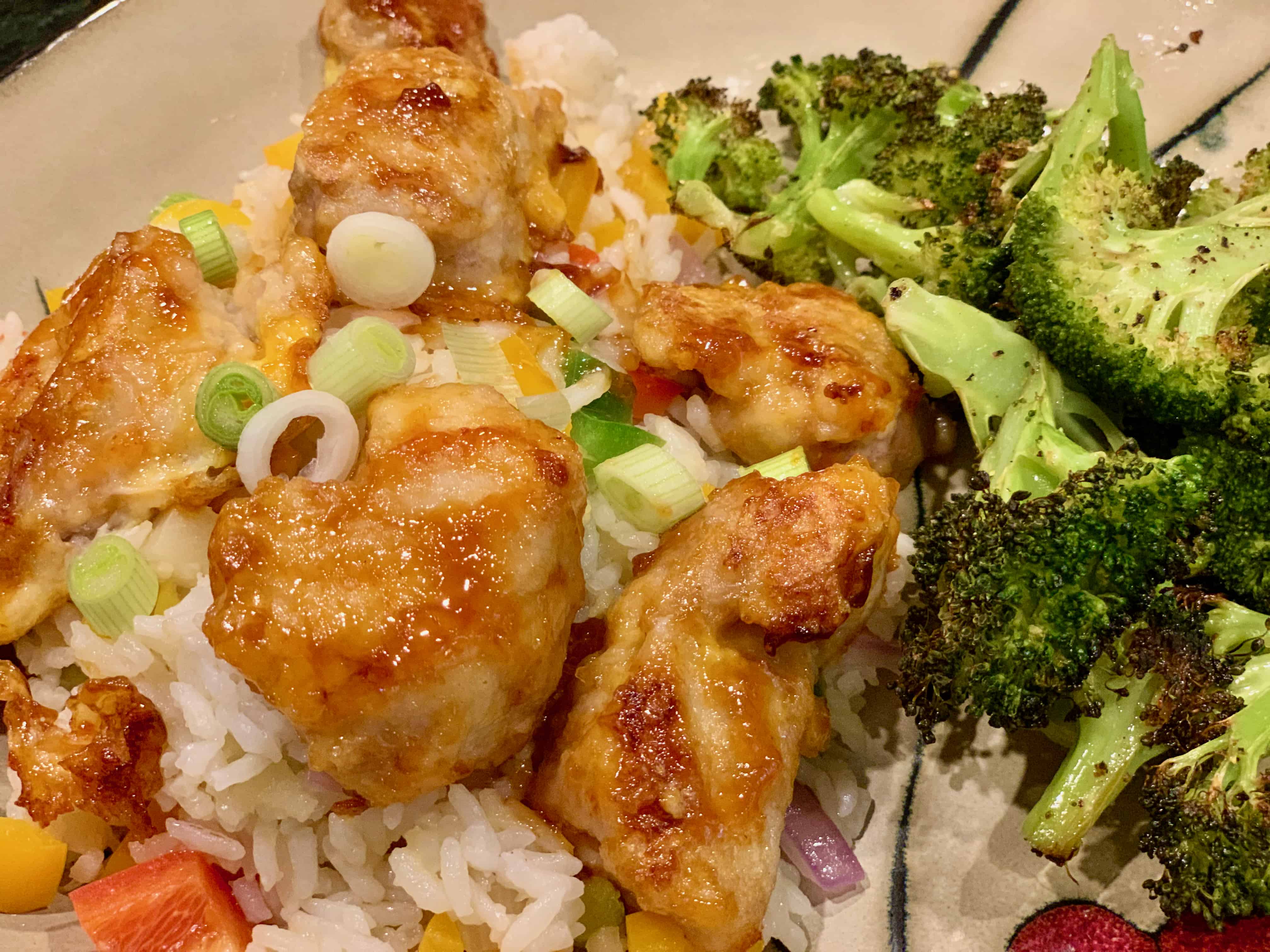 Once the sauce is hot and has thickened, remove from heat and serve immediately.
I really like sticky honey garlic chicken with Caribbean rice or cauliflower fried rice and a side of roasted broccoli.
Sticky Honey Garlic Chicken
Ingredients
1

garlic

clove

minced

2

Tbsp

honey

1

Tbsp

low sodium soy sauce

1

Tbsp

ketchup

2

boneless,

skinless chicken thighs

½

tsp

freshly ground black pepper

⅓

cup

cornstarch

1

large

egg

beaten

1

Tbsp

canola oil
Instructions
In a small bowl whisk together the garlic, honey, soy sauce and ketchup. Set aside.

Chop each chicken thigh into 5 or 6 bite-size pieces. Dry the chicken with a paper towel to absorb any moisture.

Add pepper and cornstarch to a resealable plastic bag. Add the chicken pieces to the bag. Close the bag and shake the chicken to coat it with the mixture.

Meanwhile, in a non-stick skillet, heat the oil until hot.

Add the beaten egg to a small, shallow dish.

Remove each piece of chicken from the bag, dunk it in the beaten egg, and then place it in the oil to fry. Fry until the crust is lightly golden.

Give sauce a quick stir and pour over chicken. Gently stir and allow the sauce to coat the chicken. Cook until the sauce has thickened and heated through.

Serve immediately.