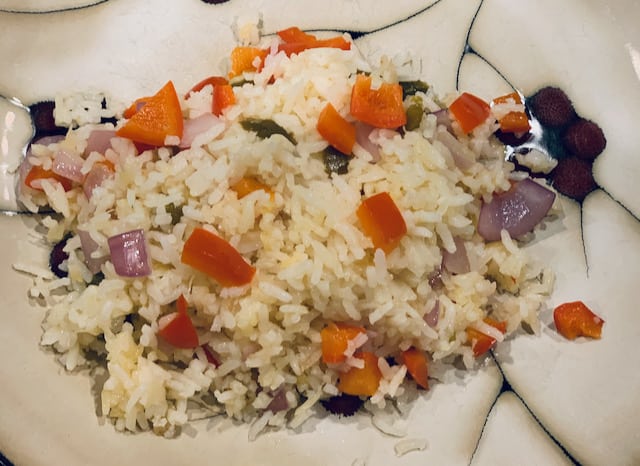 Spicy and sweet Caribbean rice makes a great accompaniment to a host of different meals. This flavorful rice can be served as a stand-alone side or paired with a saucy main entrée instead of plain rice.
We eat a lot of rice at our house; often in the form of stir fries, casseroles and soups. While plain rice is a perfectly acceptable base for a flavorful stir-fry this Caribbean rice really turns up the flavor.
Ingredients:
Canned coconut milk: I am not much of a coconut fan; but I love rice cooked in coconut milk! The rice takes on the sweet flavor of the coconut and fluffs up beautifully. I typically use light coconut milk. Seven ounces is about a half a can; the leftovers can be frozen for later use.
Coriander and Cayenne pepper: Adds warmth and spice. Careful with the Cayenne if you can't handle a lot of spice.
Bell pepper and red onions: Red, yellow or orange peppers and red pepper add great color. Don't use green peppers; as they are vile. Okay, if you insist; use green peppers. 😉
Canned crushed pineapple: Adds moisture and sweetness.
Jarred jalapeño peppers: These sweet and hot peppers are addictive! I can, and do, eat them straight from the jar. A few jarred jalapeños chopped up and added to the rice add great spicy flavor. If spicy isn't your deal some canned green chiles would be delicious. I have also used fresh jalapeños peppers which are added to the skillet along with the bell peppers and onions.
Instructions:
Combine rice, coconut milk, coriander, Cayenne pepper and water. Cook the rice using your preferred method; either stove top or a rice cooker. We have a small rice cooker and I love it!
As the rice is cooking sauté your peppers and onions in a large skillet until they start to soften. Add pineapple and jarred jalapeños. Once the rice is finished cooking add it to the skillet and stir all ingredients to combine.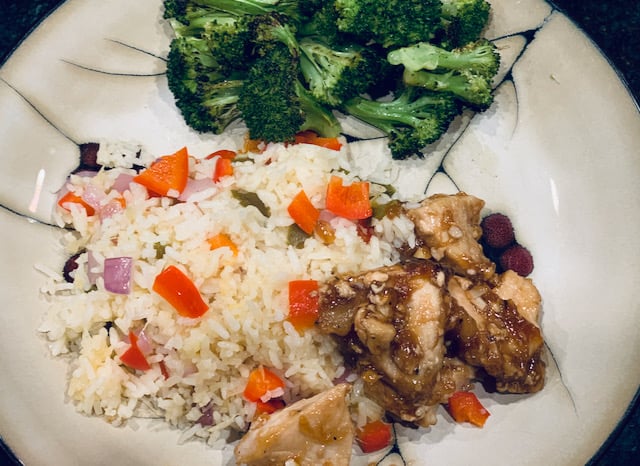 I often serve with Teriyaki chicken; they pair so well together. The dish is definitely flavorful enough to simply serve on the side with any main entrée. Sweet and spicy Caribbean rice will be great addition to any meal!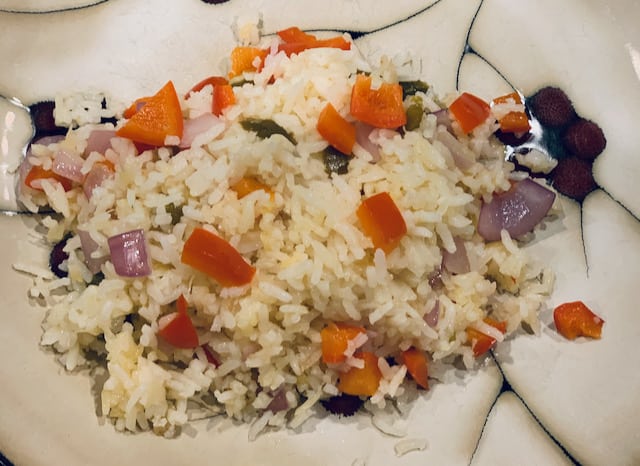 Caribbean Rice
Ingredients
1

cup

long grain rice

7

ounces

light coconut milk

1

cup

of water

½

tsp

coriander

¼

tsp

cayenne pepper

1

Tbsp

butter

¾

cup

red, yellow or orange bell pepper

diced

¼

cup

red onion

diced

3

Tbsp

canned crushed pineapple

¼

cup

jarred sliced jalapeños

diced
Instructions
To prepare the rice stove top:
Combine rice, coconut milk, water, coriander and cayenne to a medium sauce pot. Stir well.

Set over medium heat and cover. Bring to a boil, then stir and lower the heat.

Cover and allow the rice to cook until the liquid is absorbed and air holes form in the surface of the rice, about 15-20 minutes.
To prepare in a rice cooker:
To prepare in a rice cooker: Add all above ingredients to the rice cooker and cook as usual. (I add the coconut milk then add enough water to reach the fill line.)
Finish
As the rice is cooking add the butter to a large skillet and melt over medium heat. Add the diced bell peppers and onions. Sauté for about 5 minutes until starting to soften. Reduce heat and add the pineapple tidbits and sliced jalapeños to the skillet. Stir to combine.

Once the rice is tender and fluffy, dump it into the skillet and toss well to combine.