Whole wheat pizza crust can bring to mind pizza crust that is dry and tasteless. But after some experimentation, I have found a crust that is soft, chewy, and full of flavor.
We make a lot of homemade pizza. Minnesota Vikings football games mean homemade pizza and that tradition follows through the entire NFL season. Long ago we started doing our own personal pizza as our tastes in topping and crust are quite different. I do all veggie, light on cheese and a whole wheat crust. Husband like meat with his vegetables, lots of cheese and the traditional white flour crust.
My perfect crust is a mixture of whole wheat flour and white flour. I find that gives the flavor of whole wheat with the soft and chewy texture of a white flour crust.
Cold proofing has made my pizza crust even better. I mix the dough a day ahead and stick it in the refrigerator. This process has made for a fluffier and more flavorful crust.
Instructions:
The crust takes literally minutes to come together. I mix both flours, yeast and salt in a bowl and mix well. Add water and stir until the dough comes together in a rough ball.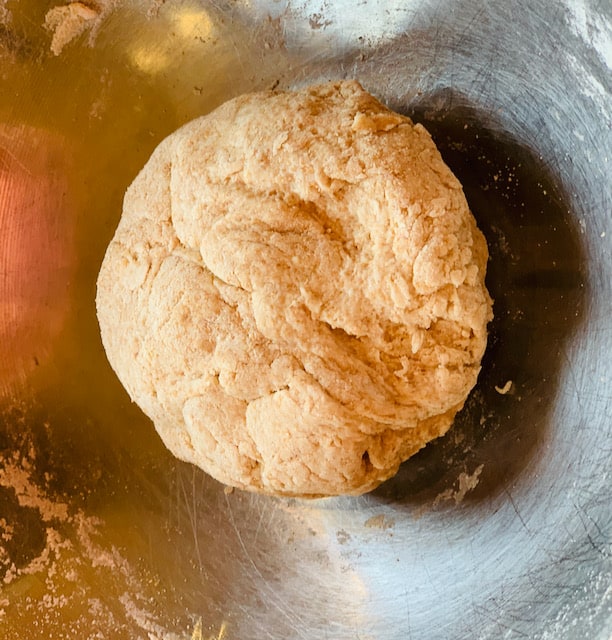 The dough ball then goes in the refrigerator in a sealed container to let the magic happen. I mix my dough Saturday morning to plan for pizza for lunch on Sunday.
Two hours prior to pizza time, pull the dough from the refrigerator. I place on parchment paper; aluminum foil also works. If you use foil be sure to spray well so the pizza doesn't stick. Coat your hands lightly with olive oil then shape into desired form. I like to do a rectangle. Cover with an inverted cookie sheet or a towel so the dough doesn't dry out while it rises. In a couple of hours, your dough should be puffed up and ready to bake.
Pizza time! Preheat your oven to 500° If you use a pizza stone preheat with the stone in the oven. You want the dough to hit the hot stone to develop the crisp crust.
Prepare your pizza with sauce and toppings of your choice. My choices include spinach, red pepper, red onion, mushroom and black olives!
Bake for about 10 minutes. I like the cheese slightly brown. Let pizza cool for a few minutes then slice and enjoy.
Whole Wheat Pizza Crust
Ingredients
1

tsp

dry yeast

½

cups

all-purpose flour

¾

cup

whole wheat flour

¼

tsp

kosher salt

½

cup

of room temperature water

Topping of your choice
Instructions
Start by combing dry yeast, all purpose flour, whole wheat flour in small bowl. Mix until ingredients are well combined. Add water and stir to thoroughly mix. Continue to mix until mixture forms a ball.

Loosely cover the dough and allow it to sit at room temperature for 20 minutes. After 20 minutes, wet your hands and flip the dough around a few times in the bowl. After another 20 minutes, repeat the process of flipping the dough.

Cover the dough and store in the refrigerator, overnight or up to two days.

Two hours before baking your pizza pull the dough out of the refrigerator. Lay parchment paper on the counter. Coat hands lightly with flour or olive oil and pull dough from the container. Using your hands spread the pizza dough out into desired size and shape. If desired use a rolling pin to roll out the dough.

Once the dough is shaped on the parchment paper cover with a kitchen towel or inverted sheet pan.

After two hours pre-heat oven to 525 °F

Spread pizza dough with sauce, toppings and cheese of your choice. Transfer pizza to baking stone or a baking sheet. If using a baking stone be sure the stone is in the oven while it preheats to assure the stone is hot. To transfer the pizza to the stone slide a cookie sheet under the pizza then side the pizza dough onto the stone.

Bake for 10-13 minutes depending on the thickness of your crust. Let set for a few minutes after pulling from the oven. Then slice and enjoy!