Happy weekend and Super Bowl Sunday!
I was remembering back to all the uncertainty at the beginning of football season; and frankly, I am grateful we have gotten to this point. Football has been a nice distraction in a year we needed all the distractions we could get.
For the record, I am picking the Kansas City Chiefs and rooting for the Tampa Bay Buccaneers. Really I am just hoping for an exciting, competitive game. It should be fun to watch.
We used to do appetizers on Super Bowl Sunday. But the last few years we have done our usual football game-day routine of pizza. Mine, in the forefront, is made with whole wheat crust and lots of veggies. His pizza is a traditional crust with meat and vegetables.
Our sweet Velvet making herself at home on my Viking blanket. I miss her.
I got my second dose of the COVID-19 vaccine on Friday. My arm is sore! Side effects can be a little more intense with the second vaccination as the immune system is really kicking in. It is totally normal and expected.
What caught my eye this week:
For people hesitant to take the vaccine: At least 70% of the population needs to be vaccinated to achieve herd immunity. Meanwhile, everyone who wants the vaccine can't get it quickly enough.
Six more weeks of winter: I don't think anyone in Minnesota expected anything less than six more weeks of winter! But how cute are groundhogs? 🙂
Pandas in the snow: Maybe the key to enjoying winter is sliding down a snow-covered hill.
Sushi for beginners: We love sushi and even make it at home occasionally. I learned a lot of new terms in this article. The list of beginner sushi rolls is a great guide.
Stretching: I absolutely love to stretch, but I don't always take the time.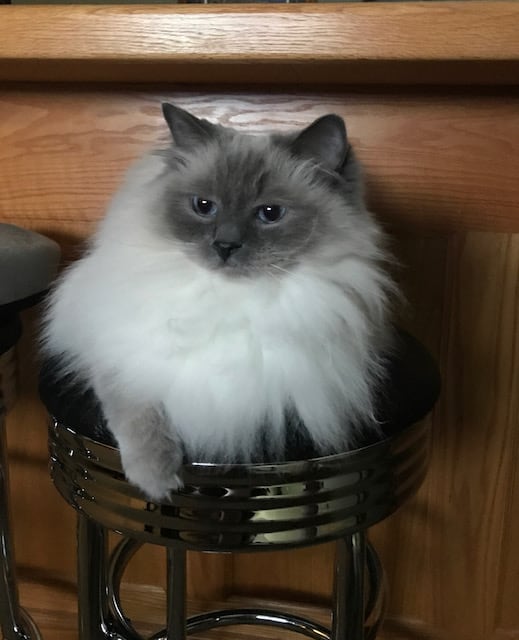 Bella all perched on a stool ready for football! Or maybe she will sleep the game away. 😉
Happy weekend!