Yes, Fall is coming….. The squirrels are squirreling away nuts for the winter as we sit. When we first bought this house, which is located on a hilly ravine, we fed squirrels on the deck. I loved it and love squirrels. When we replaced the deck a few years later we stopped feeding because, well, it's messy. I do miss it but still see them all the time scampering around the yard.
Late summer heat and humidity always brings out the fall weather lovers on social media. Sharing posts exclaiming their love of all things fall: hoodies, pumpkins, hot chocolate, bon fires, etc…. These people are done with the heat and bring on the crisp, autumn air.
No, just no. I cannot get on board with this.
I love fall too. But I live in Minnesota. Sometimes we barely get autumn. It's not uncommon to go from blazing summer to ICY cold. Sometimes we get a snowstorm in October and still getting snowstorms in April. Winters come too quick and overstay their welcome. Fall is lovely, but I know what comes next.
So summer is pretty special. We, as in everyone I know, always complain that summer goes way too fast. This year we found out that is true even when summer is a weird COVID summer. We didn't travel or go on vacation or have get togethers; and if we did they were very different.
But it is true….Fall is coming. Nights are getting chilly. Labor Day weekend is upon us. NFL football starts next week. My Vikings VS the Packers! Yes, football! Now that is a reason to be excited for fall. 🙂
On to the long weekend!
Labor Day weekend is usually pretty quiet for us. Fighting the hoards of traffic to get somewhere doesn't interest us. Not to mention the hordes of people at the destination. So we stay close to home.
Friday night we had homemade sushi. Ahi tuna, yellow bell pepper, jalapeño pepper, avocado and cilantro.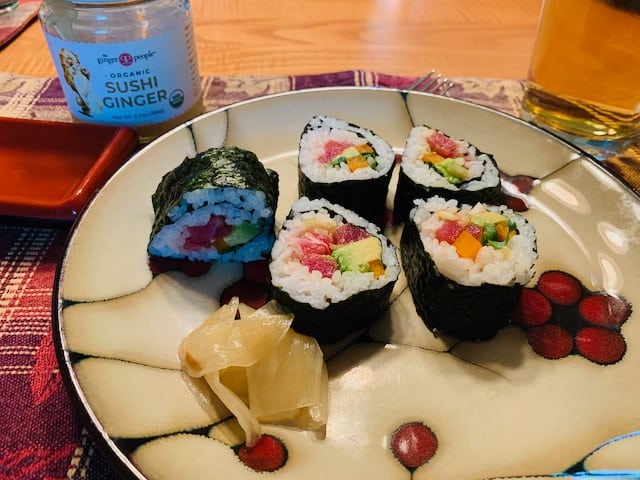 I love pickled ginger with my sushi. In fact I will eat the ginger at sushi restaurants by itself if there is leftover when the sushi is gone. This pickled sushi ginger is delicious! On par or better than what I have had at any restaurant.
Spicy sushi is our favorite! In addition to the jalapeño pepper I toss the Ahi tuna with Sriracha sauce for some heat. Husband does wasabi but I'm not a fan.
Saturday breakfast: Tex Mex breakfast casserole garnished with cilantro and the leftover avocado from the sushi.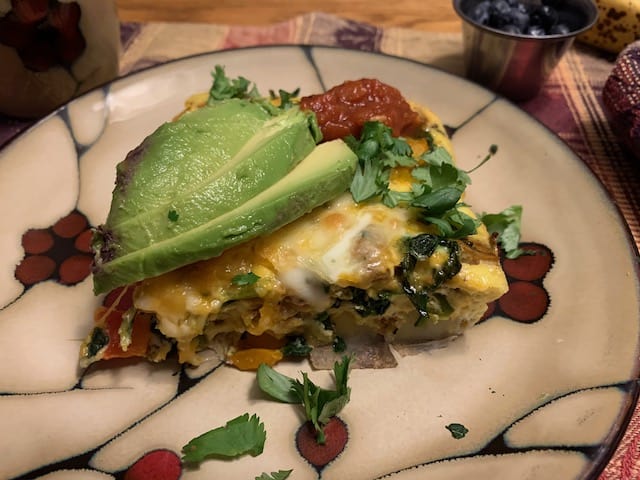 A friend gave me some baking apples last weekend. If I had to guess I would say they are Haralson. Haralson are my favorite baking apple; tart, crisp and have the best texture when baked into pies, cobblers, bars….the list goes on.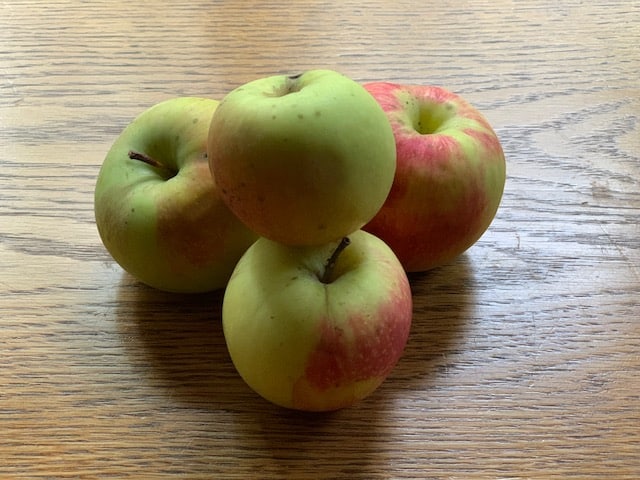 Today was my first chance to bake them into something delicious; like these apple cinnamon muffins. They are wonderful!
Today we are having fresh tomato soup and tuna melts for lunch. Chrissy Teigen's recipe from her first cookbook, Cravings. It's wonderful.
Recipe for the tomato soup coming soon. Dinner is a stir fry I have been dying to make again.
More apples desserts coming; Husband has requested a French apple pie sometime soon.
Speaking of apples: these bars look amazing! You had me at double the streusel.
This makes me want something orange to wear. It's not a well loved clothing color and I am not sure why?? It's bright and happy and the color of lots of wonderful things like pumpkins.
I keep seeing this breathing technique in articles about sleep; as in how to get and stay asleep. I click on any and all articles since sleep has been a struggle my entire life. The thunderstorm in the middle of the night didn't help last night.
If you are fortunate enough to have a long weekend; enjoy! I certainly will.