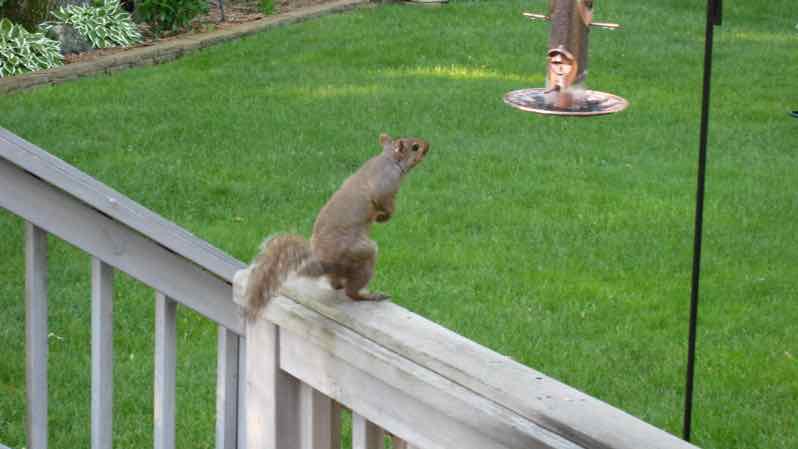 Everyone knows of my love of cats, but squirrels are a pretty close second. Not only are they ridiculously adorable, but their behavior is also equally cute.
Our house has a wooded ravine in the backyard. The privacy is wonderful, and we also see lots of wildlife. For a few years when we first moved in, we fed the birds and squirrels. We had numerous feeders on and around the deck. Bird lovers are often frustrated by squirrels invading their feeders. But we were feeding the squirrels just as much as the birds. Squirrels are always fascinated with hanging feeders. Our deck also had trough-type feeders that were made to feed small critters.
Grey Squirrels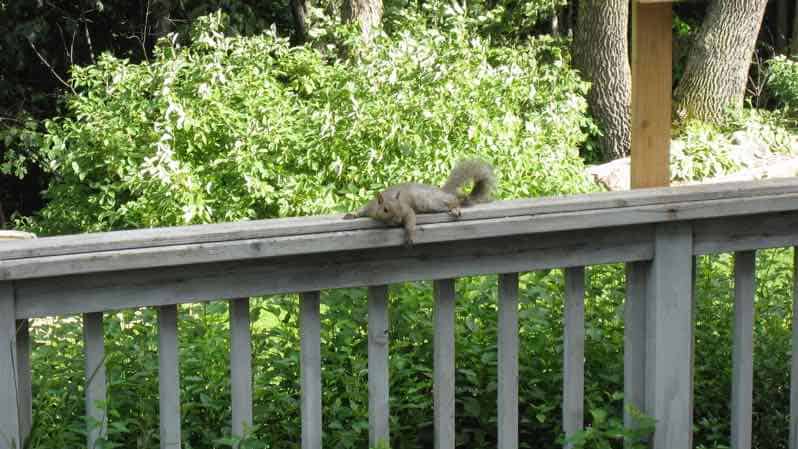 Grey squirrels are the most common in our area. If I had to choose, they are also my favorite. I think part of why I love squirrels so much is they remind me of cats. They are both energetic, playful, and completely adorable.
When the weather gets hot, squirrels will spread themselves out and lay flat. The first time we saw this behavior, we were afraid we had a sick animal on our hands. Nope, just a hot squirrel trying to get cool.
Black Squirrels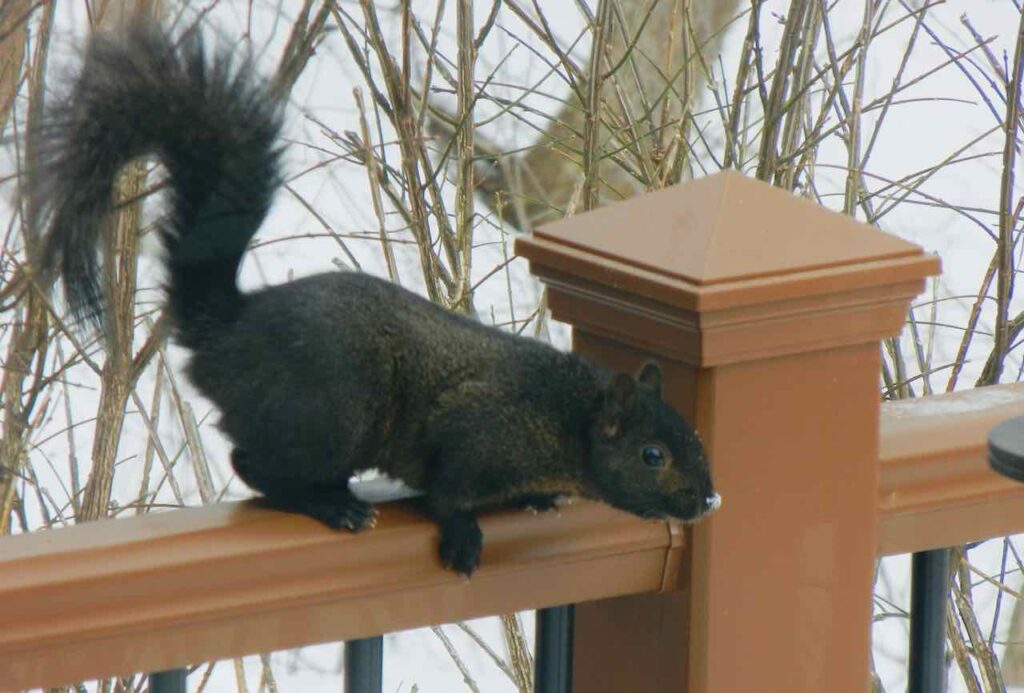 Black squirrels are easily the second most common variety in our area. We have lots of these little cuties. This guy was up on our new deck a few winters ago. Who knows, maybe he remembered finding food years ago and was hoping for a meal. There are also a few white ones around, but I have never seen one.
Red Squirrels
Red squirrels are fairly common in the area too, but we don't see a lot of them. I am okay with that. They are crazy cute, don't get me wrong, but they are known as the most mischievous and destructive squirrels. We used to store the feeders in a deck box at night. It was a red squirrel that eventually chewed his way in.
Fox Squirrels
Fox squirrels are definitely the least common in this area. They are larger than grey or black varieties, definitely a chonky squirrel! 🙂
When we were feeding the squirrels on the deck, we began to recognize a few of the regulars. This sweet little baby squirrel was a regular visitor. He had a disability with his mouth/jaw area that made it difficult for him to eat. I have to think the food on our deck was his lifeline. We would often have 4-5 squirrels on the deck at once, making themselves at home at the feeders. So much fun. 🙂
Since these photos were taken, we have replaced the deck and stopped feeding. It's a messy process, not to mention a constant fight with raccoons who clean the feeders out and wreck everything. I miss it. But we still see squirrels all the time hopping around the backyard or bouncing from tree to tree in the ravine. They still come up for water that we have in the bird fountain. We also put the bucket out because during last year's drought, something was biting into the tomatoes. We think it was the squirrels trying to get some moisture. Once we put the bucket out, the tomato damage has been significantly reduced.