With the luscious, creamy texture and flavors you expect, lighter Alfredo sauce doesn't taste like a compromise.
Traditional Alfredo sauce is little more than butter and Parmesan cheese with pasta. The American version also includes heavy cream. It is freaking delicious, but also a food coma waiting to happen. While I have, and certainly would sit down to traditional fettuccine Alfredo on a special occasion, I like to prepare a lighter dish for our everyday pasta dishes.
Ingredients
Butter: This is Alfredo sauce, we have to have some butter. A tablespoon is enough to give the richness butter brings to any recipe.
Garlic: Adds wonderful flavor.
Flour: Works with the butter to create a thick, rich sauce.
Milk and Half & Half: This combination is definitely lighter than heavy cream.
Cream Cheese: This is key to final results. Just a little cream cheese adds texture, richness and so much flavor to the sauce
Parmesan Cheese: Another key ingredient to Alfredo sauce. Parmesan adds bold, salty flavor to the sauce.
Salt and Fresh Ground Pepper: A little salt and lots of fresh black pepper to bring out the flavor.
Herbs: A sprinkling of fresh basil or parsley is always nice with pasta.
Instructions
If you are serving this sauce with pasta, you will want to start that process by boiling some water. This recipe comes together quickly, and you don't want to be waiting for the pasta to boil!
Collect your ingredients and have them handy.
Finely mince the garlic and add to the melted butter in your saucepan. You will only saute the garlic for about a minute. The garlic will get soft and fragrant very quickly, and you don't want the garlic to burn.
Add the flour and stir. The flour will incorporate into the butter and start to get lightly brown.
While stirring or whisking with one hand, slowly pour in the milk and half & half. This allows time to stir the flour into the liquid and get completely mixed. Keep stirring until the mixture is smooth. It will be starting to thicken slightly thanks to the flour.
Add the cubed cream cheese. Allow the cheese to melt and keep stirring. Add the Parmesan cheese. At this point, the mixture should definitely be starting to thicken.
If the mixture is too thick for your liking, add a touch more milk and stir. We like the sauce quite thick.
You can serve Alfredo sauce tossed with pasta and topped with chicken. This is grilled lemon chicken.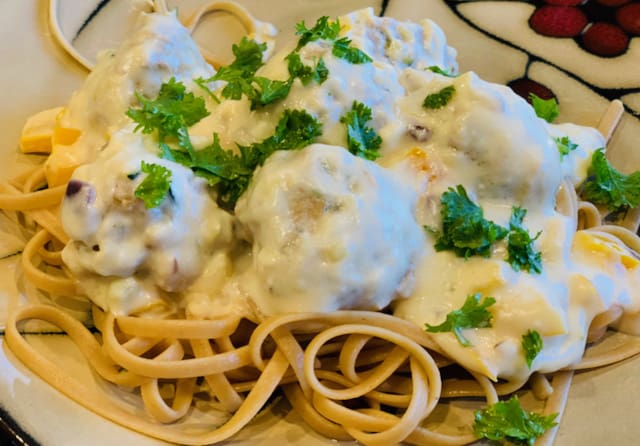 These Zucchini Parmesan chicken meatballs are especially scrumptious when topped with Alfredo sauce and served over pasta.
If you are craving indulgent creamy pasta without all that heaviness, try this lighter Alfredo sauce!
Lighter Alfredo Sauce
Ingredients
1

Tbsp

butter

1

garlic

clove

finely minced

2

tsp

all-purpose flour

½

cup

milk

almond milk or skim

¼

cup

half & half

1

ounce

cream cheese

cut into small cubes

2

Tbsp

Parmesan cheese

freshly grated

salt and freshly ground black pepper

to taste

1

Tbsp

chopped fresh basil or parsley
Instructions
Melt the butter in a saucepan over medium heat. Add garlic and cook for about a minute until the garlic becomes fragrant.

Stir in flour until combined with the butter and starting to get slightly brown; about one minute. Gradually whisk in milk and half & half and cook, stirring constantly, until the mixture is smooth and starting to thicken.

Stir in cream cheese until melted, about 1-2 minutes. Then add Parmesan cheese. If the mixture is too thick, add additional milk as needed.

Season in fresh ground pepper and salt to taste.

Stir in pasta and gently toss to combine.

Serve immediately, garnished with herbs.