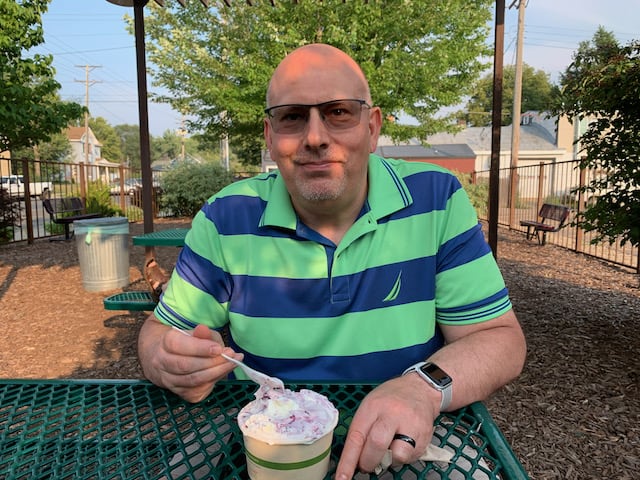 Happy Sunday!
Hubby celebrated a birthday this past week. He is pictured enjoying a bowl of simply scrumptious blueberry cheesecake ice cream that we shared. We recently discovered this delightful little local place and decided to walk down for a treat after dinner before we headed home.
I really shouldn't say discovered, the business certainly isn't new. We just hadn't gotten around to stopping by. The ice cream is delicious, and the shop is adorable! So fun finding treasures like this close to home. 🙂
The weather was absolutely perfect! We had such a nice night to be out celebrating.
That morning, I made breakfast tortilla wraps. They are so tasty and easy to make, not to mention fun. Husband got some turkey sausage in his, and I put some kale in mine. His and hers!
He must have been trying to pretty my picture in the photo, as I am quite sure he wasn't sneaking a piece of kale. 😉
We always watch lots of Olympics coverage, and this year has been no exception. Gymnastics has always just fascinated me, I am in absolute awe. I was so happy for Minnesotan Suni Lee. Her uneven bar routine to win the gold meta was a thing of beauty.
US women's soccer has always been a favorite around here. We have been fans for years. I think it might be tough for them this year, but I will be cheering for them. We are also keeping a close eye on the basketball games.
What caught my eye this week
I can't begin to imagine what this week has been like for Simone Biles. She knows herself and her limits, and I respect her tremendously.
Micro-habits. Little things can make a big difference.
iPhone photography just keeps getting better and better. It still seems unreal to me what a quality camera we carry in our phones.
My running joke is lack of creativity, at least when it comes to being crafty. Don't ask me to sew, scrapbook, or put together a wall arrangement. I beg you! 😉
How to stay calm what you can't. This literally made me laugh out loud.
Cats always look calm. Bailey is calm until she wants attention.
Have a lovely weekend.