White bean chicken chili is a filling bowl of comfort food ready in under an hour. Totally doable on a weeknight yet all the flavor of soups that take hours to create. This chili is very flavorful with the perfect mix of spices.
I was so hungry for this chili that I decided to make it on one of the hottest days we have had this summer. Chili sounds like a winter dinner, I know. But, honestly, it hit the spot even in the summer. Any recipe made exclusively on the cooktop with no oven required is a summer recipe in my opinion.
Apparently, there is controversy whether chili should contain beans. I am firmly on the team of beans being an essential part of a bowl of chili.
Ingredients
Olive Oil: Used to sauté the chicken and vegetables.
Chicken Breast: I use one good-sized split chicken breast for this recipe. Chicken thigh works great as well.
Onion: I like the flavor of red onions for chili recipes, and we have them available at all times. Yellow or white onions are also fine.
Red Bell Pepper: Red pepper adds a nice pop of color to contrast the chicken and white beans. Any color bell pepper will work.
Garlic: Adds great flavor.
Great Northern Beans: You can find great northern beans in the canned food aisle of the grocery store with the other beans. Pinto beans would be another great choice.
Low Sodium Chicken Stock: The liquid base of the chili.
Chopped Green Chilies: These little cans of goodness can be found in the ethnic food aisle. They aren't spicy, just lots of great flavor.
Black Pepper: I can't think of too many savory recipes that aren't improved with a good dash of freshly ground black pepper.
Chili Powder & Cumin: Chili powder and cumin are the essential spices for any chili recipe.
Cayenne Pepper: The spice of the chili comes from cayenne pepper. You can control the heat by adding more or less cayenne.
Sour Cream: Makes the chili creamy and rich.
Sliced Avocado and Cilantro: I love any excuse to slice an avocado and cilantro is one of my favorite herbs. The toppings are one of the best parts of this chicken tortilla soup. They add a great finishing touch to chili as well.
Instructions
Start by heating the olive oil in a large saucepan. Sauté the chicken with the onion and pepper until the chicken is just barely cooked through. Add the garlic and sauté for one minute.
Add the beans, green chilies, and spices. Give the mixture a good stir and heat to a good simmer. The chili will simmer for 30 minutes. Stir occasionally. Cover loosely, which means having the lid on the saucepan but not sealed.
After 30 minutes, add the sour cream and stir. Add more or less depending on if you want a more saucy or creamy chili, both are delicious!
Enjoy this white bean chicken chili soon!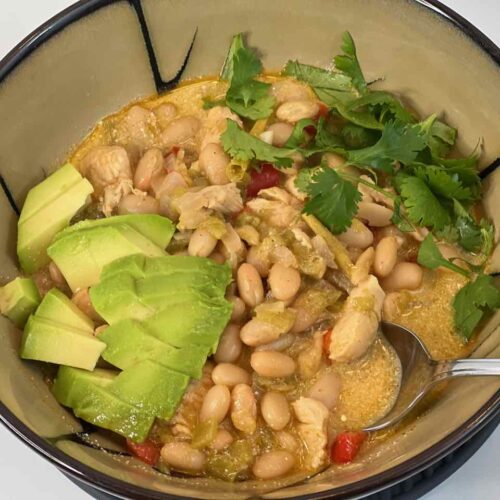 White Bean Chicken Chili
Ingredients
1

Tbsp

olive oil

½

pound

boneless skinless chicken breasts

chopped into bite sized pieces

½

medium

onion

chopped

½

red

bell pepper

chopped

1

clove

of garlic

minced

1

can

Great Northern Beans

drained – rinsed if desired

1

cup

low sodium chicken stock

1

(4 oz)

can chopped green chilies

Freshly ground black pepper

½

tsp

hot chili powder

½

tsp

cumin

½

tsp

cayenne pepper

¼

cup

sour cream

avocado and cilantro

for serving, if desired
Instructions
Heat olive oil in a large saucepan. Add chopped chicken breast, onion, and red bell pepper. Stir and sauté mixture until the chicken is cooked through.

Add garlic and sauté for one minute.

Add beans, chicken stock, green chilies, and all the spices. Heat the mixture to simmer. Loosely cover the pan and allow to simmer for 30 minutes. Stir occasionally.

Remove from heat and add sour cream. Stir until sour cream is completely incorporated and serve immediately. Top with sliced avocado and cilantro if desired.