Fresh green beans with a creamy parmesan sauce are an easy side with any main dish. I am always looking for new ways for us to eat our veggies. We eat green beans all the time, often simply roasted or sautéed. They are also great in stir-fry recipes.
I'm a sucker for a creamy sauce. These beans are just the right amount of indulgence. They remind us both of the green bean casseroles which are an absolute must on Thanksgiving menus. Imagine the creamy, delicious green beans that are below the absolutely essential layer of deep-fried onions. Good stuff.
Ingredients
Fresh Green Beans: Select bright green, unblemished beans of relatively equal size. I really like French green beans. They are very flavorful and tend to be thinner than traditional green beans.
Olive Oil: Used to sauté the onions and green beans.
Onion: I use red onion as we always have them available. White or yellow onions would be perfectly fine.
Sour Cream: Sour cream makes the sauce rich and delicious.
Parmesan Cheese: Parm adds salty, cheesy goodness to any recipe.
Milk: Combines the sour cream and parmesan cheese to create the sauce. I have used both unsweetened almond milk and skim milk and both worked equally well.
Salt & Pepper: Added to taste to intensify the flavor.
Instructions
Start by prepping the beans. Trim the ends and cut beans in half to create bite-sized pieces. At this point, I like to steam the green beans until somewhat tender. We have a simple cooktop steamer that works great for veggies. There are multiple different types available.
If you like green beans that are crisp-tender you may skip the steaming process or steam for only a short time.
Chop your onions and add to a skillet. Stainless steel is a good choice to saute the onions and green beans and later cook down the sauce. Sauté the onions until somewhat tender, then add the green beans. Continue to sauté the mixture until the beans are tender to your liking.
Combine the ingredients for a sauce and add to the skillet. Turn up the heat to a heavy simmer. This will allow the sauce to reduce, thicken, and coat the beans.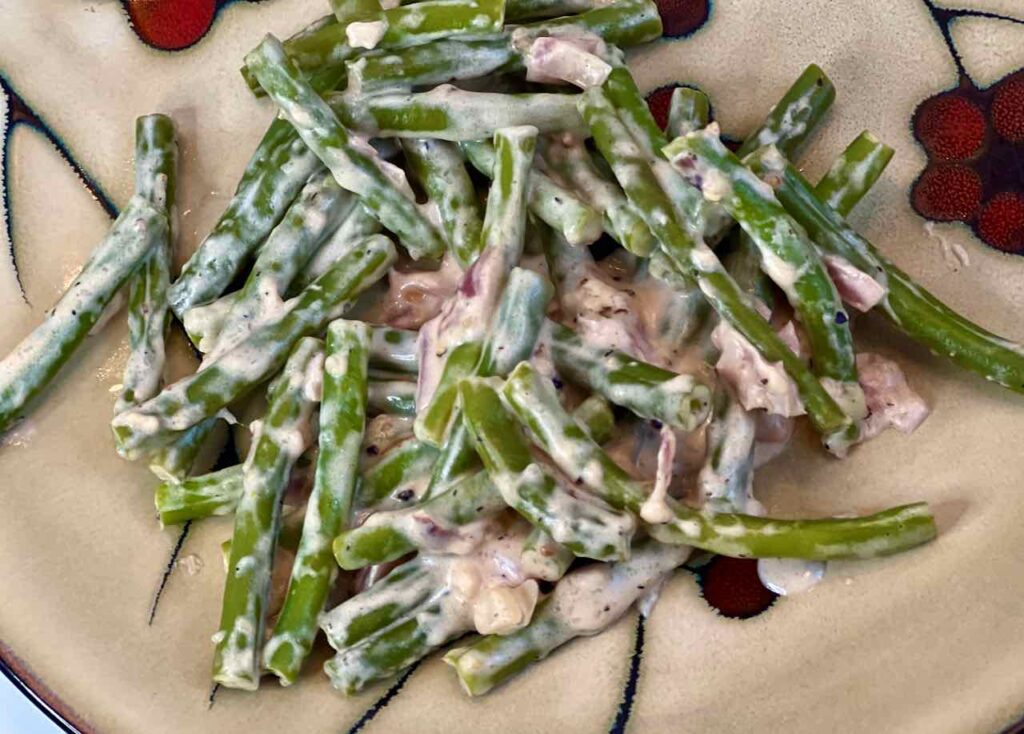 Plate the beans and serve immediately.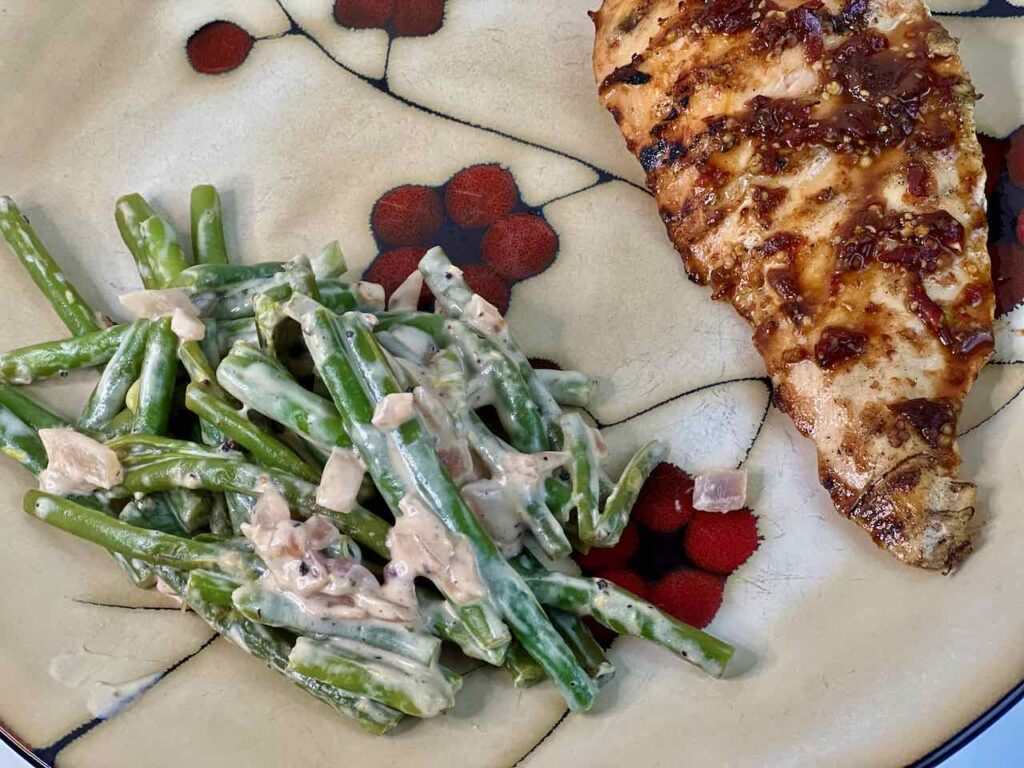 This is a great side for grilled chicken. I loved these creamy parmesan green beans alongside this spicy chipotle marinated chicken.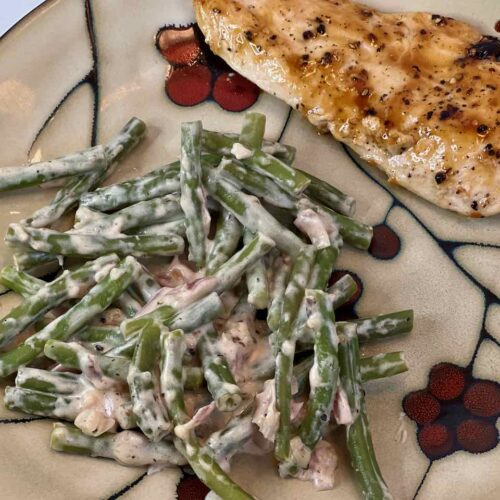 Creamy Parmesan Green Beans
Ingredients
½

pound

fresh green beans

ends trimmed

1

Tbsp

olive oil

½

cup

onion

diced

2

Tbsp

sour cream

¼

cup

freshly grated parmesan cheese

⅓

cup

milk

salt

to taste

fresh ground black pepper

to taste
Instructions
Prep the green beans by trimming the ends. Add to a steamer and steam the beans until tender to your liking, about 5-10 minutes. We like green beans to be pretty tender, so I allow them to steam for a good 10 minutes. If you prefer, you could skip the steaming process and sauté the green beans for 10 minutes prior to adding the onions.

Heat a large skillet on medium heat. Add oil, then add the onions and cook until soft and lightly browned, 3-5 minutes.

Add the steamed green beans to the skillet and sauté them for 3-5 minutes.

Whisk together the sour cream, parmesan cheese, milk, salt, and pepper in a bowl or measuring cup. Add the mixture to the skillet.

Heat the skillet over medium heat, allowing the sauce to get to a good simmer. Allow to simmer for about 5 minutes, stir occasionally as the sauce thickens and coats the green beans.

Serve immediately.