Roasted green beans are an easy, delicious way to add an extra serving of vegetables to any meal.
I serve roasted vegetables as a side dish year-round. In the summer, I often use my quarter sheet pan in the toaster oven. Once the weather turns cold, the whole meal often goes in the oven, including a side of roasted veggies.
Vegetable sides have come a long way in recent years. Soggy, sad bowls of steamed asparagus, broccoli, and green beans have given way to delicious roasted vegetables. Roasting is just as easy as steaming and adds so much flavor.
Ingredients
Green Beans: Select unblemished, uniformed-sized beans for even roasting. I absolutely love these French green beans from our local ALDI. They are available year-round and the quality is exceptional.
Extra-Virgin Olive Oil: I always use olive oil for roasting vegetables.
Salt: Salt gives great flavor to the vegetables.
Freshly Ground Pepper: I like lots of fresh pepper.
Instructions
Preheat the oven.
Wash your green beans and trim off the ends. If desired, you can slice the longer beans in half to create somewhat equal-sized beans.
Lightly coat a baking dish with cooking spray. I like to use my glass dish. Sprinkle the beans with salt and freshly ground pepper, then drizzle with olive oil. Spread the green beans in a single layer on the baking sheet.
Roast for 20-25 minutes, depending upon the size of your beans. They will look wrinkled with some caramelized spots.
Roasted green beans are a great side with any main dish. Tilapia, a baked potato, and these colorful green beans came together for a light and easy weeknight dinner.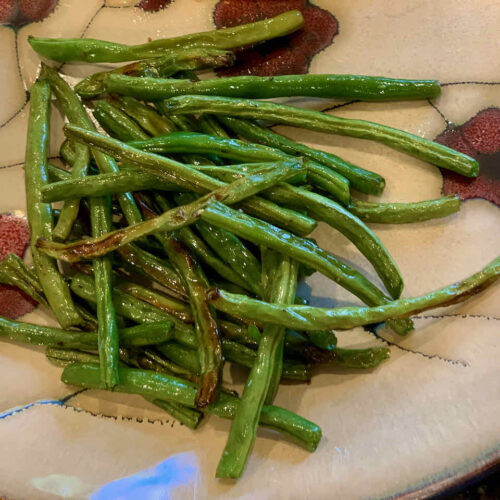 Roasted Green Beans
Ingredients
½

pound

fresh green beans

trimmed

2

tsp

extra-virgin olive oil

½

tsp

salt

freshly ground pepper

to taste
Instructions
Preheat oven to 400 degrees.

Toss green beans with oil, salt, and pepper on a rimmed baking sheet. Arrange the green beans in single layer.

Roast until tender and golden, about 20-25 minutes.Time will vary slightly based on the size the green beans.