Happy Sunday!
We have been so lucky with the weekend weather!
The above photo is of a hen & chicks succulent from the landscaping in front of our house. Back in 2016, I got a small potted succulent as a gift at work. As I pulled into the driveway, I realized I had no idea if this plant is cat-safe. (For the record, a quick search reveals the hen & chicks plant is non-toxic to pets)
I decided to place the plant in the front landscaping and planted it before I even walked in the house. None of my coworkers have succeeded in keeping their plant alive, but this one has absolutely thrived! It has been fun to watch a tiny little succulent grow and spread out. Other than occasional watering, I don't do anything special for care.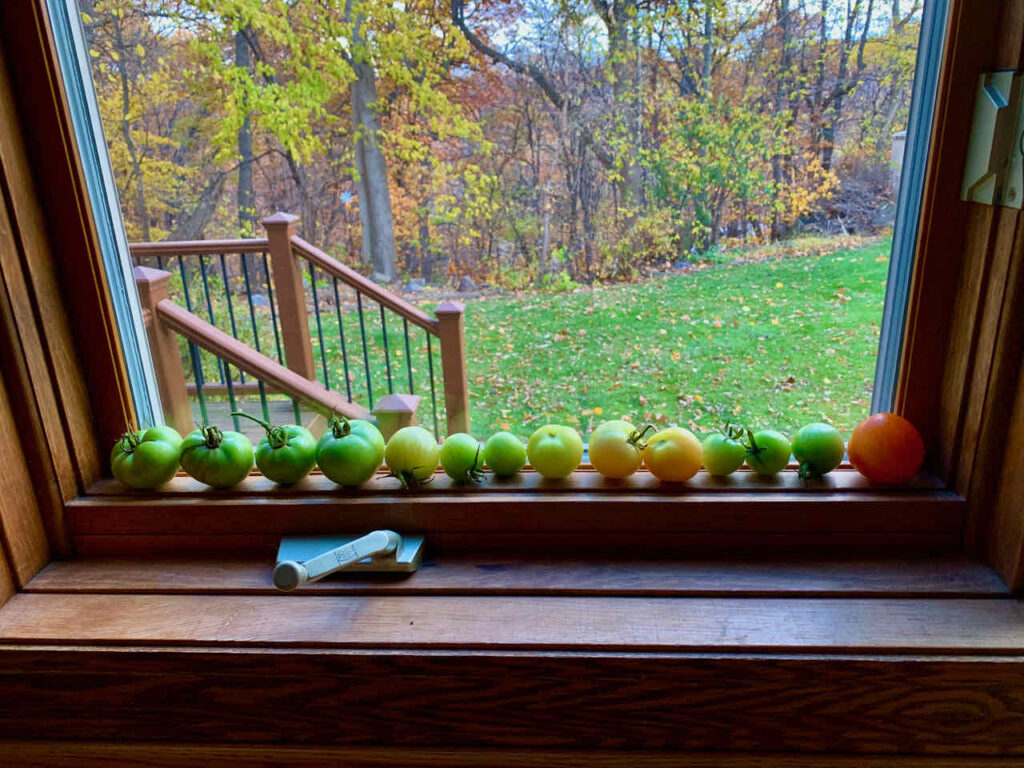 Last weekend, I picked all the green or partially ripe tomatoes still on the vine. Since a hard frost was due, it was time to get the garden cleaned out. So I needed to get creative to find spots in the sun for umpteen little green tomatoes. This picture is one of the windows in the breakfast nook. We make good use of all the tomatoes, either eating in salads and recipes or freezing for later use.
Surprisingly, none of the tomatoes have turned into cat toys. We both expected to find Bella or Bailey happily swatting a little "ball" across the floor. They did get a thorough nose inspection at least once but, so far, they have remained in the window sills.
What caught my eye this week
We are enjoying the newest season of the Great British Baking Show. Here are some interesting facts about the show. Paul Hollywood also has a new YouTube channel!
Twitter's default setting puts recommended tweets at the top of your feed. If you are like me, you want the latest tweets first. Twitter is my go-to for instead updates on news and sports. Luckily, there is an easy fix.
An interesting take on overthinking.
An ode to slow runners. I am a proud member. As I read once, if you run, you are a runner. 🙂
Itty Bitty cute kitties. Illegally Smol Kitties is one of my favorite spots on Reddit. Nothing is cuter than a cat or kitten.
Have a wonderful weekend!