Honey sriracha roasted Brussels sprouts are the perfect mix of sweet and spicy. I can't have too many easy, healthy veggie side dishes, especially when they are as tasty as these sprouts.
Roasted vegetables are my favorite. A dash of olive oil, salt, and pepper is all that green beans, asparagus, and Brussels sprouts need to roast up and become tender and delicious. I roast vegetables year-round, but as the weather gets colder, and oven meals become the norm, they make perfect sense.
This recipe is just as easy as basic roasted veggies. Just combine a couple more ingredients with the sprouts and let a hot oven and a sheet pan take care of the rest.
Ingredients
Brussels Sprouts: These little guys have a bad reputation. Whether genetics or bad past experiences, a lot of people hate on them. Over the last several years, they have been on our menus more and more. Select bright green sprouts with minimal brown and yellow outer leaves.
Sriracha Sauce: My absolute favorite hot sauce, and it's not close. Sriracha is spicy, but not so crazy-hot that you can't taste your food.
Honey: Honey and sriracha are a great combination. I use the combination for this terrific hot honey sauce.
Lime Juice: Adds bright, fresh flavor.
Olive Oil: My favorite oil to roast vegetables.
Salt & Pepper: Enhances all the flavors.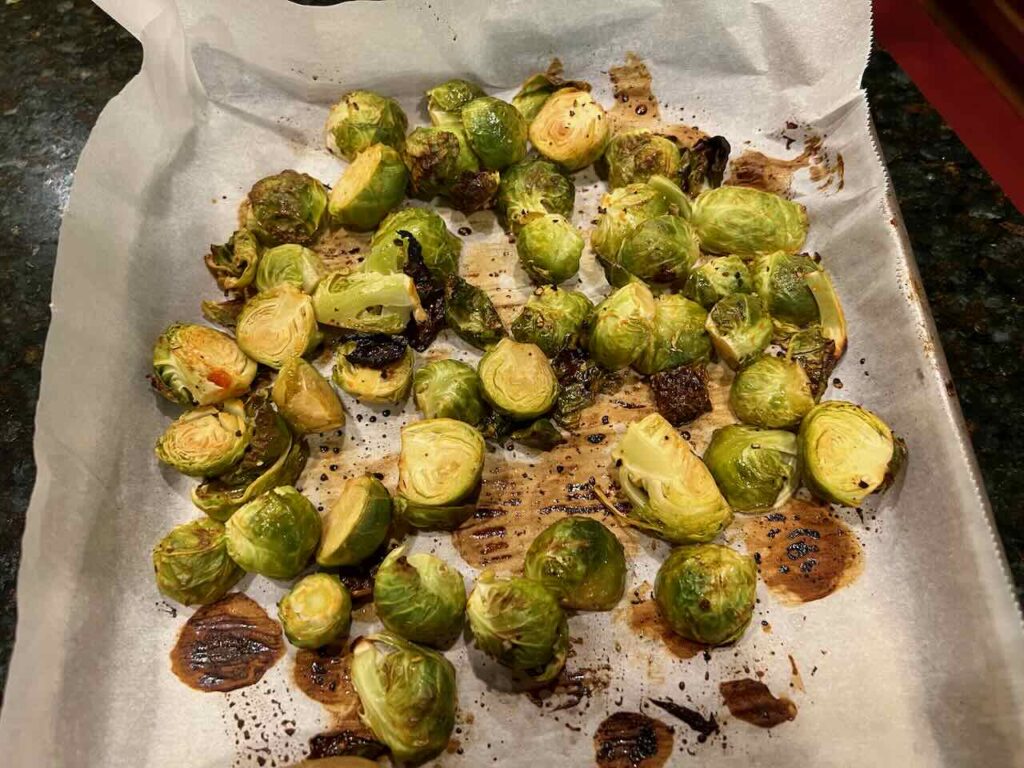 Instructions
Preheat your oven and pull out a sheet pan. I like to make life easier by lining the sheet pan with parchment paper. The honey and sriracha sauce will create a sticky mess on your sheet pan. You could also spray your sheet pan with no-stick spray to help the cleanup process.
Trim the ends off your sprouts and chop them into 2-3 pieces. Chop the larger sprouts into several pieces.
Combine your honey, sriracha sauce, and lime juice in a bowl and stir to combine. Stir in the sprouts, then dump onto your prepped sheet pan, sprinkle with salt and pepper, and drizzle with olive oil.
Let the oven take over at this point. I do like to give them a toss about halfway through the roasting process.
Honey sriracha roasted Brussels sprouts are a great side with any main dish. We recently enjoyed them with turkey meatballs and a baked potato.
Honey Sriracha Roasted Brussels Sprouts
Ingredients
1

pound

Brussels sprouts

ends trimmed and sliced in half

1

Tbsp

sriracha sauce

2

Tbsp

honey

1

Tbsp

fresh lime juice

2

tsp

olive oil

salt and freshly ground black pepper

to taste
Instructions
Preheat the oven to 400℉. Prep a sheet pan with cooking spray or line with parchment paper for easy clean up!

Trim the ends off the Brussels sprouts and slice them in half lengthwise. If some of the spouts are larger, you will want to cut them in thirds or fourths. The goal is similar-sized pieces, so they roast evenly.

In a large bowl, whisk together the sriracha, honey, and lime juice. Add the Brussels sprouts and stir them around to thoroughly coat the sprouts.

Spread the Brussels sprouts across the pans. Sprinkle with olive oil, salt, and pepper and stir to combine.

Roast for 25 minutes until brown and crisp at the edges, using a spatula to flip and toss the sprouts about halfway through cooking.