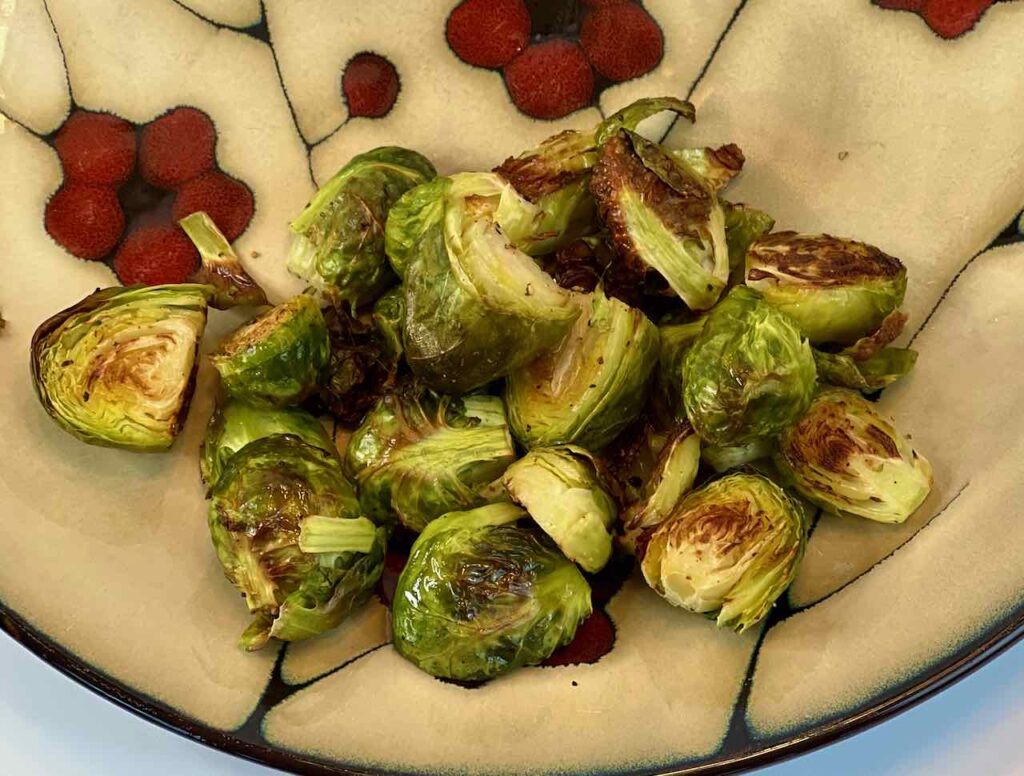 Crispy on the outside and tender on the inside, roasted Brussels sprouts are a wonderful side dish for any meal.
Roasted vegetables of all kinds are a great addition to any meal. They are healthy, delicious, and could not be easier. A couple of minutes of prep work and then into the oven. A hands-off side like roasted veggies is great when the main entrée is more complex and requires a close eye.
I aim to eat green veggies every day. They taste great, and they are ridiculously good for you.
Ingredients
Brussels Sprouts: Aim for bright green sprouts with a minimum of brown, discolored leaves. Try to find a batch of a similar size. You will cut each sprout in half and if they are similar in size, they will roast evenly.
Salt: Brings out the flavor.
Pepper: Adds great flavor and bite to the sprouts.
Olive Oil: Olive oil is my go-to oil for roasting vegetables.
Instructions
Start by preheating the oven. I have found that Brussels sprouts roast best at a higher temperature than other veggies. While green beans and broccoli do best at 400 degrees, we will want 450 degrees for the sprouts.
Wash the sprouts and peel off any brown, yellowing, or discolored leaves. Chop off the stems and cut each Brussels sprout in half.
Grab a metal sheet pan and either prep with non-stick spray or line with foil. I am a fan of lining with foil, as I think it helps the sprouts get crisp. It also makes for very easy clean-up.
Roast for 20-23 minutes, halfway through the roasting process toss the sprouts with a spatula.
Once crispy on the outside and fork-tender, plate the roasted Brussels sprouts and serve immediately.
Easy and delicious, roasted Brussels sprouts are a great addition to dinner. If you are a fan of these tasty green veggies, try parmesan garlic and Asian glazed sprouts!
Roasted Brussels Sprouts
Ingredients
1

pound

brussels sprouts

salt & black pepper to taste

1

Tbsp

olive oil
Instructions
Preheat oven to 450℉ Prep a sheet pan.

Prep Brussels sprouts by trimming the stem and pulling loose any brown or discolored leaves.

Chop the sprouts in half or quarters, depending upon size. The goal is similar sized pieces, so they roast evenly.

Place on the sheet pan, cut side down. Roast for 20-23 minutes until fork tender with crispy bits on the outside. Toss once about halfway through.

Serve immediately.