Spicy, saucy cajun jambalaya with chicken sausage & shrimp is one of our favorite dinners. This wonderful dish has been in our regular meal rotation for many years. In fact, if it hasn't been on the menu for a while, it is definitely requested.
Andouille sausage along with spicy cajun seasonings gives jambalaya its distinctive taste. Since I gave up red meat years ago, it has been a challenge to find a spicy sausage that isn't pork-based. I was thrilled to find a version of chicken sausage that is spicy, flavorful, and really delicious.
Classic jambalaya contains the traditional pork sausage as well as shrimp and chicken. I have never put the chicken in my version as I rarely make dishes with two sources of animal protein, much less three. But I do love the combination of shrimp and sausage.
Ingredients
Shrimp: I like to buy the bagged frozen and deveined shrimp. The shrimp takes on the cajun seasonings.
Cajun Seasonings: Readily available in prepackaged versions. Cajun seasoning typically contains cayenne pepper, oregano, garlic, paprika, and usually salt.
Olive Oil: Used to sauté the vegetables.
Onion: We like red onions, and they are always on hand. Yellow or white onions are also great.
Red Bell Pepper: Any color bell pepper is fine. I love the pop of color that red bell pepper adds to the dish.
Celery: Celery adds a great crunch.
Garlic: More great flavor.
Tomato: Gives the dish flavor and a pleasing red color to the sauce.
Bay Leaves: The savory flavor that bay leaves impart is hard to explain, but absolutely essential to the jambalaya.
Worcestershire Sauce: A savory, fermented sauce that adds more depth of flavor.
Hot Sauce: Sriracha is my go-to hot sauce. I had just discovered the joy of sriracha sauce when I made jambalaya for the first time. I used it then and have stuck with it to this day. It's unorthodox in a cajun recipe, but I just love it. Use your favorite hot sauce in an amount appropriate for your spice tolerance.
White Rice: Plain white rice cooks in the flavorful sauce and provides a great base for the jambalaya.
Chicken Stock: I always use low sodium, especially as the cajun seasoning also contains salt.
Andouille Chicken Sausage: A fully cooked smoked sausage that is perfect for a spicy dish like jambalaya.
Salt & Pepper: I always add a good amount of freshly ground black pepper. Salt to taste, keeping in mind that the cajun seasoning and stock likely contain some sodium.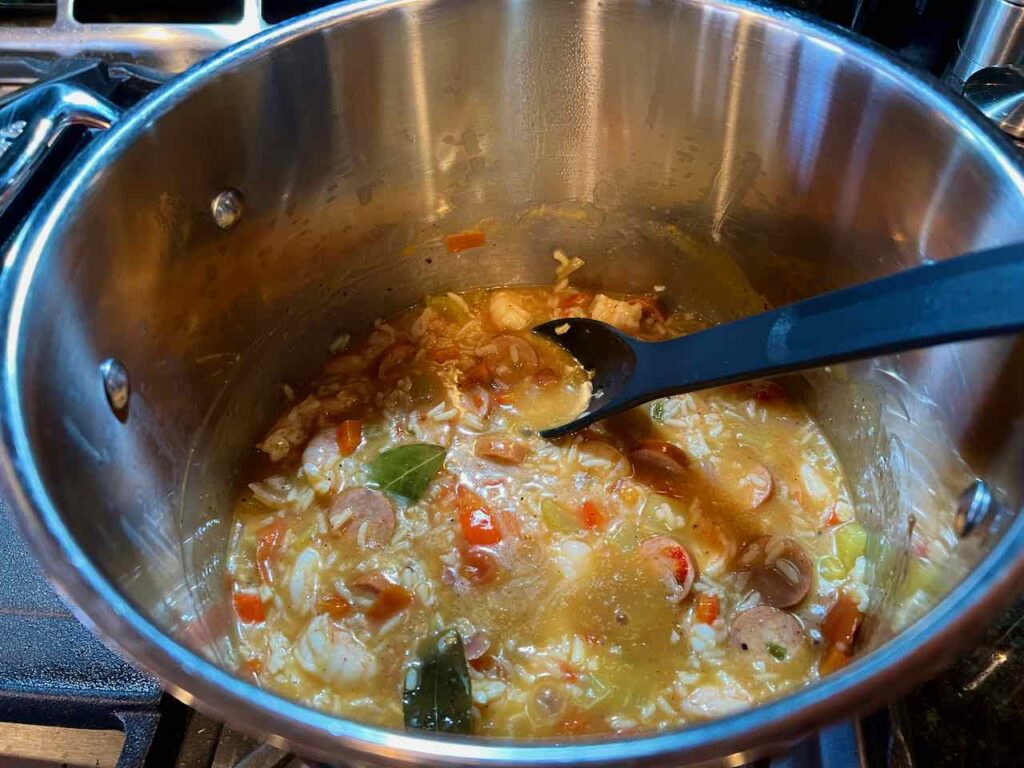 Instructions
Grab a large pot or saucepan. I like to use my stockpot.
Add the shrimp and cajun seasonings to a bowl and stir, coating the shrimp. Set aside and let the shrimp absorb the wonderful spicy flavor.
Start by chopping your onion, bell pepper, and celery. Add the olive oil to the heated pot and sauté the veggies until starting to get tender. We like the veggies to have a little crunch in the finished jambalaya, so I usually only let the vegetables cook for about five minutes. Use this time to prep the rest of the ingredients.
Add the garlic, tomato, bay leaves, and sauces. Add the rice and slowly stir in the chicken stock.
Let the mixture simmer, stirring occasionally, as the rice cooks. The rice will absorb most of the stock, but the mixture will still be loose and look saucy.
Add the shrimp and sausage. Cook until the shrimp turns white and curls slightly. This means the shrimp are done.
Season as desired.
Serve immediately. We like to scoop into bowls.
For more recipes with great cajun flavor try one-pan chicken, rice, and beans or this creamy chicken version!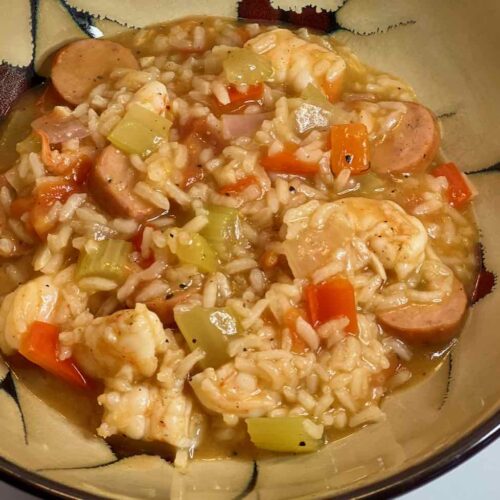 Cajun Jambalaya with Chicken Sausage & Shrimp
Ingredients
15

medium

shrimp

peeled, deveined, and chopped

2

tsp

cajun seasonings

2

Tbsp

olive oil

½

cup

onion

chopped

½

cup

red bell pepper

chopped

1

celery

stalk

chopped

2

garlic

cloves

minced

1

medium

tomato

chopped

3

bay

leaves

1

Tbsp

Worcestershire sauce

Sriracha or preferred hot sauce

to taste

¾

cup

white rice

3

cups

chicken stock

2

Andouille

chicken sausage links

sliced

Salt and pepper
Instructions
In a bowl, combine shrimp and cajun seasoning. Stir and set aside.

In a large, heavy pan, heat oil over medium heat. Add onion, red pepper and celery. Sauté over medium heat for about 5 minutes until the vegetables are just starting to soften.

Add garlic, tomatoes, bay leaves, Worcestershire sauce, and hot sauce. Stir in rice and slowly add chicken stock. Reduce heat to medium and cook until rice absorbs liquid and becomes tender, stirring occasionally, about 15 minutes.

When rice is just tender, add shrimp and chicken sausage. Cook until the shrimp is done, about 5-7 minutes more. Season to taste with salt, pepper, and additional cajun seasoning.

Remove the bay leaves prior to serving.