Chinese five-spice chicken with green beans is one ultra-flavorful stir-fry!
I hadn't made this recipe for a long time, but immediately thought of it when Husband mentioned five-spice powder. Soon it was on our weekly menu again.
In the last month, I have made it three times. It is absolutely wonderful! The cinnamon and cloves add such a nice warmth and aroma to the dish. The flavors are so perfect with chicken. The sauce is simple with minimal ingredients and turns out thick and rich. I
It is also very quick and easy, making it perfect for a weeknight dinner. This has quickly become one of my favorite stir-fry recipes.
Ingredients
Chicken Breast or Thighs: I am partial to using chicken thighs, but both work very well. Thighs are a bit more tender.
Low Sodium Soy Sauce: Soy is the base of pretty much any stir-fry recipe. I always use low sodium.
Chinese Five-Spice Powder: Five-Spice powder is a combination of cinnamon, anise, cloves, fennel, and pepper.
Canola Oil: A nice neutral oil that works well for a stir-fry.
Green Beans: I love stir-fry green beans. They add bright green color as well as great flavor and nutrition.
Garlic: Adds great flavor.
Hoisin Sauce: Makes the sauce thick, rich, and wonderful.
Sesame Oil: Adds authentic flavor and richness to the sauce.
White Sesame Seeds: Adds a little crunch and a color contrast.
Sriracha Sauce: My go-to source of spicy flavor. Sriracha sauce is a staple in all my stir-fry recipes.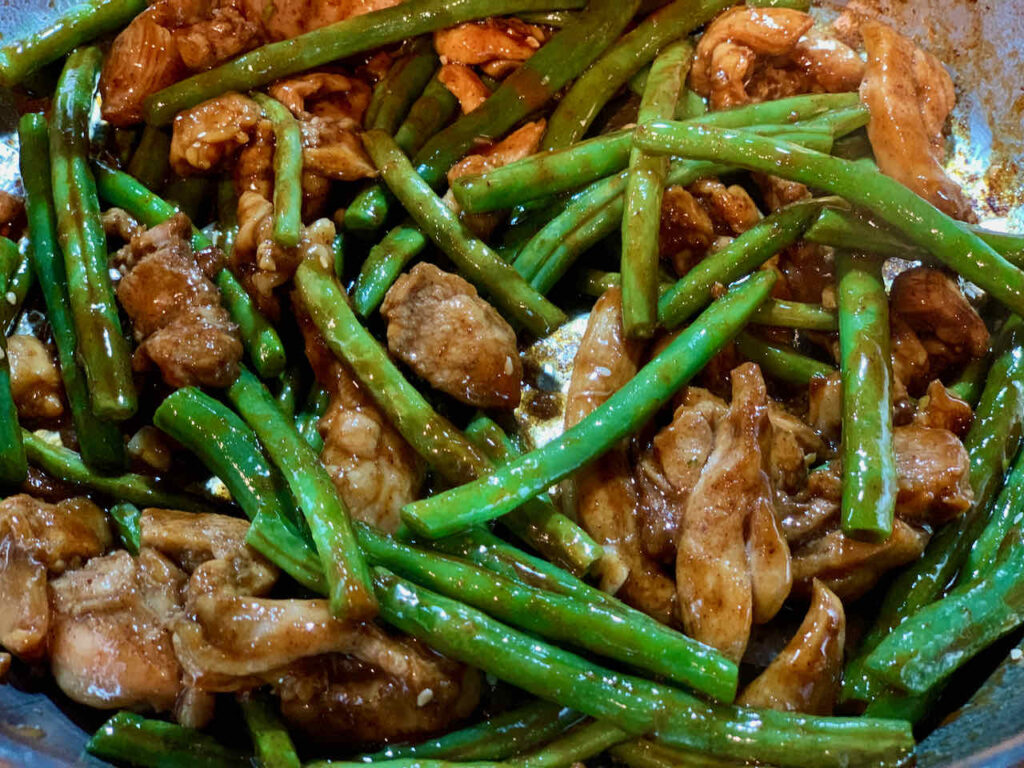 Instructions
Start by getting your rice cooking, as this recipe comes together quickly.
First, combine the thinly sliced chicken with the five-spice powder and soy sauce. This gives the chicken a chance to absorb the flavors.
Next, the green beans go in the skillet with oil until wrinkled and tender. Once the beans are tender, spoon onto a paper towel-lined plate. This allows the excess oil to drain from the green beans.
Add the chicken to the skillet and stir-fry until cooked through. Since the chicken is thinly sliced, it shouldn't take more than a couple of minutes.
Add garlic, green beans, and the rest of the ingredients. Stir until all ingredients are sauced and heated through.
Serve immediately over rice of your choice. Chinese five-spice chicken with green beans is sure to become a favorite.
For other great stir-fry recipes, try this ground turkey version or this chicken variety!
Chinese Five-Spice Chicken With Green Beans
Ingredients
1

medium

boneless skinless chicken breast or two small chicken thighs

thinly sliced

1

Tbsp

low sodium soy sauce

1

tsp

Chinese five-spice powder

1

Tbsp

canola oil

½

pound

green beans

ends trimmed

1

clove

of garlic

minced

2

Tbsp

hoisin sauce

1

tsp

sesame oil

1

tsp

white sesame seeds

2

tsp

Sriracha sauce

or to taste
Instructions
Combine the chicken, soy sauce, and Chinese five-spice powder. Toss to coat and let sit for 10 minutes.

In a large wok or sauté pan, heat the oil over medium-high heat. Add the beans and stir-fry until wrinkled and becoming tender, about 5-7 minutes. Remove and drain on paper towels.

Add the chicken and, stirring constantly, cook until brown, 1 to 2 minutes.

Add the garlic, greens beans, hoisin sauce, sesame oil, sesame seeds and sriracha. Stir to coat, and cook for 1 minute.

Remove from the heat and serve immediately.