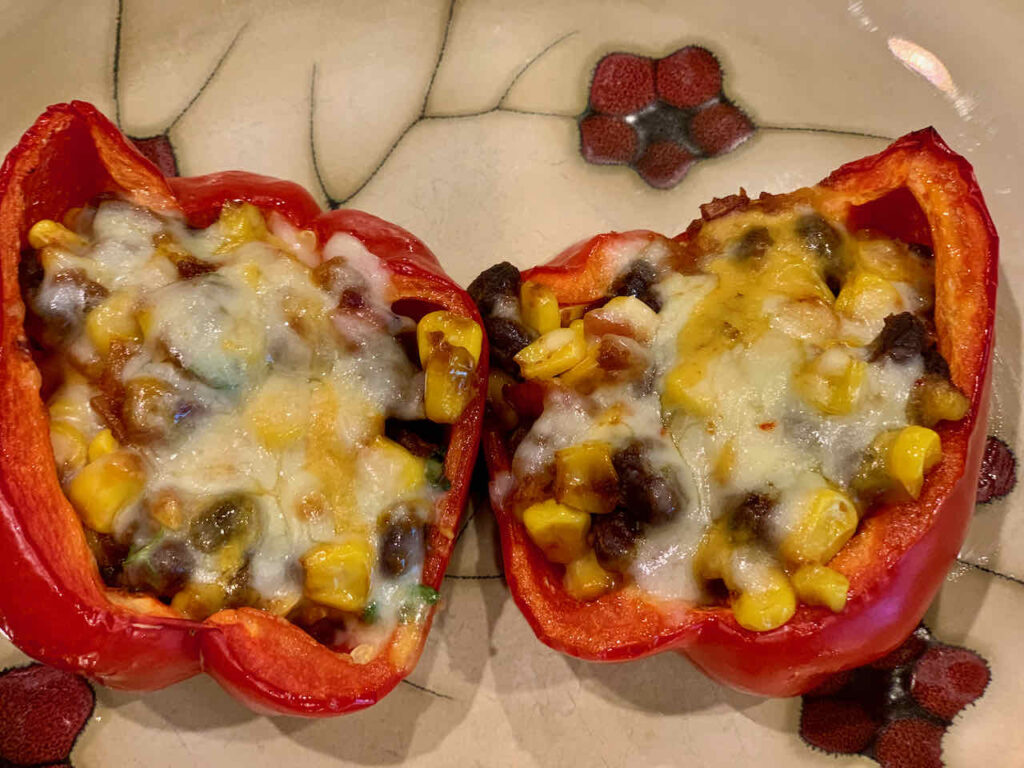 Stuffed peppers meet Tex-Mex flavor in this delicious side dish.
I have been making this fun, festive, versatile recipe for a while now. Husband commented he never thought he would see the day that stuffed bell peppers would be part of our menus. I was a firm bell pepper hater for years until I realized I actually really like the ripe peppers.
My stuffed peppers have always been spicy with a definite Tex-Mex flair. They actually appear in many cuisines and can be made with meat and rice for a complete meal.
Ingredients
Onion: Red, white, or yellow onions are all just fine. Whatever you have on hand.
Black beans: Black beans are the base of the stuffing.
Corn: Wonderful with black beans and adds a little sweetness. I always keep a bag of frozen corn in the freezer.
Chili Powder: My go-to Mexican-inspired spice.
Cayenne Pepper: Just a bit for some heat.
Cumin: Adds warm, earthy flavor and aroma.
Sriracha: Adds more spicy heat.
Cilantro: Love it or hate it, cilantro is the go-to herb for a Tex-Mex recipe. I like the freshness and color that cilantro adds to the stuffing.
Ketchup: Makes the stuffing saucy and tangy.
Red Bell Pepper: Select a large, uniform-shaped bell pepper. Any color is fine.
Shredded Mexican Cheese: Melty and lightly browned cheese make the stuffed peppers extra good.
Instructions
Start by halving the bell pepper. The stem often pops out when you cut the pepper, if not carefully remove it. I like to use a small paring knife. Alternatively, the stem can be removed after baking. Then carefully scrape out as much of the inner membranes and seeds as possible.
Rub the inner and outer surfaces of the pepper with olive oil and bake until the peppers are slightly blistered and tender.
Once the peppers are baking, you will make the stuffing mixture. Start by sautéing the onions until soft and tender. Then simply add the other ingredients. Stir until mixture is thoroughly combined and heated through.
Once the peppers are tender, pull from the oven and carefully spoon in the stuffing mixture. Keep in the mind the peppers and the pan are hot. Sprinkle with cheese.
Put the pan back in the oven and broil until cheese is melted and a little browned. This happens quickly, so watch the peppers closely.
I like to serve Tex-Mex stuffed peppers with a simple main dish like meatballs or grilled chicken.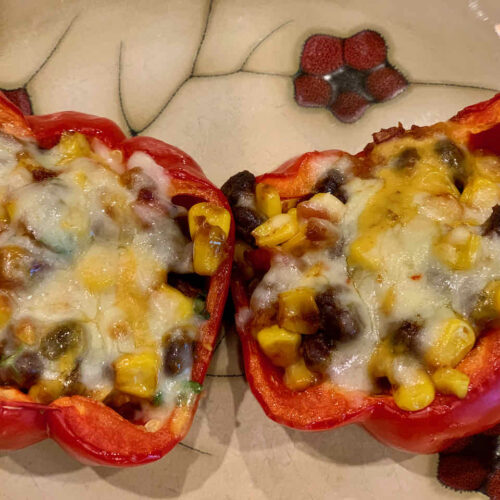 Tex-Mex Stuffed Peppers
Ingredients
¼

medium

onion

diced

¼

cup

black beans

rinsed and drained

¼

cup

fresh or frozen corn

½

tsp

hot chili powder

¼

tsp

cayenne pepper

½

tsp

cumin

2

tsp

Sriracha sauce

1

Tbsp

cilantro

chopped

1-2

Tbsp

ketchup

1

large

red bell peppers

halved ans de-seeded

¼

cup

of shredded Mexican cheese
Instructions
Preheat oven to 375 ℉

Slice the pepper in half and remove the seeds and membranes. Take care not to pierce the pepper in removing the membrane. I use a small paring knife to scrap the membrane from the inside of the pepper. I usually remove the stem but can also be removed after baking .

Spray a baking dish and place your pepper halves on them. Drizzle both halves with olive oil. Bake the peppers in the oven for 15-20 minutes until peppers are blistering and getting slightly translucent around the edges. Set aside.

In a medium skillet, add onion and sauté until soft. Add the black beans and corn and heat through. Add dry seasonings, Siracha sauce, cilantro and ketchup.

Cook and stir until hot and thoroughly combined. Remove from heat.

Take the slightly cooled pepper halves and stuff with filling. Sprinkle with enough cheese to cover the filing.

Place under the broiler on high until cheese is melted and bubbly.

Serve immediately.