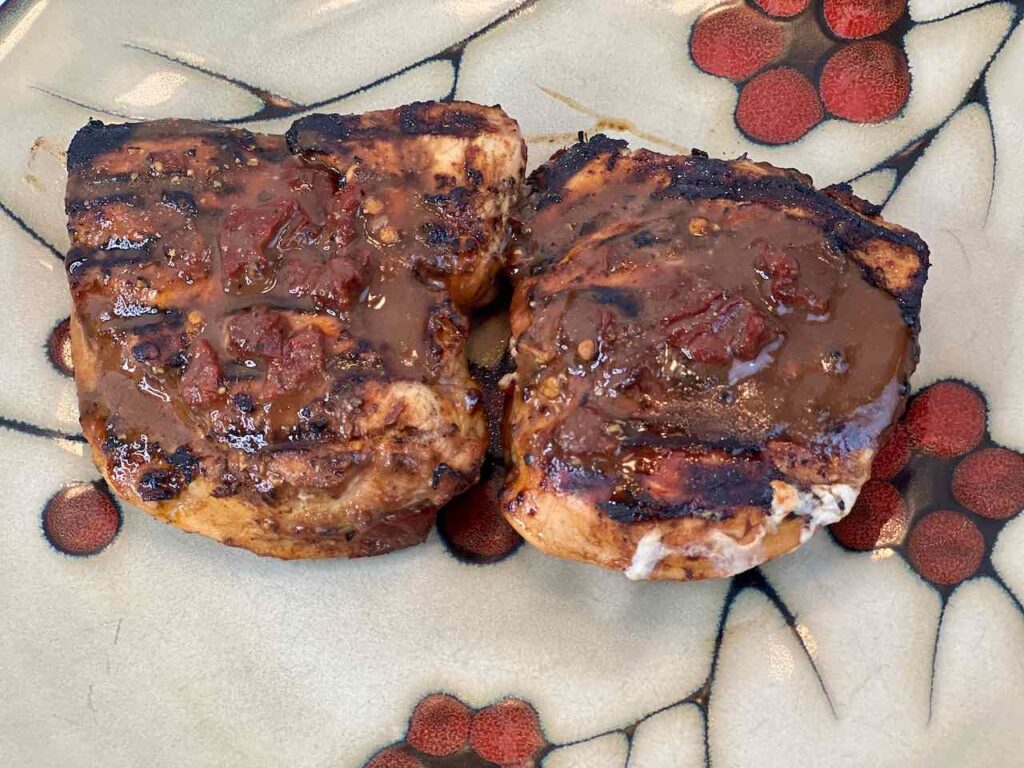 Super flavorful with just the right amount of spice, chipotle marinated grilled chicken is a great way to put your outdoor grill to work.
We typically grill a couple of times a week during the summer. The mess and the heat stay outside instead of in my kitchen. Besides, there is just no way to replicate that wonderful smoky flavor imparted from an outdoor grill.
With chipotle peppers and cayenne pepper in the mix, the marinade definitely has spice. But I really don't find the finished chicken to be overly spicy.
Ingredients
Chicken breast: We start with one good-sized chicken breast sliced evenly in half.
Chipotle Peppers in Adobo Sauce: Smoky, spicy chipotle peppers in adobo sauce give the chicken amazing flavor. These peppers come in cans packed in adobo sauce, which also contains great flavor. Chipotle burritos and bowls come to mind for most people, but it is also a way to add great flavor to a variety of main courses like this casserole.
Garlic: Adds a great bite of flavor.
Cayenne Pepper: Cayenne really brings the heat. If you are spice sensitive, consider omitting or using very sparingly.
Paprika: Adds good color and smoky flavor.
Black Pepper: A great bite of flavor.
Cumin: Another great flavor that compliments the smoky chipotle peppers.
Chili Powder: One of my favorite spices. The essential ingredient to many Mexican-inspired dishes.
Lime Juice: Adds tangy flavor and brightness.
Worcestershire Sauce: Gives the marinade depth of flavor. Worcestershire sauce contains a fair amount of sodium, so salt isn't needed in this marinade.
Honey: Adds a little sweetness to balance out the savory, spicy flavors.
Balsamic Vinegar: A little sweet and a little tangy, balsamic vinegar adds acidity to the marinade.
Olive Oil: Brings all the ingredients together and keeps the chicken moist.
Instructions
Two hours before you plan to grill, marinate the chicken. Combine all the ingredients as directed. I chopped the peppers into small pieces. If you prefer, you could blend the ingredients. We recently found an immersion blender works great for a small batch marinade. Pour over the chicken and assure all surfaces of the meat are covered with marinade.
In two hours, we grill the chicken, and this means Hubb's job is up. 🙂 We have a charcoal grill with gas ignition, so it heats up pretty fast, and you still get the amazing flavor of charcoal. We have had ours for quite a few years now, and we love it.
Pull the chicken from the marinade and grill over medium to high heat. Husband likes to start on high heat to get a good sear, then move the chicken off the direct flame to finish cooking. The marinade can either be discarded or, if desired, you can pour the marinade over the chicken while it cooks for extra flavor. Keep in mind that marinades with sugars in them can burn over high direct heat. Be sure the chicken has enough cooking time left to heat through, so it is safe to consume. A meat thermometer can be used to assure the chicken is at 165℉ and fully cooked.
When the chicken is cooked through, pull from the grill and allow to rest for a few minutes. Enjoy!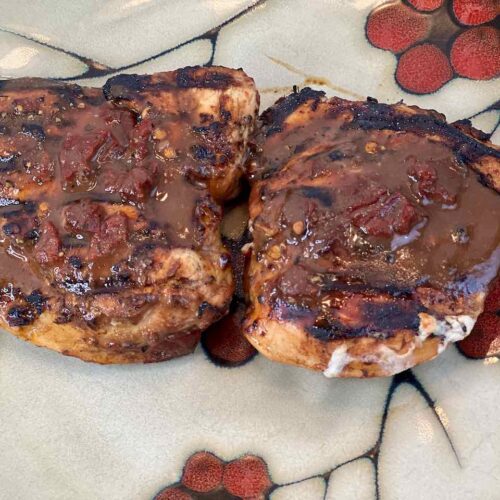 Chipotle Marinated Grilled Chicken
Ingredients
1

chicken

breast

sliced in half

2

chipotle

peppers in adobo sauce

chopped

1

garlic

clove

minced

¼

tsp

cayenne pepper

¼

tsp

paprika

¼

tsp

ground black pepper

¼

tsp

ground cumin

¼

tsp

chili powder

1

Tbsp

lime juice

1

Tbsp

Worcestershire sauce

1

Tbsp

honey

¼

cup

balsamic vinegar

1

Tbsp

olive oil
Instructions
Slice the chicken breast into two equal halves and place in a sealable container or plastic bag.

Prep the chipotle peppers and garlic clove. Place in a bowl.

To the same bowl, add cayenne pepper, paprika, black pepper, cumin, chili powder, lime juice, Worcestershire sauce, honey, balsamic vinegar, and olive oil. Stir until ingredients are combined. Pour over the chicken and ensure all surfaces of the chicken are covered with marinade. Marinate for 2 hours in the refrigerator.

Preheat an outdoor grill for medium-high heat. Remove the chicken from the marinade and shake off excess. Grill the chicken until internal temperature measures 165℉. After flipping the chicken, pour some marinade over the chicken, if desired.