Chipotle-style chicken, made at home to create home burritos, burrito bowls, quesadillas, tacos…..the list goes on.
You can use this chicken with any Mexican-inspired meal. I am a particular fan of the chicken rice bowls. First, I make rice that is flavored with lime and cilantro. Next, I add sauteed pepper and onions, corn, black beans, salsa, and this marvelous chicken. Finally, avocado or guacamole and more cilantro complete the bowl beautifully.
Ingredients
Red Onions & Garlic: Minced finely in the marinade to add flavor.
Chipotle Peppers in Adobo Sauce: Spicy and great smokey flavor. Also adds great color to the chicken.
Olive Oil: Helps the marinade come together and is also used later to sauté the chicken.
Hot Chili Powder, Cumin & Oregano: Classic Mexican spices, add their unmistakable flavor and aroma.
Black Pepper & Salt: Add to taste.
Water or Chicken Stock: Turns the ingredients into a saucy marinade to coat the chicken.
Chicken Thighs: Chicken breasts would also work, but I really like thighs for this recipe. They are super tender, yet hold up beautifully to a longer marinade.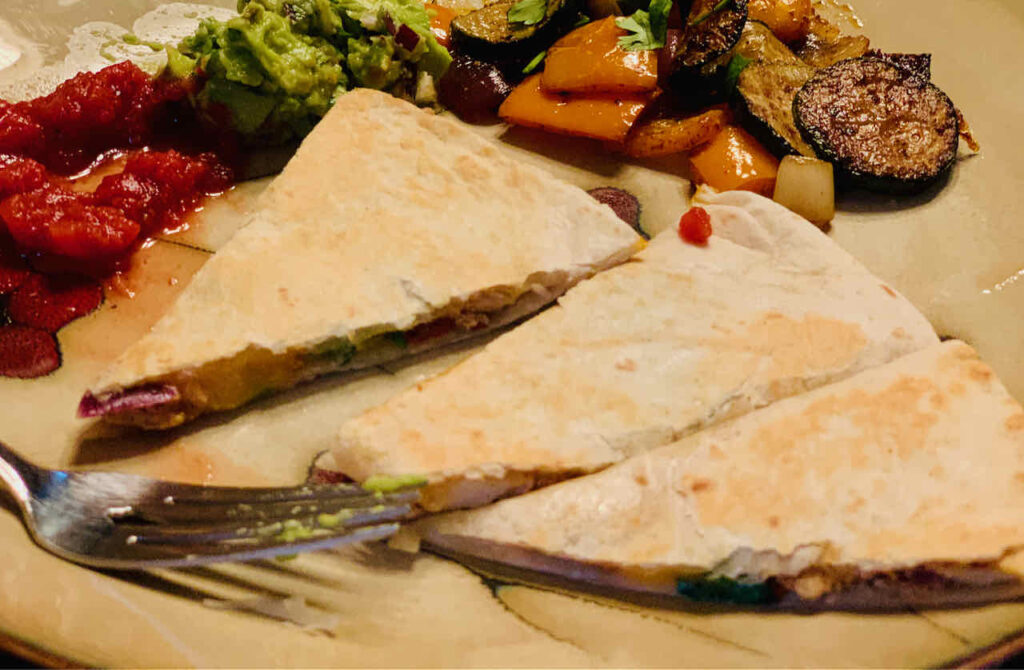 Instructions
The marinade needs at least one hour to infuse flavor into the chicken. But if you can allow longer, even overnight, all the better.
Simply mince your onion, garlic, and chipotle peppers. Leftover peppers can be frozen for later use. I like to use a Ziplock bag. If you are like me, you will look for excuses to use these delicious peppers!
Add olive oil and spices, then enough water or chicken stock to create a sauce. You only need a teaspoon or two.
Slice your chicken thighs into thin strips. Add the chicken to a small sealable container and add marinade. Make sure the chicken thighs are well coated with the marinade.
When the marinade has had time to do its thing, add a touch of olive oil to a skillet. Add the chicken and saute, turning occasionally, until cooked through.
So, make bowls, make tacos, make quesadillas, but just make sure you make something with this Chipotle-style chicken!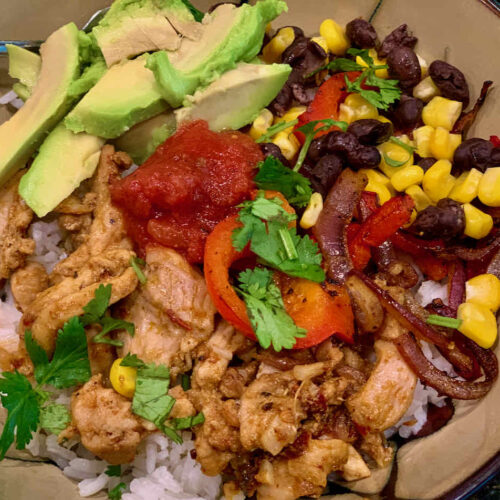 Chipotle Style Chicken
Ingredients
2

Tbsp

red onion

finely chopped

1

clove

of garlic

minced

2

Tbsp

chipotle peppers in adobo sauce

finely chopped

2

tsp

olive oil

2

tsp

hot chili powder

½

tsp

ground cumin

½

tsp

dried oregano

½

tsp

black pepper

salt

to taste

water or chicken stock

as needed

2

chicken

thighs

sliced into bite-sized pieces
Instructions
To make the marinade, combine red onion, garlic, chipotle pepper in adobo, olive oil, and all the spices in a small bowl. Add enough water, 1-2 tsp, to the bowl to create a sauce, so the marinade is able to coat the chicken.

Add the marinade along with the chicken thighs to a Ziplock bag or another sealable container. Stir or shake to assure the mixture totally covers the chicken. Marinate for at least an hour, or, even better, overnight.

To prepare the chicken, preheat a large skillet over medium heat. Add enough olive oil to lightly coat the bottom of the pan. Add the chicken to the pan and sauté, turning occasionally, until completely cooked through.