Breakfast egg bake is the perfect way to start the day. It is filling, satisfying, and the ultimate make-ahead breakfast. Prepping the egg bake the night before is part of the magic. The eggs and milk soak into the bread and combine for an almost custard-like consistency. Much like frittata, this recipe is great to use up leftover vegetables and cheese you have at the end of the week.
Egg bake is responsible for turning Hubby into an egg-eater. Years ago, many years ago, in fact, back when we were dating, he had egg bake for the first time. We were invited to my parent's house for a holiday breakfast and the main course was egg bake. (It is actually a perfect breakfast for a holiday, who doesn't want more make-ahead dishes on a busy cooking day?)
I figured, whelp, at least there are other food options for him! But not only did he try a slice, but he also went back for seconds!! As he later stated, if the eggs are mixed with other ingredients, he is good to go. Proof that this is good stuff. 🙂
Ingredients
Turkey Breakfast Sausage: I always keep these frozen patties available for an easy breakfast meat option. Any breakfast meat would work. You could also leave the meat out, and it would be perfectly wonderful
Onions, Mushrooms & Red Pepper: Add crunch, color, flavor, and nutrition. You could use any color of onion or pepper. Zucchini and celery would also be fine options, whatever you have.
Garlic: Adds great flavor to any savory dish.
Spinach: Spinach is terrific with eggs.
Bread: This is the perfect use for old, leftover bread that has been sitting in the freezer. Leftover sliced bread or buns work great.
Shredded Cheese: I often use mozzarella. Any cheese or cheese blend is fine.
Eggs: Makes the dish rich and wonderful.
Milk: I use skim milk or almond milk. A splash of half & half is nice.
Black Pepper & Salt: I like lots of black pepper. Add salt to taste
Instructions
You will make your egg bake the day before you want to enjoy it. All instructions list night before, but mid-afternoon to evening is fine. Prep the dish a good 8 hours ahead to give the eggs and milk a chance to soak into the bread and make everything yummy.
Start by prepping your veggies by sautéing in olive oil. If you are using raw turkey sausage or other breakfast meat, you would pre-cook your meat at the same time.
When the veggies are soft, add the garlic, then the chopped spinach.
While the veggies are cooking, prep your bread by chopping it into small, bite-sized cubes. This is a great use for hard, crusty, and maybe past-prime slices of bread.
Place half the bread into an 8 x 8 casserole dish. Mine is glass and I love it. This way I can see the casserole getting hot and bubbly on all sides.
Layer your veggies, meat, and most of the cheese over the first layer of bread. Next, layer on the rest of the bread cubes and the remaining cheese
In a medium-sized bowl, whisk the eggs and milk. I like to add a splash of half & half for just a little extra richness. Pour the egg and milk mixture over the top. Press the bread crumbs down using a spatula or your hands to assure all the bread is coated with the egg mixture.
Cover and place in the refrigerator overnight. Enjoy the rest of your evening knowing that your wonderful breakfast the next morning is basically done!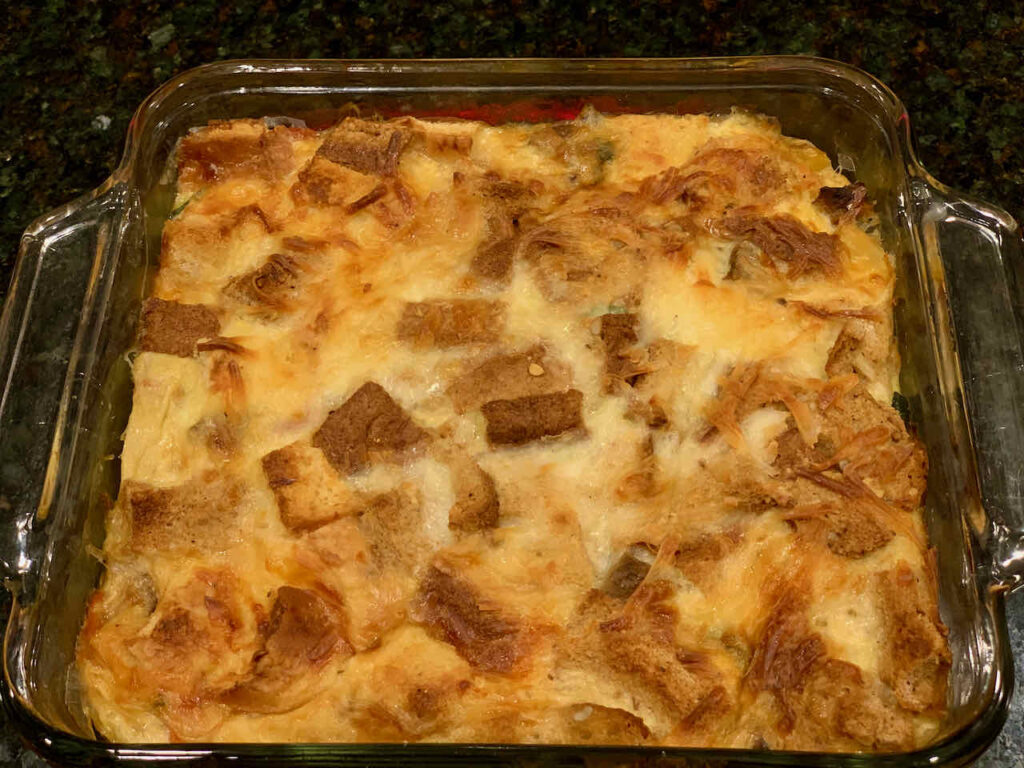 Breakfast morning
Bake until the center is set. A knife inserted in the center should come out fairly clean. The top will also be slightly browned.
Your breakfast egg bake should rest on the counter for 10-15 minutes before serving. It will smell amazing and be hard to resist. 🙂
This 8 x 8 casserole dish makes four generous servings. If you are feeding a crowd, the recipe could easily be doubled to a 9 x 13 pan. Any leftovers reheat beautifully with a minute or so in the microwave.
I like to serve accompanied by fresh fruit for a complete meal.
If you love breakfast casseroles try turkey spinach, or, for a Mexican-inspired breakfast, try this Tex-Mex version!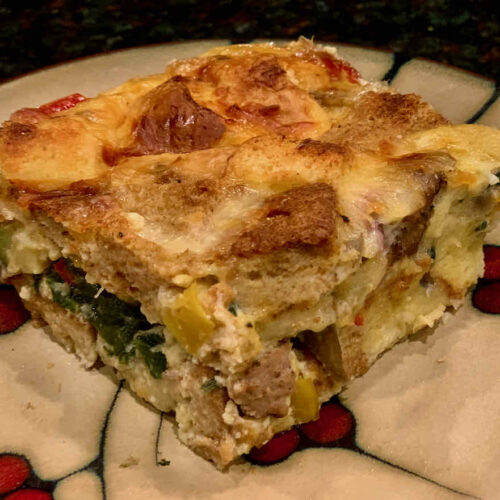 Breakfast Egg Bake
Ingredients
½

pound

breakfast turkey sausage

½

cup

onion

chopped

1

cup

fresh mushrooms

sliced

½

cup

red pepper

chopped

1

clove

of garlic

minced

2

cups

of spinach

roughly chopped

2½

cups

bread

cut into small cubes

1¼

cups

shredded cheese

divided

4

large

eggs

1¼

cups

of milk with a splash of half and half if desired

Freshly ground black pepper

Salt to taste
Instructions
**The night before:**

In a large sauté pan, add your onion, mushrooms and red pepper and sauté in olive oil until softened. If you are using raw sausage, you can add the sausage to the pan as well. Add garlic once the other veggies have softened and sauté for another minute. Add spinach and stir until the spinach is wilted.

Cube bread and layer half of it in an 8×8 casserole dish.

Add meat, veggies and one cup of shredded cheese. Layer the other half of the bread over the top and add the remaining ¼ cup of cheese. Whisk together the eggs, milk, salt and pepper. Pour evenly over the bread. Press down slightly on bread to ensure egg mixture is evenly distributed.

Refrigerate overnight, at least 8 hours prior to baking.

**The next morning:**

Bake in pre-heated 350 ℉ oven for 50 – 60 minutes, or until the center is set. Let the egg bake rest for 10-15 minutes to allow it to set and cool slightly. Slice and enjoy!