Savory oatmeal for one is a filling, comforting breakfast that can be made in five minutes.
The savory part of this recipe comes from the addition of an egg, which makes the oatmeal extra rich and satisfying. The final result is almost the consistency of a pan of baked oatmeal.
Cinnamon and raisins provide a great combination of flavors. Then the peanut butter comes in at the end. When spooned over the hot oatmeal, the peanut butter melts and makes a glorious finish over the top.
On weekdays I like my cold cereal and fruit, but on the weekends I change things up. Often my Saturday breakfast provides leftovers, such as when I make frittata or egg bake. But dishes like Huevos Rancheros and potato breakfast skillet only provide one serving. So on Sunday, we are on our own. The good news is I get to eat this scrumptious oatmeal.
Ingredients
Rolled Oats: Rolled oats take a bit longer to cook and hold up nicely when combined with the egg.
Almond Milk: I use unsweetened almond milk for everything, including my weekday bowl of cereal. I love it for all my breakfast recipes. You can use the milk of your choice.
Egg: One beaten egg makes the oatmeal thick, rich, and comforting.
Raisins: Raisins add a nice touch of sweetness.
Cinnamon: Cinnamon is one of my favorite spices. It pairs perfectly with raisins and oats.
Peanut Butter: Because, honestly, I will look for any excuse to eat peanut butter. I like the natural variety.
Instructions
This is truly such an easy breakfast. Grab a large cereal bowl and combine the oats, milk, egg, raisins, and cinnamon. The recipe contains amounts but other than the oats, milk, and a single egg, you can make this recipe your own. More raisins, fewer raisins, spices other than cinnamon, or different nut butter, honestly, it is all good.
Mix thoroughly, making sure the egg is broken up and combined with the other ingredients.
At this point, you could stir the peanut butter into the mixture. But I really recommend adding the peanut butter over the hot oatmeal. It gets so melty and wonderful.
Put the bowl in the microwave on high power and cook for up to two minutes. After about a minute, be sure to watch carefully. The oatmeal will rise as it cooks and depending upon the size of your bowl could overflow. Nobody wants that!
Once the mixture is cooked and looks mostly set, remove it from the microwave. Immediately spoon over a generous tablespoon of peanut butter and a sprinkle of extra cinnamon.
Fruit is an excellent addition for added deliciousness and makes the meal more complete. Slice ripe banana right into the oatmeal and serve some berries on the side.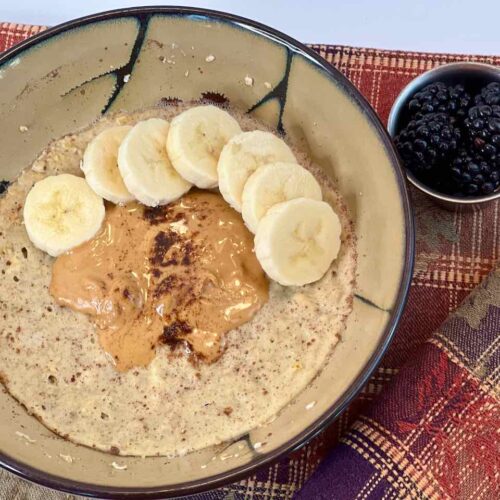 Savory Oatmeal for One
Ingredients
⅓

cup

rolled oats

½

cup

almond milk

or milk of your choice

1

egg

2

Tbsp

raisins

¼

tsp

cinnamon

plus extra for sprinkling on top

1

Tbsp

peanut butter
Instructions
Combine oats, milk, egg, raisins, and cinnamon in a cereal bowl and mix well.

Microwave on high for up to two minutes. Watch carefully after the first minute and a half. The mixture will rise as it cooks and you want to avoid the mixture overflowing the bowl. The oatmeal is done with the mixture looks cooked and mostly set.

As soon as the oatmeal is out of the microwave, add a dollop of peanut butter and an extra sprinkle of cinnamon if desired.

Serve warm.