Spicy, tangy, and sweet, this chopped Thai peanut chicken salad has terrific flavor in every bite.
A few weeks ago, we enjoyed a fantastic lunch during a day of shopping. We both chose chopped salads, mine featured salmon, and his contained chicken. To put it plainly, we devoured them, raving with every bite. I decided then and there that I needed chopped salads in the rotation for weekend lunches.
Like any good chopped salad, this one contains all sorts of scrumptious ingredients. The crunch of the veggies, the sweetness of the mango, and the spicy heat of the serrano pepper and sriracha.
This salad gets wonderful peanut flavor from not only peanut butter in the dressing, but roasted peanuts in the salad. Apparently, it must be peanut butter week, as it is also the crowning glory of my savory oatmeal.
Ingredients
Peanut butter: The perfect base for the dressing to ensure peanut flavor over the entirety of the salad.
Low Sodium Soy Sauce: Adds salty flavor.
Sesame Oil: Sesame oil is a staple in Asian Inspired cuisine.
Rice Vinegar: Adds a nice tang to the dressing.
Sriracha: I love the flavor and heat that sriracha gives a recipe.
Sugar: Just a hint of sweet to balance out the savory, spicy flavors.
Fresh Ginger: Adds a lovely brightness.
Garlic: I prefer to grate the garlic to assure the flavor is well combined within the dressing.
Chicken: If you have leftover cooked chicken breast or thighs, chop or shred them for this salad. I typically end up baking a chicken breast to use.
Green Cabbage: Cabbage provides the base of the salad.
Carrot: Grated carrot adds a great pop of color and yet another texture.
Mango: I started eating mangos years ago, and they are so delicious. Sweet, ripe mango is the perfect contrast to the savory, spicy flavors.
Cilantro: Yet another pop of brightness and flavor.
Peanuts: We use dry roasted peanuts from a jar. I love the crunch of fresh peanuts in this salad.
Green Onions: The sharp tang of green onion is a great addition.
Serrano Pepper: Serrano is a spicy pepper typically found alongside the jalapeños and other peppers in the grocery store. They are considered hotter than a jalapeño, but we find the heat level tends to vary from pepper to pepper.
Lime Juice: Adds brightness to the salad.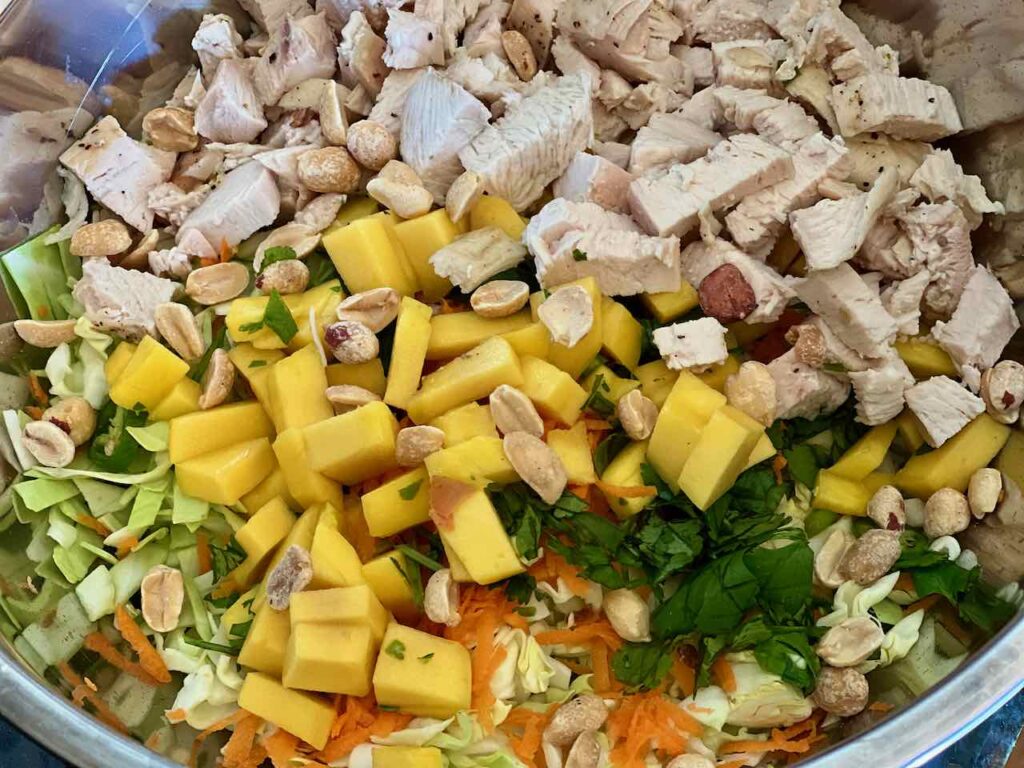 Instructions
Much like any salad, this is simply a matter of prepping and combining all the wonderful ingredients.
Start by mixing up the dressing. I like to finely grate both the garlic and the ginger. Freezing your ginger makes it easy to grate. Just be careful of your hands, fingers, and knuckles in the grating process. I speak from experience. Ouch.
Add a tablespoon or so of water until the dressing is of pouring consistency. You want it thin enough to coat the ingredients once mixed into the salad.
Set the dressing aside and start chopping your salad ingredients. I personally love to chop veggies, it's therapeutic, am I right? 😉
If you have never cut a mango before, see this video, as this cute guy makes it look easy. I personally don't care for any of the methods. I typically peel the mango and then slice the fruit away from the pit. The downside is you have a slippery mango to finagle and try to cut. But it is all worth it to have sweet, juicy mango in your salad.
Once all the ingredients are in, give the mixture a good toss. Stir the dressing and pour evenly over the salad ingredients. Toss again until the dressing is evenly distributed over the salad.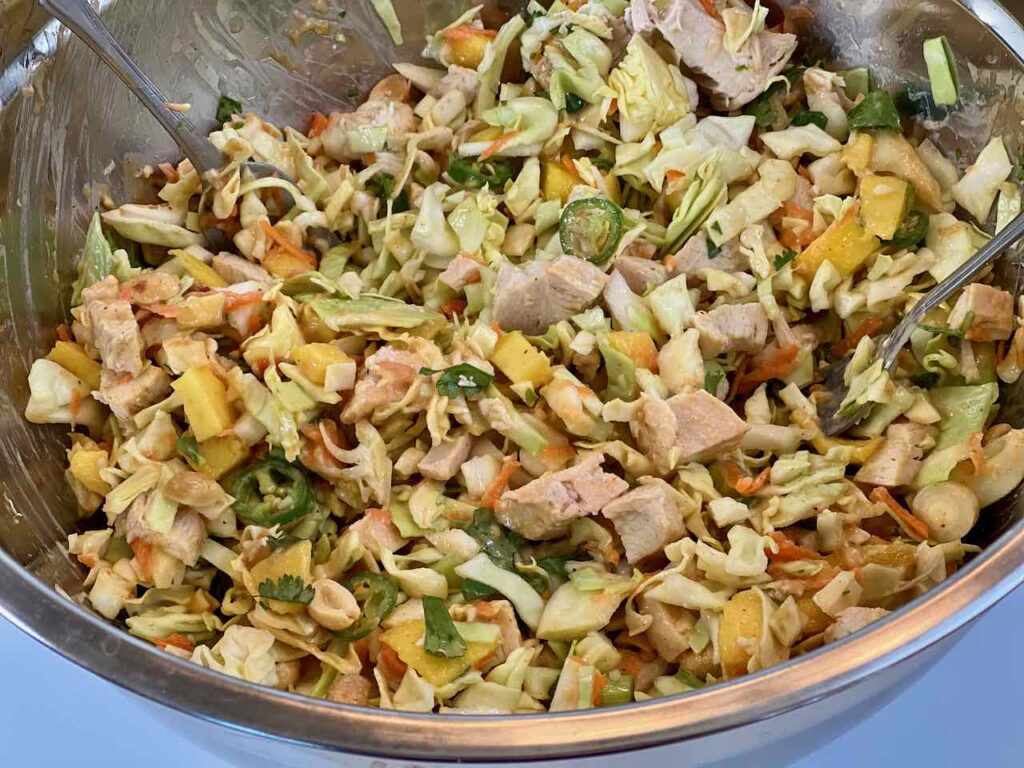 Divide your chopped Thai peanut chicken salad into two large serving bowls and enjoy!
Chopped Thai Peanut Chicken Salad
Ingredients
Peanut Ginger Dressing
¼

cup

peanut butter

2

Tbsp

low sodium soy sauce

2

Tbsp

sesame oil

2

Tbsp

rice vinegar

1

Tbsp

sriracha

1

Tbsp

sugar

2

tsp

fresh ginger

grated

1

large

garlic clove

grated

1-2

Tbsp

water

to thin to desired consistency
Thai Chicken Salad
2

cups

cooked chicken

shredded or chopped

½

head

small green cabbage

finely chopped

1

carrot

shredded

1

mango

finely chopped

¼

cup

fresh cilantro

chopped

¼

cup

peanuts

chopped

2

green onions

sliced

1

Serrano pepper

thinly sliced

1

Tbsp

lime juice
Instructions
Make the dressing by adding all the ingredients to a small bowl.

Grab a large bowl for the salad and start chopping the ingredients. Once you have added everything, stir together using tongs or two forks.

Drizzle on the dressing and stir again, distributing the dressing with the salad ingredients.

Separate out into two salad bowls and enjoy!