I can't have too many savory weekend breakfast options and this potato breakfast skillet is in the regular rotation. Crispy potatoes and flavorful, sautéed veggies topped with eggs. This skillet has everything you want for breakfast.
This recipe has the same flavors as the sheet pan breakfast I recently shared. I am all about the ease of a sheet pan meal, but it involves turning on an oven. As I type this post, the outdoor temperature is nearly 90 degrees. Let's not turn on the oven and instead create a wonderful breakfast on the stove top.
Ingredients:
Russet potatoes: Russets are the perfect potato for baking and frying and I adore them in this recipe. Baby red or white potatoes are also excellent. Sweet potatoes would be divine.
Butter & Olive Oil: I like the combination of these two fat sources for flavorful, crispy results.
Ripe Bell Pepper: Red, yellow, or orange bell peppers add great color and flavor. Use green if you must. Use jalapeño or another spicy pepper if you want some spice.
Zucchini: Tender and tasty when sautéed and add nutritional value.
Red Onions: Yellow or white onions also work.
Garlic: So nice with potatoes.
Salt & Freshly ground black pepper: Salt is a necessity with potatoes, along with lots of black pepper.
Eggs: I typically scramble three eggs to split between our two breakfast plates.
Meat: Optional. Husband typically has breakfast sausage.
Cheese: Also optional. Feta, goat cheese or pepper jack would all be great.
Instructions:
First, the potatoes. I know some people are anti microwave potatoes. I get it. Microwaving a potato and taking it straight out to eat doesn't make for the greatest tasting baked potato. Hint: you can, however, microwave a few minutes then finish in the oven. This method cuts down the baking time, and you get the crispy skin and creamy center of a perfect baked potato.
You can also use a leftover baked potato. I have made this recipe both ways, and I don't think you can tell the difference in the finished dish.
Back to the skillet!
Microwave your potato and start dicing the rest of the vegetables.
Once the butter and olive oil are hot and melted in the bottom of the skillet, add the red pepper, zucchini, and onions. Stir occasionally as they get tender.
When the potatoes are cool enough, chop them into bite-sized pieces. Add potato, garlic, salt, and pepper to the skillet. If you are adding meat, add now.
While the potatoes are frying and getting crispy and wonderful, start your eggs. I find scrambled eggs to be the easiest choice. It is also hard to argue with the idea of a soft egg yolk dripping onto the finished potatoes. Heaven. 🙂
Once the potatoes are crispy and your eggs are done; plate your breakfast! Divide the potato and veggie mixture between two plates and top with eggs.
Husband had leftover ham with his recent potato skillet.
If you feel like a spicy breakfast, add some cumin, chili powder, and a few red pepper flakes to the potatoes. Then serve with cilantro, avocado, and a sprinkle of cheese. So good!
This potato breakfast skillet is sure to become a weekend favorite!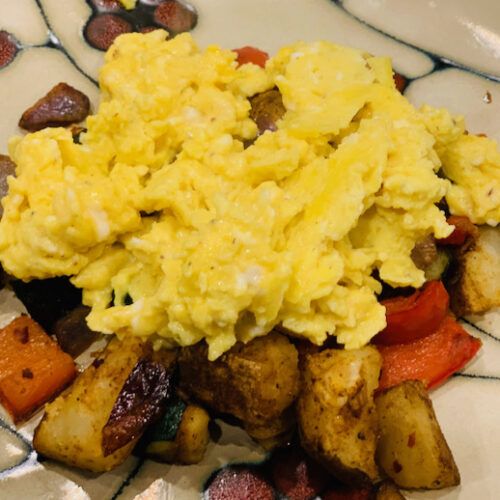 Potato Breakfast Skillet
Ingredients
2

russet

potatoes

scrubbed clean

2

tsp

butter

2

tsp

olive oil

1

cup

ripe bell pepper

chopped

1

cup

zucchini

chopped

½

medium

red onion

chopped

1

garlic

clove

minced

salt and freshly ground black pepper

to taste

2

eggs

prepared as desired
Instructions
Pierce both potatoes a few times, put in the microwave and cook on high until cooked through, 5 to 7 minutes. Dice both potatoes and set aside. Alternatively, a leftover baked potato works great.

In a medium skillet, melt the butter over medium heat. Drizzle in olive oil. Add the bell peppers, zucchini and onions and sauté until the vegetables are starting to soften. Add the diced potatoes to the veggies and cook until golden brown. Add minced garlic and sauté for another minute. Season with salt and pepper.

While the potatoes are browning, prepare eggs as desired. Plate potato and vegetable mixture with eggs served on top.