Happy Sunday!
Memorial Day really does seem like the start of summer. I know, technically summer doesn't start until mid-June. But for me, June 1st through the end of August is summer. 90 degrees is sure making it feel like summer!
We hosted friends for dinner last weekend. We enjoyed turkey Florentine pasta bake and strawberry rhubarb pie along with salad and bread. It was casual and fun.
Speaking of strawberry rhubarb pie, not everyone is a fan of the tart and sweet goodness produced by strawberries combined with rhubarb. A while ago we watched a cooking show with the one and only Martha Stewart on the panel of judges. Her comment on the competition using rhubarb was she really hoped no one made strawberry rhubarb pie. None of them did.
She stated raspberry rhubarb is far superior. I did make a small batch raspberry rhubarb cobbler earlier this year. It was excellent, but I do think strawberries definitely hold their own.
I don't know if Martha isn't a strawberry fan, or considers the combination too overdone or pedestrian. But in this case Martha and I will have to disagree. 🙂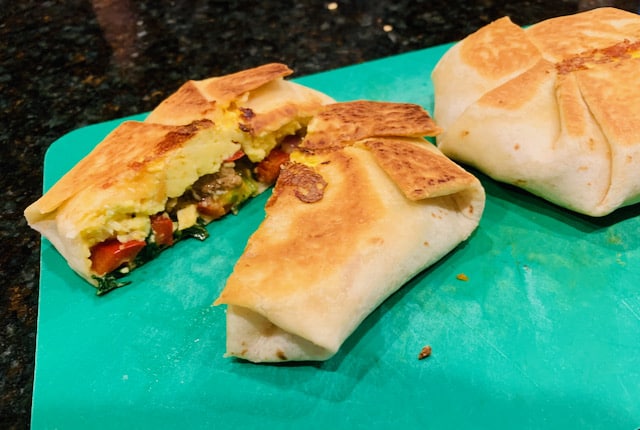 I wanted a fun breakfast on Memorial Day. Homemade crunch-wraps are all over blogs and the internet in general. They are really quite easy! I stuffed the tortilla shells with turkey sausage, scrambled eggs, sautéed onions and peppers, and spicy pepper cheese. We enjoyed it dipped in a little salsa. Avocado would have been really good too.
Grilling and Memorial Day weekend just go together. This despite the long weekend is so often at least partly rainy. On Monday, which was a picture-perfect weather day, we had BBQ chicken on the grill. I adore bone-in skin-on chicken breast on the grill, and we typically share one between the two of us. Unfortunately, I can rarely find reasonably sized bone-in, skin-on chicken breasts.
What caught my eye this week:
Amazon Prime Day is coming. I remember getting some good deals last year!
Yoga with Adriene, and her sweet dog, Benji. My favorite yoga instructor on YouTube.
Grey's Anatomy wrapped up season 17, and is coming back next season! I admit I had forgotten how some of these cast members left the show.
Rethinking lazy and remembering we don't have to be busy every second.
Plants to keep away mosquitos. We actually have several of these on the deck. Certainly worth a try! They haven't been terrible so far this year. *fingers crossed*
Have an awesome weekend!