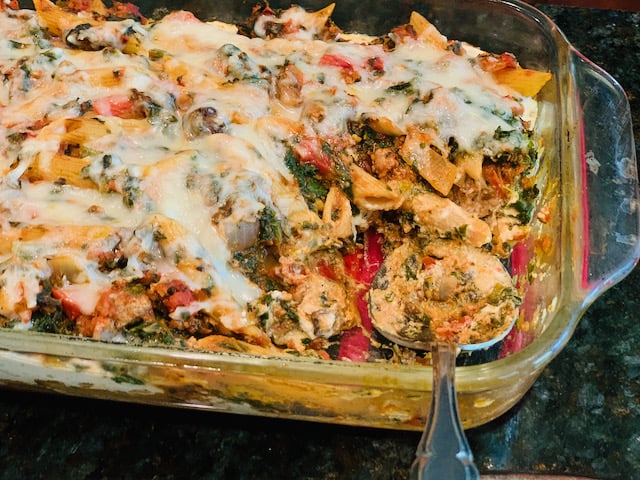 Turkey Florentine pasta bake has everything I want in comfort food. Gooey, melted cheese, and savory herby tomato sauce mixed with pasta, plus lots of vegetables along with the ground turkey. This is satisfying, filling and so very good.
This recipe has fresh tomatoes, marinara sauce, and tomato paste for the ultimate rich tomato flavor. The vegetable content is boosted by colorful spinach along with the usual onions and mushrooms. You will also notice the unmistakable flavor and aroma of parsley, basil, and oregano, the classic Italian spices.
Ingredients:
Ground Turkey: Lean ground turkey is excellent in any pasta bake.
Onion: Sweet yellow onions are my favorite in tomato based pasta dishes.
Mushrooms: I used baby portobello mushrooms, white button mushroom also work very well.
Garlic: A must as part of any good tomato pasta dish.
Salt & Pepper: Added to taste.
Tomatoes, Marinara Sauce & Tomato Paste: Fresh tomatoes add their fresh from the garden taste. Your favorite marinara sauce for depth and tang. Finally, tomato paste for more depth of flavor and deep, red color.
Parsley, Basil & Oregano: Classic Italian spices. If you are fortunate enough to have fresh available, use double the amount.
Sugar: Cuts the acidity of the tomatoes and balances the flavor.
Red Pepper Flakes: Just a touch of heat.
Penne Pasta: Penne is the perfect pasta for a baked dish. I like whole wheat pasta.
Frozen Spinach: Spinach adds nutrition and great color to the dish. I love spinach and pasta together. Take care to remove as much excess water for the spinach after thawing.
Ricotta Cheese: So good in a pasta dish. Ricotta is rich and creamy.
Mozzarella Cheese: Nothing better than melted mozzarella cheese over pasta. Nothing.
Instructions:
Grab a large skillet and heat with oil. Add your ground turkey, onions, and mushrooms. Sauté until turkey is browned and veggies are softening. Add garlic, fresh tomatoes, marinara sauce, tomato paste, all the herbs, and sugar.
Bring the mixture to a boil. Then turn down the heat and simmer for about 30 minutes. The tomatoes will cook down, and the mixture will thicken slightly.
While the sauce is simmering, cook your pasta. Cook a minute less than package instructions as the pasta will get some oven time to finish cooking.
Drain your cooked penne pasta thoroughly and then add it back to the empty pot in which it was just cooked. Add the thawed spinach. Make sure to squeeze the spinach of excess moisture before adding to the pasta. Stir to combine.
Once the meat sauce has finished simmering, add to the pasta and spinach mixture.
Spread one half of the pasta and sauce mixture to the bottom of your baking dish.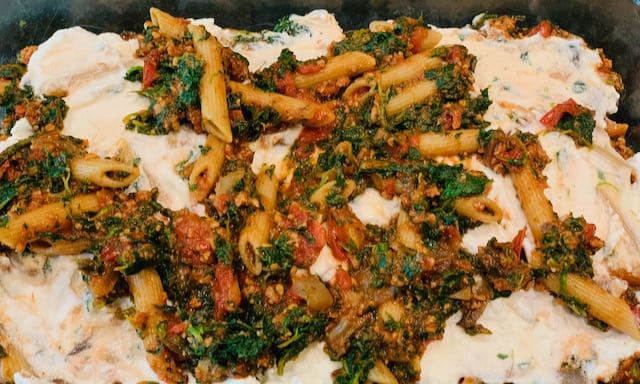 Spread evenly with the ricotta cheese, then add remaining pasta and sauce mixture.
Sprinkle evenly with shredded mozzarella cheese.
Bake until the cheese is melted, and the dish is hot and bubbling, about 20 minutes.
Let set for 5 minutes before serving.
For a date night, when you are entertaining, or just a nice weekend dinner, turkey Florentine pasta bake makes dinner special.
If you love pasta, tomato sauce and cheese, try chicken parmesan.
Turkey Florentine Pasta Bake
Ingredients
2

tsp

olive oil

½

pound

ground turkey

½

cup

onion

chopped

¾

cup

fresh mushrooms

chopped

1

clove

garlic

minced

¼

tsp

salt

¼

tsp

pepper

3

medium sized

fresh tomatoes

chopped

1

cup

prepared marinara sauce

1

(6 oz) can

tomato paste

1

tsp

dried parsley

1

tsp

dried basil

1

tsp

dried oregano

1

tsp

sugar

½

tsp

red pepper flakes

2

cups

penne pasta

1

(10 oz) package

frozen spinach

thawed and squeezed dry

1

cup

ricotta cheese

1

cup

shredded mozzarella cheese
Instructions
In a large non-stick skillet, brown the ground turkey. Add onions, mushrooms, salt and pepper and sauté over medium heat.

Stir in the chopped tomatoes, marinara sauce, tomato paste, herbs (use double the amount if using fresh herbs) sugar, and red pepper flakes. Bring to a boil. Reduce heat to low and simmer for 30 minutes until the tomatoes are cooked down and the mixture is slightly thickened.

While meat sauce is simmering, cook pasta according to package directions.

When pasta is done, drain and transfer back into the empty pot in which it cooked. Add the thawed spinach to the pasta and mix until evenly combined.

Once meat sauce is done simmering, add to the pasta and spinach mixture, stirring well.

Spread half of the pasta mix out into an 11 x 7 in casserole dish, then spread the ricotta cheese out evenly across it, then add the remaining pasta over the top of the ricotta.

Sprinkle with mozzarella cheese and bake for 20 minutes until the mozzarella cheese is melted.

Let sit for 5 minutes before serving.