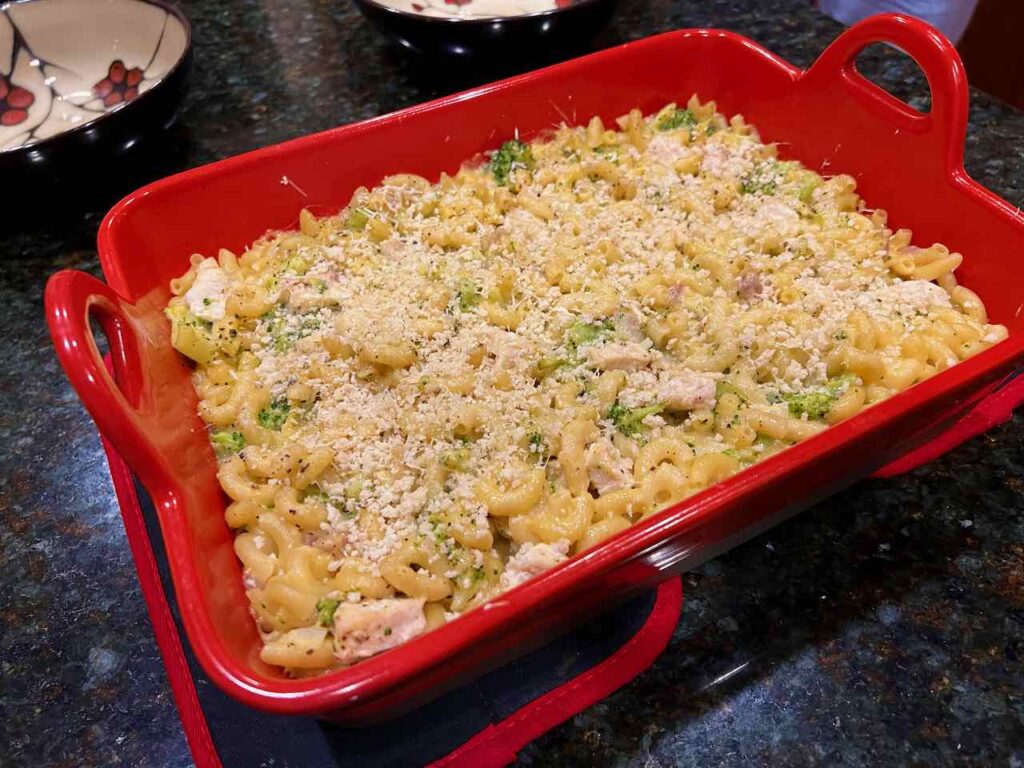 Baked broccoli chicken mac and cheese. Does it get any better than cheesy pasta? Add to that a little chicken and broccoli to make it a respectable, and totally delicious dinner.
Macaroni and cheese can mean either the box most of us remember fondly from our younger years or a dish that involved processed cheese. And don't get me wrong, they were both really, really good! Cheddar and parmesan make up the cheesy element in this recipe. The recipe is a bit lighter than traditional macaroni and cheese, but those varieties provide plenty of cheesy goodness.
This serves up to six people. Typically, I make meals sized for the two of us. But for pasta recipes, I make an exception. The leftovers are wonderful for lunch and reheat very well.
Ingredients
Elbow Macaroni: This pasta shape is synonymous with mac and cheese.
Broccoli: One of my favorite veggies also happens to be really tasty as a part of this casserole. It is lightly steamed but still slightly crisp to add some great texture and, of course, nutritional value.
Butter: Adds flavor and richness. The butter also combines with the flour to create a creamy sauce
Chicken Breast: Boneless, skinless chicken is sauteed in butter and provides protein to make this pasta dish a filling, complete meal. Two chicken thighs would also work well.
Onion: I used red. White or yellow onions would also be delicious.
Garlic: A bit of garlic is excellent in a cheesy pasta dish.
Flour: Combines with the butter to create the sauce
Half & Half: Adds more richness to the sauce.
Milk: The base of the sauce.
Chicken Stock: Chicken stock in the sauce ups the chicken flavor.
Cheddar Cheese: Cheddar is a strong, super flavorful cheese.
Salt & Pepper: Bring out the flavor.
Parmesan Cheese: Freshly grated parmesan is another very flavorful cheese.
Panko Bread Crumbs: Who can resist a crunchy top to a luscious pasta dish?
Instructions
Start by getting water in a large pot to a rolling boil for your pasta. Prep the broccoli by cutting it into small, bite-sized pieces. Macaroni pasta typically takes 10-12 minutes to cook. You will add your broccoli to the pot with the macaroni when the pasta has five minutes left to cook. This is just an easy way to steam the broccoli so it is prepped to go in the casserole.
While the water is boiling and the macaroni is cooking, start prepping the rest of the ingredients. The chicken and onions will saute in the butter. Add the garlic and stir for a minute.
Add the flour and stir until combined into the butter. Slowly pour the liquids in and stir until everything is well combined. Stir occasionally as the mixture thickens.
Once the sauce thickens, slowly stir in the cheddar and continue to stir as the cheese melts. Season with salt and pepper. Once the macaroni and broccoli are cooked, drain thoroughly, then add to the cheese sauce.
Pour the mixture into a large, deep baking dish. Sprinkle with parm and bread crumbs. Add a light layer of cooking spray to help the bread crumbs brown a bit.
Bake for 20 minutes, then let the casserole rest for five minutes. Plate up a generous portion and enjoy.
Next time a pasta craving hits, try this baked broccoli chicken mac and cheese! If you love cheesy pasta as much as I do, try this turkey pasta version.
Baked Broccoli Chicken Mac and Cheese
Ingredients
12

oz

elbow macaroni

3

cups

fresh broccoli

chopped into bite sized pieces

2

Tbsp

butter

1

chicken

breast

chopped into bite-size pieces

½

cup

onion

finely chopped

1

clove

of garlic

minced

¼

cup

flour

¼

cup

half & half

1½

cups

skim milk or unsweetened almond milk

1

cup

low sodium chicken stock

2

cups

cheddar cheese

shredded

salt and fresh ground black pepper

to taste

2

Tbsp

grated parmesan cheese

¼

cup

Panko bread crumbs

cooking spray
Instructions
Add elbow macaroni to a large pot of boiling water. Add the broccoli to the pot with about 5 minutes left in the pasta cooking process.

In a large skillet, melt butter. Add onion and chicken and cook over medium to low heat about 5 minutes. Add garlic, cook and stir for one minute.

Add flour and cook another minute, or until the flour is golden and well combined. Add half & half, milk and chicken stock. Stir constantly until the flour is completely incorporated into the liquid. Heat to medium heat, stirring occasionally as the mixture thickens. Season with salt and pepper.

Once the sauce is thick, turn to low and add cheese, mix well until cheese is melted. Add cooked macaroni and broccoli and mix well. Pour into a 9 x 11 baking dish prepped with cooking spray. Top with grated parmesan and bread crumbs. Spray a little more cooking spray on top.

Bake for 20 minutes. Allow to sit for 5 minutes before serving.