One perfect small batch of ooey-gooey chocolate brownies. A perfect treat for a couple of chocolate lovers!
You could make this sweet little batch of brownies for date night. Or you could do what I did a few weekends ago. Bake up the brownies mid-morning and place them out on the breakfast table in the kitchen. Husband and I took turns taking little slices as the day wore on. It lasted a little longer than expected, but probably due more to us both being polite and not wanting to short the other. 😉
It was amazing while warm, as baked goods tend to be. But brownies are equally good once room temperature.
Ingredients
Butter: Many baking recipes start with butter, and for good reason. Butter makes the brownies rich and moist.
Sugar: Makes the brownies sweet.
Unsweetened Cocoa Powder: Gives the chocolate flavor. Unsweetened cocoa powder is extremely bitter, so sugar is needed.
Salt: Salt brings out the sweet flavor.
Vanilla Extract: Vanilla is wonderful in baked goods.
Egg: Gives richness and structure to the brownies.
Flour: Provides the structure.
Baking Powder: Makes the brownies rise a bit. I experimented with this recipe a few times without baking powder. The result was just too dense for me. Just a bit of baking powder gave just enough raise to make the texture perfect.
Chocolate Chips and/or Nuts: You can use all chocolate, all nuts, or a combo. I really like dark chocolate chips and pecans. Whatever you decide, you will use a total of a quarter cup.
Instructions
Preheat your oven. Line your pan with parchment paper. I like to lightly spray the pan to make the parchment paper stick.
You will then microwave the butter, sugar, and cocoa powder. Stir until completely smooth with no lumps of butter, and the sugar and cocoa are combined. Add the salt and vanilla.
Before adding the egg, let this mixture cool for a few minutes. You want to avoid a scrambled egg, which could happen by adding an egg to a hot mixture.
Then add the baking powder and flour. Don't have a one-eighth teaspoon for the baking powder? Neither do I. 😉 Use half of a one-fourth teaspoon.
Finally, add in your chocolate chips and/or nuts and stir to combine.
Scrape your batter into the prepared pan. Bake until the top of the brownie is starting to crack. You want just barely done, but still gooey. When you later cut the brownies, there will be chocolate stuck to the knife.
Enjoy warm or room temperature, they are luscious either way! Small batch chocolate brownies are sure to be a hit.
If you love a small batch, indulgent chocolate dessert, try these chocolate pecan bars.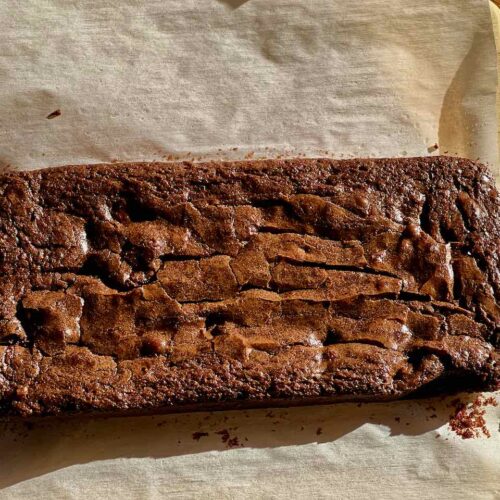 Small Batch Chocolate Brownie
Ingredients
4

Tbsp

unsalted butter

diced

⅓

cup

white sugar

¼

cup

+ 1 Tbsp unsweetened cocoa powder

¼

tsp

salt

½

tsp

vanilla extract

1

large

egg

¼

cup

flour

⅙

tsp

baking powder

¼

cup

chocolate chips, nuts or a combination
Instructions
Preheat the oven to 325℉ and line a 9 x 5-inch loaf pan with parchment paper.

In a glass bowl, combine the butter, sugar and cocoa powder.

Microwave for 30 seconds on full power. Stir, and microwave for another 30 seconds on full power.

Beat the mixture very well, and then add the salt and vanilla extract. Stir well and allow the mixture to cool for a few minutes.

Next, add the egg, and stir until the egg is well incorporated.

Finally, add the flour and baking powder and stir until the flour is combined with no visible streaks. Stir in the chocolate chips and/or nuts.

Using a small spatula, spread the batter into the prepared pan.

Back 22-25 minutes until a toothpick inserted comes out with fudge crumbs clinging to it. The brownies are done when shiny and the surface is starting to crack.

Let cool completely in the pan, and then lift out using the parchment paper.