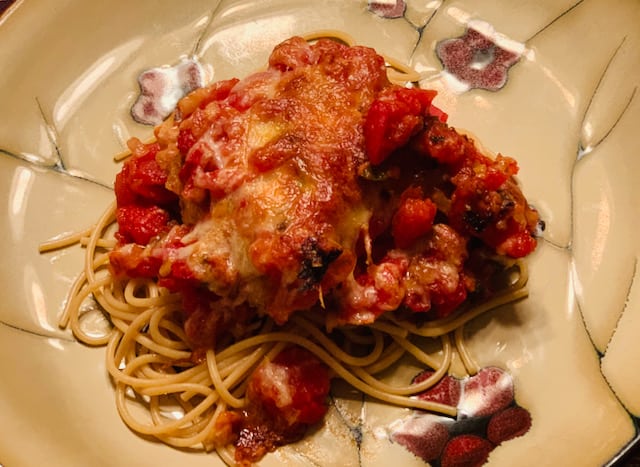 Baked Chicken Parmesan is such a classic. Breaded chicken breasts baked in rich tomato sauce and topped with melted cheese. The smells coming from your kitchen are amazing and then the taste is even better.
While perfectly fine served alone or with a side salad; I love chicken parmesan over pasta. Melty cheese, flavorful tomato sauce and pasta is never ever going to be wrong.
New Year's Eve is right around the corner. If you are looking for a cozy dinner to enjoy with a glass of wine this would be an excellent choice.
Ingredients:
Boneless skinless chicken breasts: Make sure to use a fairly thick cut of meat as the chicken is both pan fried and baked. You will coat with egg, then breadcrumbs and parmesan cheese for a crispy, flavorful crust.
Canned Diced Tomatoes: I absolutely love fresh tomatoes and advocate using them always and in everything. But that said; I prefer canned tomatoes for this recipe. After simmering with onions and garlic, then baked with the chicken, the canned tomatoes become wonderfully thick and rich.
Herbs: Fresh basil smells and tastes incredible. We are still rolling with our fresh herbs after bringing them inside this fall.
Cheese: You can't really have chicken parmesan without parmesan cheese! Even a light coating of freshly grated parmesan cheese adds such great flavor. I used shredded mozzarella cheese; fresh mozzarella is wonderful if you have available.
Instructions:
Start with the sauce as it needs 30 minutes to simmer. You will add onions and then garlic to olive oil and sauté until tender and fragrant. The herb and other spices are then added along with the canned tomatoes. I like to stir the sauce occasionally but otherwise just let it simmer.
Now to the chicken. As I mentioned above this isn't the time for thin cutlets as the chicken is pan fried and then baked in the oven. Plenty of opportunity for the meat to get done, and we don't want the chicken to dry out. Dredge the chicken in egg and then a mixture of parmesan cheese and bread crumbs. Panko bread crumbs are lighter and crispier than regular bread crumbs but whatever you have is fine.
Swirl butter and oil in a skillet and pan fry chicken until golden on both sides.
Add a few spoonfuls of tomato sauce to the bottom of a shallow baking dish. Add chicken breast then spoon over the rest of the tomato sauce, mozzarella and additional Parmesan cheese.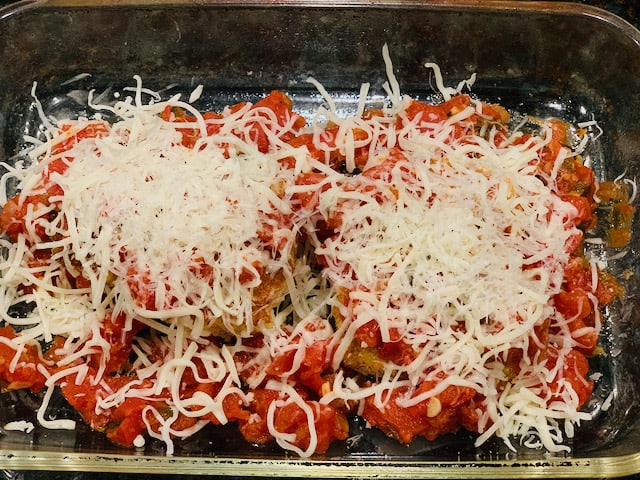 Enjoy the wonderful aroma coming from your oven! While the chicken parmesan is baking cook your pasta noodles according to package instructions.
Bake until golden and bubbling.
Allow to rest for at least 5 minutes prior to serving.
Delicious, saucy cheesy baked chicken parmesan and a glass of wine. Sounds like a perfect date night or New Year's eve dinner to me!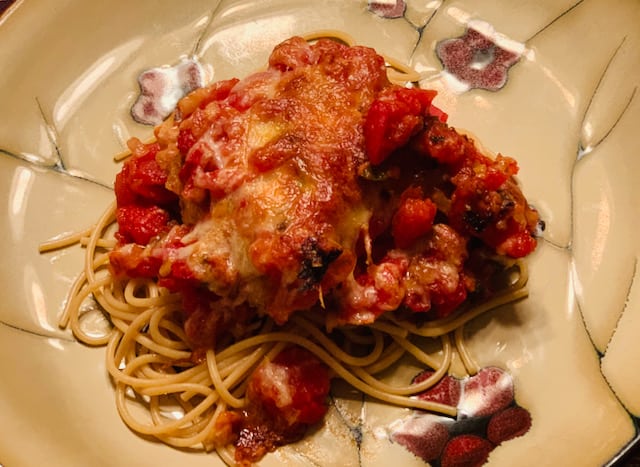 Chicken Parmesan
Ingredients
2

Tbsp

extra-virgin olive oil

2

Tbsp

onion-minced

1

garlic

cloves

minced

Pinch of crushed red pepper flakes

1

Tbsp

chopped basil

1

tsp

chopped oregano

½

tsp

sugar

1

14 ounce can

diced tomatoes

1

tsp

coarse salt

1

boneless, skinless chicken breast-split down the middle

1

egg

¼

cup

breadcrumbs-I prefer Panko

¼

cup

freshly grated Parmesan cheese plus more for the top

¼

tsp

freshly ground black pepper

1

Tbsp

unsalted butter

1

cup

shredded mozzarella cheese or sliced fresh mozzarella

2

serving

of spaghetti pasta
Instructions
Heat a saucepan over medium-high heat and add 1 tablespoon of the olive oil. Add minced onion and sauté until tender. Add the garlic, and the red pepper flakes. Stir for 30 seconds. Add the basil, oregano, sugar, canned tomatoes and salt. Simmer for 30 minutes; stirring occasionally.

Meanwhile using a sharp knife slice the chicken breast into two flat, equal halves.

Whisk an egg and place on a plate. One another plate combine bread crumb and Parmesan cheese.

Coat chicken pieces with pepper and additional salt if desired. Place chicken breast in egg mixture and turn several times to cover. Next coat with the bread crumb and Parmesan mixture.

Heat a large skillet over medium-high heat. Swirl 1 tablespoon of olive oil along with butter to coat the pan. Add the chicken breasts cook until golden, about 3 minutes on each side.

Preheat the oven to 400 °F. Spoon some tomato sauce into a greased baking dish to cover. Layer sauce over chicken pieces and top with mozzarella. Spoon in remaining sauce on and around the chicken and sprinkle with Parmesan cheese. Bake for 25 minutes until golden and bubbling.

While chicken is baking heat pasta water and cook spaghetti according to package instructions.

Let rest for at least 5 minutes before serving.