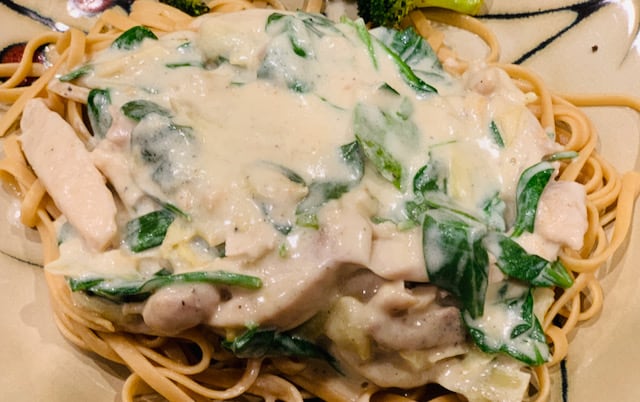 Rich and creamy spinach artichoke chicken over pasta is my idea of comfort food. Honestly, any time a thick, luscious sauce is involved tends to be my idea of comfort food.
We all know about spinach artichoke dip. Don't you wonder what leads to the development of a dip involving two, very different, vegetables? Of course, the base of this delicious dip is more about cheese, mayo, and sour cream than vegetables! But, and this is a true story, it made me decide I really like spinach.
I eat spinach nearly every day. Artichokes aren't a daily addition to my diet, but I recently discovered they are a worthy addition to my homemade pizzas. Did you know artichokes are the flowers of a thistle plant? Neither did I until I searched it out for this post!
Ingredients:
Chicken breasts: You will slice the chicken breasts thinly to cook quickly.
Butter: The base of any rich, yummy sauce.
Garlic: Essential for savory sauce.
Flour: Just a tablespoon to help thicken the sauce.
Chicken stock: Provides flavor and the liquid for the sauce
Half & half: For the rich, thick sauce.
Parmesan cheese: Helps thicken the sauce and adds cheesy, salty flavor.
Spinach: Fresh, colorful, and so very healthy. I like baby spinach.
Artichokes: Also a very healthy food. I used jarred artichokes.
Instructions:
If you are serving over pasta, and of course you are, you will start boiling the water. This recipe comes together pretty quickly and we don't want to have to wait for the pasta.
Add your thinly sliced chicken breasts to a heated skillet and cook in olive oil until just done. Remove to a plate and keep warm.
Now the sauce. Sauté garlic in butter for a minute or so then add the flour. Stir until the flour is incorporated into the butter. Add chicken stock, half & half, Parmesan cheese, salt, and pepper. Stir as the mixture thickens and gets creamy.
Add spinach and artichokes and stir as the spinach wilts. Add the chicken back to the skillet and continue to cook and stir until everything is hot.
Serve immediately. Preferably over your favorite pasta.
Creamy spinach artichoke chicken for two!
So maybe you want a nice dinner for Valentine's Day. Or maybe a special occasion/date night at home. Pasta is always the right answer.
Creamy spinach artichoke chicken is easy, quick, and scrumptious. If you are looking for other special pasta dishes I will suggest baked chicken Parmesan.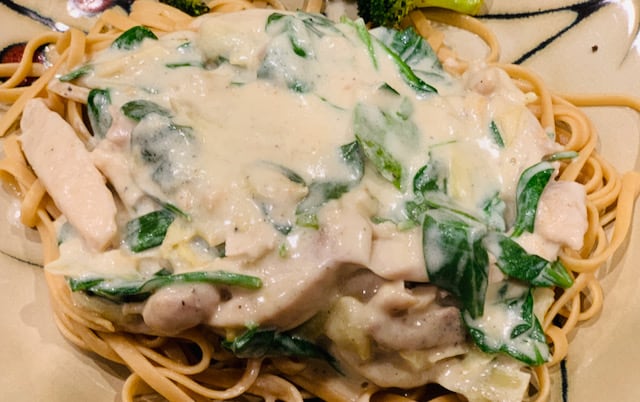 Creamy Spinach Artichoke Chicken
Ingredients
Chicken
2

small

boneless skinless chicken breasts

thinly sliced

2

Tbsp

Olive oil
Spinach Artichoke Sauce
1

Tbsp

butter

1

garlic

cloves

minced

1

Tbsp

flour

½

cup

chicken stock

½

cup

half & half

¼

cup

grated parmesan cheese

¼

tsp

pepper

¼

tsp

salt

½

cup

spinach chopped

½

cup

artichokes quartered
Instructions
In a large skillet add olive oil and cook the chicken on medium high heat for 3-5 minutes on each side or until brown on each side and cooked until no longer pink in center. Remove chicken and set aside on a plate covered with foil.

In the same pan add the butter and melt. Add garlic and cook until fragrant. Whisk in the flour until it thickens. Whisk in chicken stock, half & half, parmesan cheese, pepper and salt. Continue to cook and stir occasionally for a few minutes until the mixture starts to thicken.

Add the spinach and artichokes and let simmer until the spinach wilts and the mixture continues to thicken. Add the chicken back to the sauce and simmer a few more minutes. Excellent served over pasta