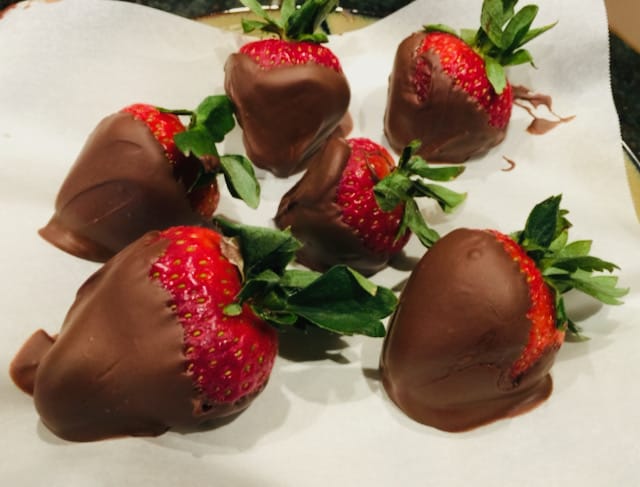 Happy Sunday!
After getting through January relatively unscathed as far as snow and cold; winter came on with a vengeance. Luckily we haven't gotten a lot of snow, but this past week was below zero. Evidently, Minnesota is enjoying one of the coldest Valentine's Day on record. Lucky us! 😉
The weekend of love and chocolate-covered strawberries is upon us. While Valentine's Day isn't really my thing I can always get behind a nice dinner, spoiling my beloved, and chocolate.
I love a little small-batch dessert to share. Earlier this week I shared this delicious lemon cake for two.
My bottom oven, which has a convection option, was on the fritz earlier this past week. We discovered this on Super Bowl Sunday as we use both ovens for our his and hers pizza. Fortunately, Husband was able to replace the igniter, and we are back up and running. Baking with convection has become my standard. I love the rise it gives my muffins.
What caught my eye this week:
SJP and New York food: Reading this makes me really want to reschedule our NYC trip.
Now that football season is over the stadiums can be used for vaccination centers.
Chew your food: This seems so incredibly basic and a necessity for digestion and feeling full. But how often do we scarf down our food? I sure do.
Baked Feta Pasta: The internet sensation of the week. Feta cheese and cherry tomatoes baked until the cheese is melty and the tomatoes are blistered; then stir with cooked pasta. I haven't tried it, but it sounds delicious!
Lack of dinosaurs: Totally agree! I still love dinosaurs.
Smart people talk to their pets: I can only hope…..
The Cat Lawyer: This went viral for a good reason. I love when his fellow lawyer grabs his glasses for a better look at that cute little feline. 🙂
Have a cozy weekend.