Cheesy lasagna roll-ups are the comfort food we all need right now. All the flavors of a traditional pan of lasagna in festive little rolls. Four different kinds of cheese make this dish ridiculously delicious.
These rolls are great for a special dinner or date night, yet easy and quick enough for a weeknight.
Ingredients
Chicken: Chicken stands in for the traditional Italian sausage which is commonly used in lasagna. Leftover baked chicken breast or thigh works great.
Ricotta Cheese: Adds the creamy element that makes any cheesy pasta recipe so irresistible. Cottage cheese also works. I think both are wonderful.
Feta Cheese: Feta adds a great salty, tangy flavor.
Parmesan Cheese: You can't have lasagna without parm! Fresh grated is best.
Milk: A little liquid to bring the filling together.
Pepper: Enhances the flavor.
Spinach: Adds color and flavor to the filling. Wilting the spinach prior to adding to the filling removes excess moisture.
Lasagna Noodles: Use your favorite packaged pasta. Cook to al dente according to package instructions, about 8-10 minutes.
Marinara Sauce: Use your favorite! Any jarred or homemade red tomato-based pasta sauce works great.
Olive Oil: Used to saute the vegetables.
Mushrooms & Onions: I love the flavor and texture mushrooms and onions add to marinara. Either or both can be omitted if not your thing.
Mozzarella Cheese: Melty, yummy mozzarella cheese tops the rolls. Melted cheese makes everything better. 🙂
Instructions:
After preheating the oven, start the noodles. You will want to boil the noodles to al dente, which means tender with a bit of a bite. The noodles will continue cooking while the dish is baking.
Next, make the filling. Add the chicken, feta, ricotta, parmesan, milk, and pepper in a bowl and stir until combined.
Then add the spinach. A quick saute in a pan with a dap of olive oil will allow the spinach to wilt. Alternatively, microwave for 30-60 minutes. Squeeze the wilted spinach in a paper towel to remove excess moisture. Lastly, give the spinach a rough chop and stir it into the filling mixture.
Sauté the mushrooms and onions in olive oil. Once the veggies are tender, stir in the marinara sauce.
When the lasagna noodles are cooked, drain in a colander. Dry the noodles using a paper towel. This helps the filling adhere to the noodles and eases the rolling process.
Lay all four noodles out and spread out the filling evenly between the noodles.
Spread half the marinara sauce in the bottom of the pan. Roll each noodle into a roll and place it in the pan with the seam down.
Spread the remaining sauce evenly over and around the noodles. Sprinkle with mozzarella cheese and additional grated parmesan cheese.
Cover with foil and bake for 30 minutes until the cheese is melted. Covering the lasagna rolls holds in the moisture and keeps the noodles tender.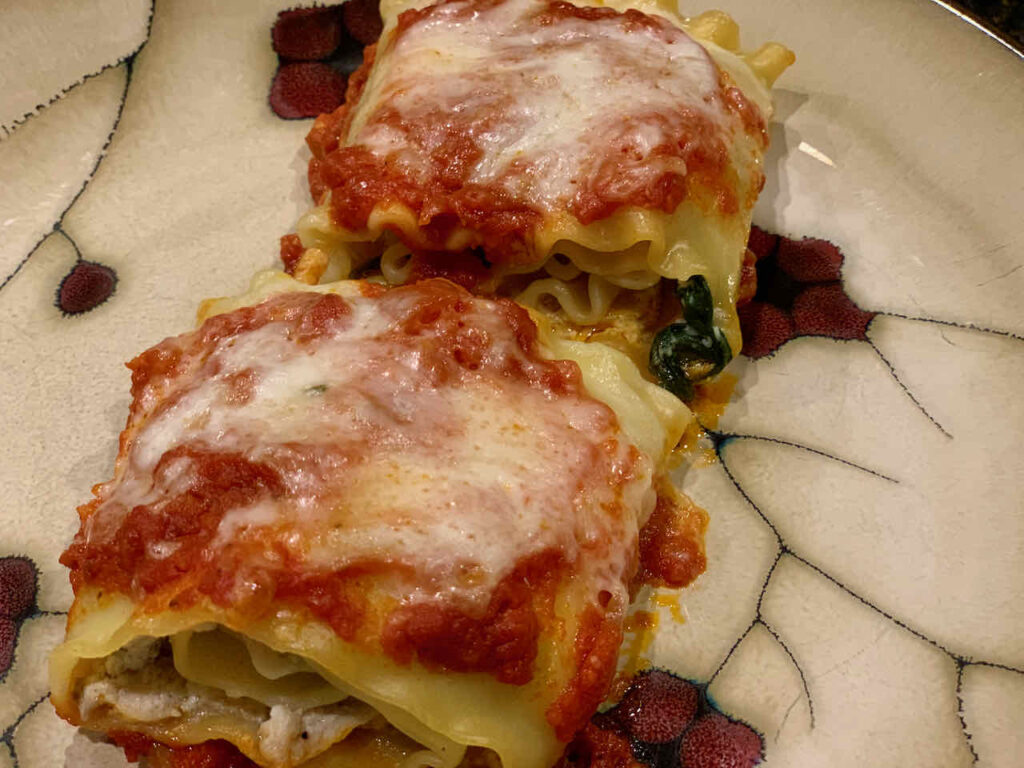 Let the dish rest for 5 minutes before serving. Enjoy two cheesy lasagna roll-ups for a luscious, filling pasta dinner or one roll with a side of bread or salad.
For more cheesy pasta recipes, try turkey florentine pasta bake or chicken parmesan.
Cheesy Lasagna Roll-Ups
Ingredients
¾

cup

cooked chicken

chopped

½

cup

ricotta cheese or cottage cheese

¼

cup

crumbled feta cheese

⅛

cup

grated Parmesan cheese

plus more for topping

¼

cup

milk

½

tsp

pepper

1

cup

spinach

wilted and chopped

4

lasagna

noodles

cooked al dente and drained

1

cup

marinara sauce

2

tsp

olive oil

¾

cup

mushrooms

chopped

½

cup

onion

chopped

½

cup

mozzarella cheese

shredded
Instructions
Preheat oven to 375℉. Lightly spray a 8×8 baking dish.

Start the water for the lasagna noodles. Once the water is boiling, cook the noodles for about 10 minutes until al dente. (Check the package instructions.)

Meanwhile, in a medium bowl, combine chicken, ricotta cheese, feta cheese, parmesan cheese, milk, and pepper to create the filling.

Wilt spinach either in the microwave for 30-60 seconds, or in a sauté pan with a bit of oil. Use a paper towel to remove excess moisture. Chop wilted spinach roughly and mix with the filling.

Chop mushrooms and onion and sauté in olive oil until soft and the mushrooms have released their juices. Add the marinara sauce and stir.

Spread about a ½ cup of the filling on each lasagna noodle. I like to add filling to all the noodles before rolling to assure an even amount on each noodle.

In an 8 x 8-inch baking dish, spread ½ cup marinara sauce. Starting on one end, roll each noodle and place seam-side down in sauce in the baking dish. Top with remaining marinara sauce, mozzarella cheese and additional parmesan cheese.

Cover the pan with foil. Bake for 30 minutes, or until hot and cheese is melted. Allow to rest for 5 minutes before serving.