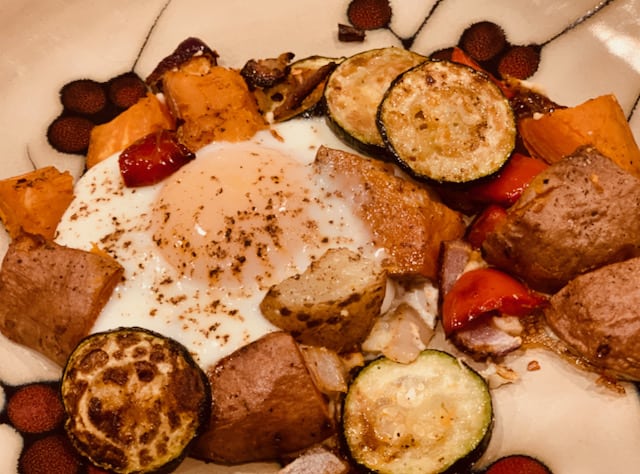 A savory, filling breakfast baked on a sheet pan. Move over, sheet pan dinner, breakfast wants in your game!
My love of sheet pan dinners is well documented. I have shared a number of recipes including one of our favorites, the peanut chicken sheet pan dinner.
Meal preparation doesn't get much easier than tossing ingredients together on a sheet pan and throwing it in on the oven. This is great any time of day. Who doesn't want an easy breakfast?!
If you are preparing breakfast for people with different preferences you can easily separate out portions, so everyone gets what they want. Husband wants meat on his side, so he gets bacon. He also doesn't like sweet potatoes. Which is 100% fine with me as I get those luscious, lovely sweet potatoes to myself!
Ingredients:
Potato & Sweet potato: Both are absolutely divine when roasted. We typically use Russet potatoes, a red variety is also excellent. If you are like Husband, omit the sweet potatoes or let your lucky spouse have them all to herself. 😉
Onions, Peppers & Zucchini: Starting the day with roasted veggies is a great way to start any morning. Customize according to your tastes.
Garlic: Minced and tossed in toward the end so as not to burn.
Crushed red pepper: Just a bit of heat.
Eggs: Cooks right alongside the veggies on the same sheet pan.
Feta cheese: Great salty, cheesy flavor. Added along with eggs to get warm, melty, and creamy.
Bacon or Breakfast Sausage: Optional. You will want to fry the bacon or cook the sausage before adding to the sheet pan.
Instructions:
As your oven is preheating, start chopping the vegetables. You will want to chop the sweet potatoes into slightly larger pieces than the white or red potatoes. Sweet potatoes roast faster than regular potatoes, and you don't want them overdone.
Spread all the potatoes and veggies on the sheet pan. Sprinkle with salt, black pepper and olive oil. Roast for 25 minutes or until the potatoes are starting to soften and get golden.
If you are adding meat fry your bacon or cook your sausage.
After 25 minutes pull the sheet pan and add meat and feta cheese. Toss everything gently. If desired pull the ingredients together on the sheet pan to create a nest for the eggs. I like the egg baked into the other ingredients.
Bake 8-12 minutes until the whites of the egg are opaque and the yokes are to your liking. I live for a runny yoke.
Serve and enjoy immediately. A side of fresh fruit is the perfect accompaniment to a savory breakfast.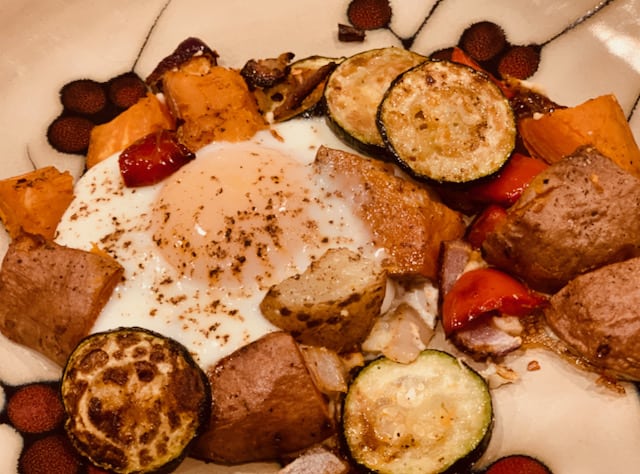 Sheet Pan Breakfast
Ingredients
1

sweet

potato

cubed

1

potato

cubed into small bite-sized pieces

½

cup

red onion

chopped

½

cup

red pepper

chopped

½

cup

zucchini

chopped

1

garlic

clove

minced

1

Tbsp

olive oil

salt and freshly ground pepper to taste

¼

tsp

crushed red pepper

2

large

eggs

¼

cup

feta cheese

Cooked bacon or breakfast sausage

optional
Instructions
Preheat the oven to 425℉

Spray a sheet pan with cooking spray. Add cubed sweet potato, potato, red onion, red pepper and zucchini. Drizzle on the olive oil, sprinkle with salt and pepper and toss well. Roast for 25 minutes, tossing once during cook time. You want the potatoes to be golden and softening.

Once potatoes are cooked, sprinkle with garlic and toss into the potato and vegetable mixture. If you are using meat, add the cooked bacon or sausage to the mixture.

Add eggs and feta on top of the potatoes. I like to scoop the mixture together a bit, so the eggs sit on top and can cook into the potatoes and vegetables.

Stick the pan back in the oven and bake for 8-12 minutes depending on how cooked you like your egg yolks. I definitely like them a little runny!