Rice goes from a boring side to a delicious addition to your next Mexican food night. You can serve it with enchiladas, tacos, or use it as the base of a homemade burrito bowl.
I always enjoy the side of rice served with almost any meal ordered at our local Mexican restaurants. The flavors are generally pretty tame, as Minnesota may as well be called the land of mild spice level. The running joke is ketchup is spicy.
Hubby and I love our spice. So for my rice at home, I wanted a little more heat than we are used to when we dine out. In the past, I have experimented with cooking the rice in a pot with veggies and spices. I love a one-pot dish. But I found the rice would be either mushy, or under-done, or burning to the bottom of the pot. So now I cook the rice separately and then add it to the veggies. The final results are worth it.
Ingredients
White Rice: Plain white rice is the base of this dish.
Cayenne Pepper: Brings the aforementioned spicy heat. If you are spice adverse, add a minimal amount or omit it. I do find the spice mellows a bit with the rice cooking process.
Cumin: A classic Mexican-inspired spice.
Chili Powder: Chili powder is one of my favorite spices. I love the taste and aroma.
Paprika: Adds smoky flavor and great color.
Low Sodium Chicken Stock: Cooking the rice in a mixture of chicken stock and water infuses flavor.
Olive Oil: Used to sauté the onion and pepper.
Onion: I really like red onions for this recipe, but use whatever you have.
Ripe Bell Pepper: Red, yellow, or orange bell peppers add nice color and flavor. If you like green peppers they are certainly fine as well and a classic choice in this cuisine.
Garlic: Adds a nice bite of flavor.
Tomato: Adds moisture and wonderful flavor.
Salt & Black Pepper: Brings out all the flavors.
Fresh Cilantro: The classic Mexican herb adds a great pop of color.
Instructions
Start with the rice. Did you know you should rinse your rice? We started a while ago, and I find it really does make a difference in producing light, fluffy, well-cooked rice.
After rinsing your rice, add to a pot or your rice cooker along with the spices. Pour in the stock and water and cook the rice.
While the rice is cooking, sauté the onion and peppers in a large skillet until softened. I actually like just a bit of crunch left in the veggies for texture. Chop the tomato and add to the skillet along with the garlic. Continue to cook as the tomatoes soften and break up.
When the rice is cooked, add it to the skillet. Stir until the mixture is well combined.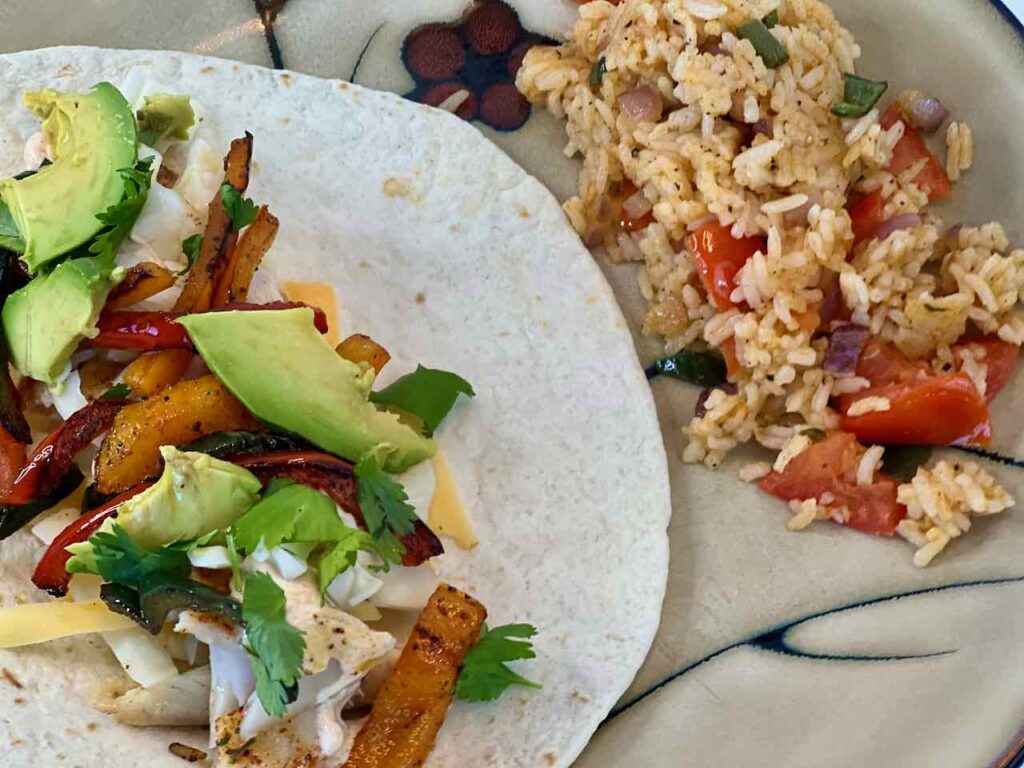 Sprinkle with fresh cilantro, serve, and enjoy!
Mexican Rice
Ingredients
½

cup

white rice

¼

tsp

cayenne pepper

½

tsp

cumin

½

tsp

chili powder

¼

tsp

paprika

½

cup

low sodium chicken stock

½

cup

water

2

tsp

olive oil

1

small

onion

diced

½

cup

ripe bell pepper

1

garlic

clove

minced

1

small

tomato

finely diced

salt & freshly ground pepper

to taste

fresh cilantro

roughly chopped
Instructions
Add white rice, cayenne pepper, cumin, chili powder, and paprika to a rice cooker or saucepan. Add chicken stock and water and cook stir until the spices are distributed. Cook the rice in the rice cooker or stovetop until rice is tender.

While the rice is cooking, heat up olive oil in a skillet. Add diced onion and bell pepper. Sauté until the peppers are tender. Add garlic and diced tomato and continue to sauté until the tomato is breaking up and incorporating with the vegetables.

When the rice is cooked, add to the tomato and vegetable mixture and stir. Add salt and pepper to taste and sprinkle with fresh cilantro.