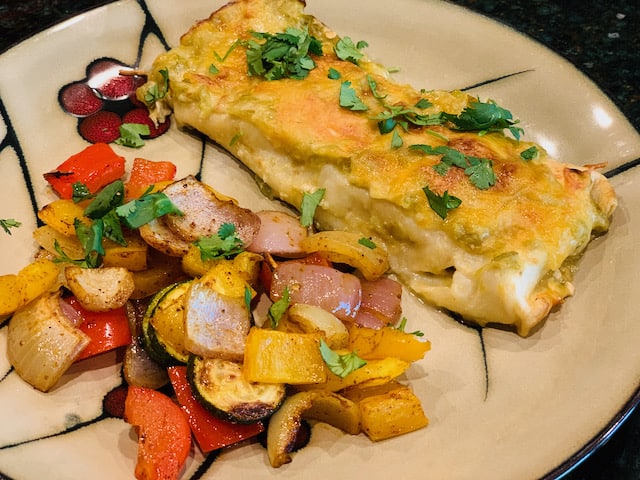 Saucy, spicy, and filling, chicken avocado enchiladas with creamy sauce is one of my favorite entrées. We have on the regular rotation around here. The dish is ready in under an hour, making it totally doable for a weeknight.
I have been tweaking this recipe for a while. Enchiladas of one sort or another have been on our menus for years. I mean, tasty fillings wrapped in tortilla shells and covered with sauce and cheese, what is not to love?
My favorite chicken recipe for enchiladas has quickly become the slow cooker green chili chicken I shared earlier this week. The chicken is tender and beautifully flavored with green chilies or salsa verde. The creamy sauce is simple to make and a perfect complement to the chicken and avocado.
Ingredients
Butter and garlic: Garlic sautéed in a bit of butter creates a lovely base for the sauce.
Flour: A small amount of flour thickens the sauce.
Reserved Green Chili Salsa sauce: Adds all the savory, spicy flavors you want in an enchilada sauce.
Sour Cream: The creamy part of the sauce is provided by the richness of sour cream.
Chicken breast: The tender chicken breast or thigh meat is so perfect for enchiladas.
Mexican Cheese: Any cheese blend will work; whatever you like.
Avocado: I am addicted to avocados in general, and they are insanely good in enchiladas. They add creaminess and a nice contrast to the spicy flavors of the chicken and sauce.
Flour tortillas: It goes without saying that corn tortillas work equally as well. Corn tortillas are actually the more traditional choice. We just typically buy flour tortillas. But I love both.
Cilantro: Adds unmistakable flavor and color contrast for a beautiful presentation.
Salsa: A little extra salsa is always nice.
Instructions
You will start with the creamy sauce, which is very quick and easy. Once your minced garlic is briefly sautéed in the butter, stir in the flour. Stir until the flour is incorporated into the butter mixture; just a minute or two.
Stir in the reserved chili salsa liquid and heat over medium heat until it gets a little bubbly and thickened. Add the sour cream and stir vigorously. The sauce should be creamy and thick and have green bits from the salsa, so it definitely wouldn't be completely smooth.
We love a thick sauce. If you feel like the sauce is really too thick, add some chicken stock or water.
Let the sauce rest while you prepare the enchiladas.
I like to lay the three tortilla shells out in a row. Start with a layer of shredded cheese, then a layer of chicken and avocado.
The time has come to roll up those bad boys and get them in the pan. Pour the remaining sauce over the enchiladas and add another sprinkle of cheese.
If you like the enchiladas soft and the cheese super melty; cover with foil before baking. If you like the tops of your enchiladas crispy, bake them uncovered. We have come to really like the crispy tops!
Bake until bubbling. Serve sprinkled with cilantro and a dollop of salsa if desired.
Chicken avocado enchiladas with creamy sauce is a truly crave-worthy dinner. Serve with a side of Mexican roasted veggies for a complete meal.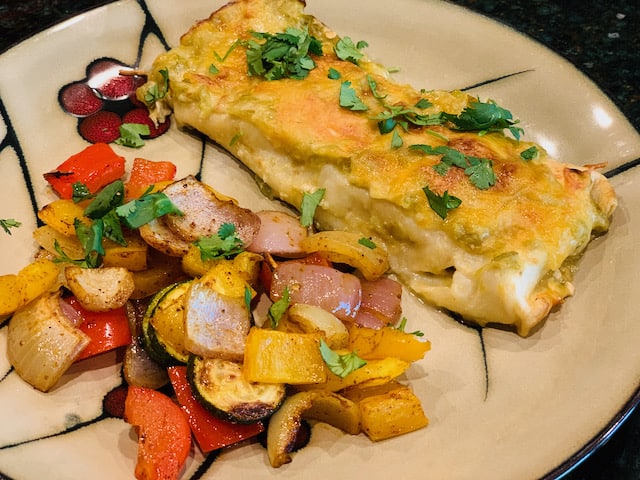 Chicken Avocado Enchiladas with Creamy Sauce
Ingredients
Enchilada Sauce
2

tsp

butter

1

garlic

clove

minced

2

tsp

flour

½

cup

reserved salsa chili sauce

see note

¼

cup

sour cream
Enchiladas
1 ½

cups

chicken breasts

shredded

¾

cup

shredded Mexican cheese blend

plus extra for topping

1

small

avocado

peeled and chopped

3

large

flour tortillas

1

handful

cilantro

chopped

3

Tbsp

Salsa
Instructions
In a medium sauce pan, sauté garlic in butter for about 1 minute on medium heat. Stir in flour and let it cook for about 2 more minutes.

Stir in the reserved salsa chili sauce and heat over medium heat, stirring occasionally. Heat until sauce starts to thicken slightly. Remove from heat and stir in the sour cream. Stir vigorously until smooth, keeping in mind there will be chunks for the salsa chili sauce. If the sauce is too thick you could add a bit of chicken stock or water.

Prep an 8×8 baking dish with nonstick spray. Add a thin layer of the sauce to the bottom of the pan. Spread out until the bottom of the baking dish is evenly coated.

Lay out a tortilla and sprinkle with about a ¼ cup of the shredded cheese. Then add one-third of the shredded cheese and avocado. Roll up the shell and place the rolled tortilla seam-side down. Repeat with the remaining two tortilla shells.

Pour the remaining sauce over the enchiladas. Cover with more cheese. If you like the tops of your enchiladas to be crispy, leave uncovered. If you prefer the cheese soft, cover the enchiladas with foil during baking.

Bake for about 20 minutes, or until cheese and sauce is bubbling.

Serve sprinkled with cilantro and a side of salsa.