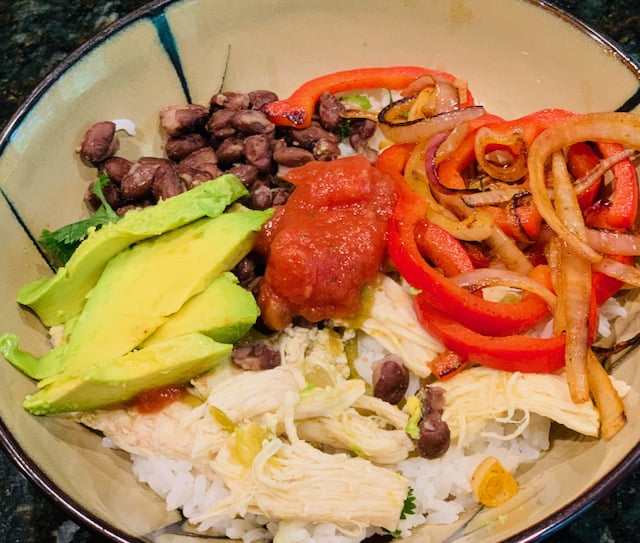 Slow-cooker green chili chicken is my kind of meal prep. You throw a couple of ingredients in your slow cooker, and a few hours later you have tasty, tender chicken ready for a host of scrumptious meals down the road.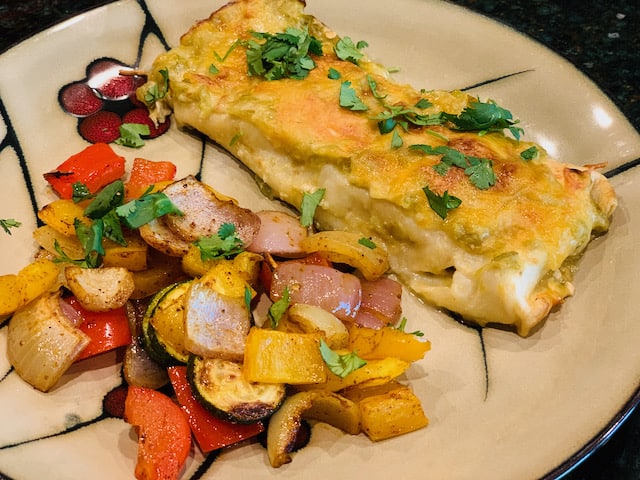 Typically, I make this recipe on a day I am planning enchiladas and roasted Mexican veggies for dinner. I use part of the chicken that night and package up the remaining meat for easy meals down the road.
Ingredients
Chicken Breast: Boneless, skinless chicken breast or chicken thighs are both perfect for this recipe.
Jarred Green Chilies or Salsa Verde: These roasted chilies made the chicken flavorful and spicy. You can use mild or medium chilies or salsa, depending on your taste.
Garlic powder, Oregano & Cumin: A few extra flavor additions to compliment the chicken. The green chilies and salsa would both typically contain plenty of sodium, so no need for extra salt.
Instructions
This couldn't be any easier. The chicken goes in the slow cooker to start. Next, sprinkle the chicken with garlic, oregano, and cumin.
Pour the jar of green chilies or salsa verde all over the chicken to cover completely.
Turn on your slow cooker and let the magic happen.
When the chicken is cooked through and tender, remove the pieces from the slow cooker. There will be liquid at the base of your slow cooker, do not discard it!
Shred with two forks until the meat is separated into bite-sized pieces.
At this point, I am most likely using the chicken to make a batch of enchiladas for dinner. I will use half a cup of the remaining liquid in the slow cooker to make an easy, super flavorful enchilada sauce. (Recipe for the enchiladas including this sauce on Friday.)
The remaining meat will be packaged up for easy future meals. I separate the chicken into containers along with some of the residual liquid for moisture and flavor. For the two of us, I can get three meals out of this recipe.
One of my favorite quick, easy dinners is this chicken bowl. Start with cilantro lime rice and add your chicken, sauteed red pepper and onions, black beans, corn, avocado, salsa, and cilantro. Of course, you could also add cheese, sour cream, and substitute guacamole for sliced avocado. Burrito bowls your way!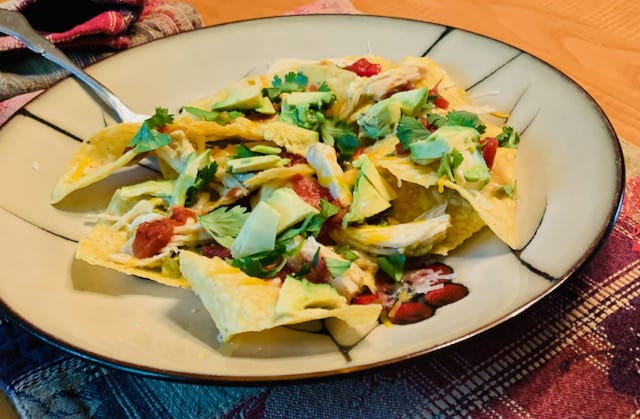 Nachos are another fun idea. Layer chicken on top of corn tortilla chips along with cheese, avocado, salsa, and cilantro.
Slow cooker green chili chicken is the easiest head start you can find to tasty Mexican-inspired meals.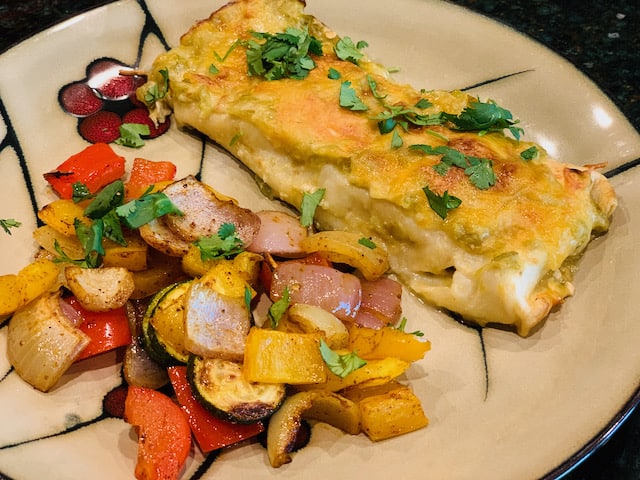 Slow Cooker Green Chili (or Salsa Verde) Chicken
Ingredients
3

large

boneless skinless chicken breasts

½

tsp

garlic powder

½

tsp

dried oregano

½

tsp

ground cumin

16

ounces

jar roasted green chiles or salsa verde
Instructions
Season chicken with garlic powder, oregano, and cumin and place in the bottom of the slow cooker. Cover with green chiles. Cover and cook on high for 2-3 hours or on low for 4-5 hours until the chicken is cooked and easily shredded.

Remove chicken from the slow cooker and shred with 2 forks. Use immediately or place back in the slow cooker to keep warm.

Use as desired with enchiladas, burritos, burrito bowls, tacos or nachos. Be sure to save the resulting liquid for creamy enchilada sauce.