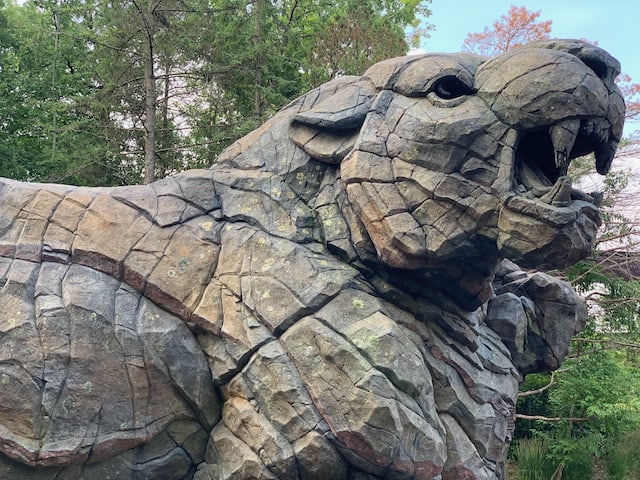 Happy Sunday!
Friday evening, we enjoyed our first post-pandemic trip to the Minnesota Zoo. Like everything else these days, the zoo looks a little different. Barriers up in many places and in a lot of cases indoor buildings closed, leaving the animals only visualized outside. We learned from a volunteer this is primarily to protect the animals from exposure from humans. I wholeheartedly support that, but it certainly makes for a different experience.
Our favorite time to go to the zoo has become the Adult Nights for 18 years old and over. We have been to many at the Minnesota zoo and also one at the Henry Doorly Zoo on our trip to Omaha a couple of years ago. Zoos bring in food and beverages vendors, including adult beverages. Such a treat to leisurely peruse the zoo with other adults while enjoying a beer!
The tiger statue pictured at the top of the post has probably been at the zoo for many years, but for whatever reason, I don't remember seeing it. It is directly outside the Amur tiger exhibit.
The grizzly bear exhibit is one of my favorites. Three bears in total. They are so stinking cute!
Speaking of cute! Prairie dogs are the definition of adorable; both appearance and behavior. I could watch them for hours.
We stayed overnight in the area, enjoying food and drinks at the Mall of America before and after the zoo.
The next morning we took a short walk into part of a wildlife refuge. From this view, it seemed odd to think of our close proximity to Mall of America and the Minneapolis/St Paul Airport! A bit of nature in the middle of the city. We saw a couple of bunnies and squirrels.
This butterfly display at the Mall of America is absolutely beautiful! I noticed it Saturday morning when we went back for shopping and lunch.
Such a fun little trip!
What caught my eye this week
Stop feeling guilty and aim for balance.
These gorgeous public fountains!
Jimmy and Rosalynn Carter celebrate 75 years of a full partnership.
I adore rhinos. Princess looks so cute with her mask. 🙂
I love these colors and the whole mood of this home.
Speaking of cute animals. 😉 Bailey and Bella held down the fort at home while we were gone.
Have an awesome weekend!