One-pot cheesy lemon chicken pasta is the easy, delicious dinner you need this summer.
For me, a dinner made in one pot is to summer what sheet-pan dinners are to winter. A simple, quick, tasty meal with a minimum of dishes.
One of my favorite meals is baked lemon chicken. The bright, citrus flavors in the zest and the juice go perfectly with the chicken. This recipe adds pasta and three varieties of cheese to the mix. This tasty pasta dish is easy enough for a weeknight dinner, but special enough for date night.
Ingredients
Olive Oil: Used to sauté the veggies and chicken.
Onion, Red Bell Pepper, & Mushrooms: The sautéed veggies add flavor, texture, and color to the dish. I used red onions, but any variety is fine. We always have portabella mushrooms around, I love the taste and texture.
Chicken Breast: You could also use boneless, skinless chicken thighs.
Salt & Pepper: Brings out all the great flavors.
Garlic: Adds flavor and aroma to the pasta dish.
Penne Pasta: My favorite pasta for a one-pot pasta dinner. Penne is a sturdy pasta that holds up well with chicken, veggies, and cheese.
Low Sodium Chicken Stock: The pasta cooks in the chicken stock, infusing the penne with flavor.
Fresh Lemon Juice & Zest: The lemon juice adds bright citrus flavor throughout the dish. The zest is sprinkled over the finished dish. Be sure to zest the lemon before juicing it.
Frozen Kale: Totally optional. I find frozen kale much less intimidating than those huge bunches of stiff leaves. Not only is it famous for its nutritional value, but it also adds nice flavor, texture, and color. Alternatively, you could add a couple handfuls of fresh spinach when you add the cheese.
Cream Cheese: Cream cheese guarantees the dish will be rich, creamy, and fabulous.
Mozzarella Cheese: The soft, stringy texture and mild flavor of mozzarella are as wonderful in pasta as it is topped on a pizza.
Parmesan Cheese: Freshly grated parm adds a sharp, salty bite to the dish.
Fresh Rosemary, Thyme & Parsley: My favorite herbs for chicken. Use dried herbs if you don't have fresh available.
Instructions
Start by prepping your chicken and veggies. Heat up the oil in a large pot. I like my stainless steel pots for this purpose. Sauté the onion, peppers, and mushrooms until starting to soften, then add the chicken. Continue to saute the mixture until the chicken is done then add the garlic.
Add the penne pasta and chicken stock. Stir until the penne is submerged in the liquid. Bring to a boil, then cover and simmer for 15-20 minutes until the pasta is tender. Uncover and cook until nearly all the liquid is absorbed.
Add kale, lemon juice, and all the cheese. Stir as the cheese melts and all ingredients are incorporated together.
Plate the pasta and sprinkle with lemon zest and fresh herbs. Serve immediately.
Enjoy this delicious one-pot cheesy lemon chicken pasta! Serve with a side vegetable, such as broccoli or green beans, if desired.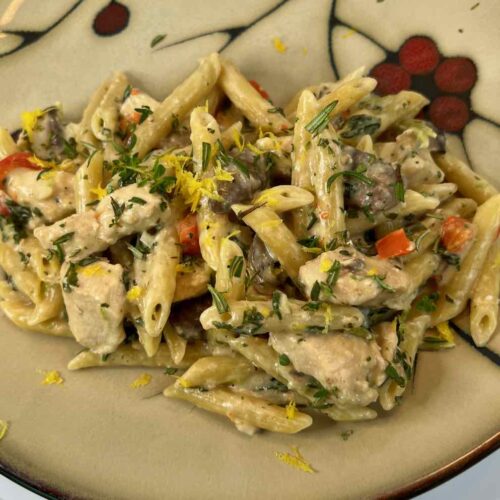 One-Pot Cheesy Lemon Chicken Pasta
Ingredients
1

Tbsp

olive oil

½

medium

onion

chopped

½

cup

red bell pepper

chopped

½

cup

fresh mushrooms

chopped

1

small

chicken breast

cut into bite-sized pieces

salt & freshly ground black pepper

to taste

1

large

garlic clove

minced

1

cup

uncooked penne pasta

1

cup

low sodium chicken stock

1

Tbsp

fresh lemon juice

½

cup

frozen kale, thawed

optional

1

ounce

cream cheese

cut into cubes

⅓

cup

mozzarella cheese

shredded

2

Tbsp

fresh Parmesan cheese

shredded

Zest from 1 lemon

for garnish

fresh rosemary, thyme & parsley

chopped, if desired
Instructions
In a sauce pot, heat olive oil over medium heat. Add onions, red bell pepper, and mushroom. Sauté, stir occasionally until softened.

Season the chicken with salt and pepper and add to the pot. Sauté until cooked through and browning. Stir in garlic and cook for an additional minute.

Add uncooked pasta and chicken stock. Stir and bring to a boil. Reduce heat to low, cover and simmer for 20 minutes.

Uncover, stir and cook an additional 5 minutes, or until nearly all the liquid has been absorbed by the pasta.

Turn heat to low, and stir in lemon juice, kale, cream cheese, mozzarella cheese, and Parmesan cheese. Stir until cheese has melted.

Garnish with lemon zest and fresh herbs, if desired.